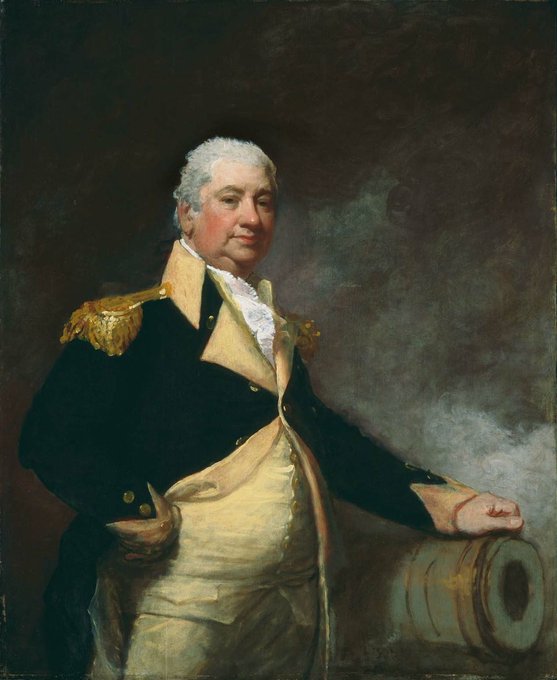 As Russian tanks run out of fuel and, worse, Russian soldiers run out of vodka, let us pause to remember how Washington began shelling the British in the Siege Of Boston 246 years ago, and sent them on their merry way on March 17, 1776.
We have Henry Knox to thank for this. He wasn't a badass like Washington, who had two horses shot under him at the Battle of Monongahela.
Knox was the opposite. If they had a Sears back then, he would be buying husky breeches. A book seller by trade, he read constantly and taught himself military tactics. He loved artillery. He impressed Washington with his knowledge of artillery.
But in Boston in 1775, there were no cannon for him to fire.
However, the rebels had captured Fort Ticonderoga, New York, and 59 pieces of artillery. Ticonderoga was 300 miles away. It would take weeks to get there.
Knox and some men went off to get it.
The Gilder Lehrman Institute of American History posted a letter from Knox to Washington from Ticonderoga.
The institute said, "On December 17, 1775, Knox wrote to Washington from Lake George, New York, describing the difficulty of transporting the cannon and mortars: 'It is not easy [to] conceive the difficulties we have had in getting them here over the Lake owing to the advanc'd Season of the Year & contrary winds, but the danger is now past; three days ago it was very uncertain whether we could have gotten them untill next spring, but now please God they must go – I have had made forty two exceeding Strong Sleds & have provided eighty Yoke of oxen to drag them as far as Springfield.'"
Knox had a convoy. He and his teamsters used rented oxen to drag the artillery 300 miles in 56 days.
In the middle of winter.
The cannon arrived before the powder. They had to wait a month for it. Fortunately, the month was February, but it was a leap year.
On March 2, 1776, the shelling began.
The institute said, "British fire couldn't reach Washington's forces, and the British loaded their ships and withdrew to Halifax, Nova Scotia, on March 17."
Washington had a pretty good year, and on Christmas Day, he crossed the Delaware River to make a sneak attack on Hessian soldiers (mercenaries for the British). Of course he had Knox beside him. Knox entered the boat first, and Washington said (maybe), "Shift that fat ass, Harry, but slowly, or you'll swamp the damned boat."
Like I said, Knox was husky sized.
He was not the Swamp Fox who outsmarted the British at every turn. He certainly wasn't Daniel Morgan* who survived 500 lashes from the British to defeat them decades later at the Battle of Cowpens.
But when President Washington needed a Secretary of War, he chose Knox because he could put a convoy together.
Russians can't.
*Morgan was a teamster working for the British army. He punched out a British officer. The 500 lashes were supposed to be a death sentence. He paid them back with interest. Lots and lots of interest.
UPDATE: A reader took umbrage with my description of events.
1) Knox was a total badass. Almost as tall as Washington and heavier he was known through the streets of Boston as a street brawler. One time during a Pope's Night parade a wagon lost its wheel and Knox walked carrying the weight by the axle.
(And fat shaming is considered bad form these days)
2) He impressed Washington in every way.
3) The Rebels that had captured Fort Ticonderoga were Ethan Allen and Benedict Arnold. (Although this is more of an oversight than an error)
4) Knox intended to use oxen but ended up using more horses.
5) Washington had a pretty good year? Washington had his butt handed to him at Long Island, Kip's Bay, White Plains, Fort Washington and Fort Lee (Only Harlem Heights was a partial victory.)
The Army had been chased through all of New Jersey and had lost all supplies, much of their weapons and most of their tents.
6) The only place Washington ever said anything like that is in The Crossing written by author and communist Howard Fast.
7) The Hessians were not mercenaries, they were auxiliaries. Mercenaries fight for money while Hessians were conscripted and told where to fight. They never saw a dime.
8) Knox was a brilliant and well read military mind with eight years of experience by the end of the war. He was not chosen to be Secretary of War because he could put a convoy together. I highly recommend The Cabinet by Chervinsky for great insight to Washington's advisers and why they were chosen.