Canadian truck drivers have not been this popular since Mike Malone and Jerry Austin shared a rig.
ITEM 1: John Rigolizzo reported, "Biden Sees Double-Digit Drop In Approval Among Black Voters, Even Worse Among Young Black Voters."
Hahaha!
The story said, "A focus group of African Americans in the states of Michigan, Texas, and Georgia, conducted by Democratic surveyor Navigator Research, found that Biden's approval among black people fell 10 percentage points over the course of the year 2021, from 86% in January 2021, shortly after Biden took office, to 76% in 2022. Even more surprising, Biden's approval among black voters under 35 declined by a full 25% over the past year, from 88% in 2021 to just 63% in 2022."
But his support among his most important voting bloc -- blank mail-in ballots -- remained unchanged at 100%.
ITEM 2: Rebecca Downs reported, "Olympics Opening Ceremony Hits All-Time Low."
16 million watched it. The previous Winter Olympics in South Korea four years ago had an opening night of 28.3 million.
The row of tanks running over protesters just wasn't as entertaining as it seemed when Chairman Xi and his generals previewed it.
ITEM 3: The New York Post reported, "Kamala Harris speechwriter joins growing list of resigning staffers."
Breath mints, Mrs. H.
ITEM 4: Stacey Abrams, the Democrat who thinks she is governor of Georgia, visited a school and she and all the children sat on the floor.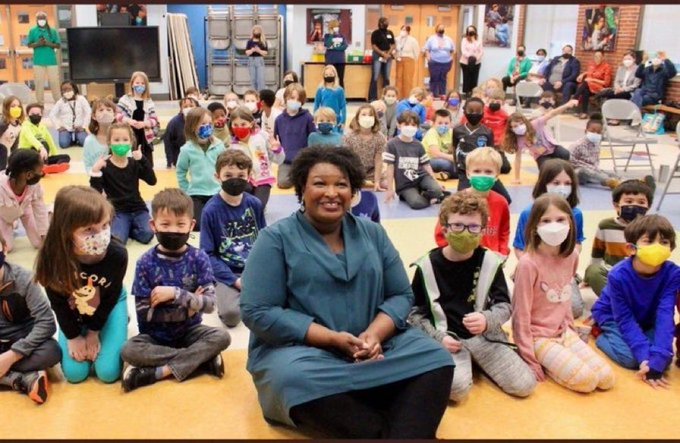 She's the one without the mask.
ITEM 5: GiveSendGo is the alternative to GoFundMe. It is raising money for the Freedom Convoy.
GiveSendGo tweeted, "We have been under heavy DDOS and bot attacks. In spite of all of this we still have managed to raise funds 5X faster than the gfm did. GFM raised 10mil in 3 weeks. GSG campaign has already raised over 1.1mil in just over 12 hours!"
Meanwhile, Emily Miller reported, "GoFundMe removed the online fundraiser for the family of Texas Sheriff Deputy Jason Jones after his wife posted an update about her legal efforts to get Ivermectin. GoFundMe said the content falls under the prohibited conduct section.
"The company gave no warning and deleted the link from its website. Jones is dying of covid at Texas Huguley Hospital in Fort Worth."
Evil is spelled GFM.
ITEM 6: The Daily Mail reported, "Facebook stock ends its devastating plunge after Mark Zuckerberg lost $30 billion and dropped off the top 10 wealthiest list."
Poor Zuckface. He's down to his last $85 billion.
I might join MySpace.
Hey, I use Dogpile instead of Google.
ITEM 7: Spin reported, "Duran Duran 'Thrilled' Over First Rock Hall Nomination."
You realize Jann Wenner is just trolling us now. Nickelback will be next, followed by the Archies.
ITEM 8: Bloomberg reported, "Canada's capital declared a state of emergency Sunday as police struggled to rein in ongoing protests against vaccine mandates.
"Ottawa Mayor Jim Watson, who declared the emergency, said in a statement that the increasingly rowdy demonstrations posed a 'serious danger and threat to the safety and security of residents.' Hundreds of trucks continued to occupy the downtown area near Canada's parliament with no sign that the protesters planned to leave."
Solidarity 2022.
Some enterprising reporter ought to ask Lech Wałęsa what he thinks about the Freedom Convoy.
ITEM 9: Glenn Beaton reported, "Aspen Skiing Company instructs its employees to discriminate in favor of blacks."
So in the 21st century we go back to water fountains for whites and coloreds, except this time the coloreds get the better ones.
I hope in the 22nd century we get rid of this nonsense.
ITEM 10: Andrew Malcolm reported, "Typical Biden: if Putin Invades Ukraine, He Vows Sanctions That Don't Work."
Meanwhile, Fox reported, "Biden administration waives sanctions on Iranian civilian nuclear activities as deal talks hang in balance."
One thing about Biden.
He stays bought.
ITEM 11: Breitbart reported, "Pipeline Politics: Ex German Chancellor Gerhard Schröder Nominated to Board of Russian State-Owned Gas Company."
DC ain't the only swamp in the world.
ITEM 12: Law Enforcement Today reported, "Man out on bond accidentally shoots himself in the head while trying to rob someone."
He'll live.
Wonder if the judge will revoke his bond now.
ITEM 13: Watts Up With That reported, "Green Wrecking Ball: Germany Clearing Undisturbed 1,000-Year Old Forest, Make Way For Massive Wind Park."
So we remove the trees that reduce carbon dioxide in the air in order to install expensive and inefficient bird killers in the name of fighting carbon dioxide.
ITEM 14: The New York Times reported, "The House select committee scrutinizing the Jan. 6 assault on the Capitol is borrowing techniques from federal prosecutions, employing aggressive tactics typically used against mobsters and terrorists as it seeks to break through stonewalling from former President Donald J. Trump and his allies and develop evidence that could prompt a criminal case.
"In what its members see as the best opportunity to hold Mr. Trump and his team accountable, the committee — which has no authority to pursue criminal charges — is using what powers it has in expansive ways in hopes of pressuring Attorney General Merrick B. Garland to use the Justice Department to investigate and prosecute them."
This is the biggest genie bottle Democrats have uncorked since they ended the filibustering of judges.
That led to the confirmation of Justices Gorsuch, Kavanaugh and Barrett.
Stanley Brand, a Democrat and the former top lawyer for the House, represents Dan Scavino, one of Mr. Trump's closest aides, in the investigation.
Brand told NYT, "Having lived through and being a part of every major congressional investigation over the past 50 years from Iran-contra to Whitewater to everything else, this is the mother of all investigations and a quantum leap for Congress in a way I've never seen before."
Translation: the staffs and children of Nancy and Biden may have to lawyer up next year if Republicans take the House.
ITEM 15: Business Insider reported, "Iowa Republican wants cameras in public school classrooms so parents can monitor teachers 'similar to a body camera on a policeman.'"
The site spun it as, "A Republican state lawmaker in Iowa wants nearly every classroom in his state to have cameras so that parents or guardians can monitor what their children are learning in real-time, a proposal that comes amid a national effort by conservatives to use frustrations about schools as a political wedge issue."
If teachers have nothing to hide then they should have no problem with the cameras. It may also get parents to discipline their children for acting up in school.
ITEM 16: The New York Post reported, "Andrew Cuomo's beloved 90-year-old mom Matilda has been canceled by her disgraced son's behavior, sources told the Post.
"State officials removed the matriarch's name from the Web site of a mentoring program she founded and oversaw — after her ex-gubernatorial son's humiliating departure from office over sex-harassment claims last year, sources said."
The Cuomophobia continues.
ITEM 17: CNN reported, "Jake Tapper calls out China's move during Olympics Opening Ceremony."
The story said, "CNN's Jake Tapper looks into the history of Olympic host countries using minorities that they are oppressing to look good on the global stage. Tapper also calls out American corporations for continuing to fight for Chinese money when ignoring their human rights violations."
Looks like with Zucker gone, we are getting the Old School Tapper back.
ITEM 18: The Washington Examiner reported, "Fauci a growing fixture in GOP campaign ads and fundraising."
Trolling the troll.
ITEM 19: The Post Millennial reported, "The founder of the Memphis Black Lives Matter chapter, 44-year-old Pamela Moses, has been sentenced to six years and one day in prison after being convicted in November of illegally registering to vote back in 2019."
Among her 16 prior convictions, is a plea of guilty to tampering with evidence, which carries a lifelong ban on voting in Tennessee.
Must be a racist law then.
ITEM 20: The Daily Mail reported, "Trouble in paradise? Scowling Barack Obama inspects the construction of his new multimillion-dollar Hawaii mansion and controversial sea wall which his neighbors fear will erode the beachline."
Martha's Vineyard. Hawaii. You know, for a fellow who believes in global warming, he sure has a lot of beach homes.
FINALLY, via Kane at Citizen Free Press (who has the video), comedian Heather McDonald appeared in Tempe, Arizona, on Saturday. Her second joke was, "I'm vaxxed, double vaxxed, boosted … and flu shot and shingle shot and haven't gotten covid and Jesus loves me most."
Then she collapsed.
The audience thought it was a joke.
She will be out of the hospital in a few days.
Jesus still loves her. He just wants her to dial it back a little.