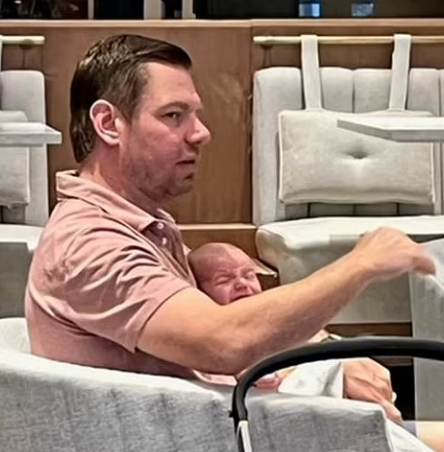 Eric Swalwell is the latest Mask Mandating Democrat Congressman to be caught vacationing in Florida without a mask on.
If Democrats can fine congressmen for going maskless in the Capitol, they should be forced to superglue a mask onto their mugs.
The Daily Mail reported, "Swalwell appears to be following in the footsteps of fellow liberal Alexandria Ocasio-Cortez by taking a trip to mask-and mandate-free Florida - just days after lashing out at Republicans for 'prolonging' the coronavirus pandemic.
"The California Democrat has repeatedly accused conservative lawmakers of being responsible for the ongoing covid wave and last week blamed the GOP for 'canceled vacations' and for having to wear 'masks everywhere' again just before the new year.
"But Swalwell, himself was apparently able to go ahead with his holiday travel plans and ditch his mask just days later, when he was spotted hanging out at the posh Loews Miami Beach Hotel.
"The 41-year-old was seen in exclusive DailyMail.com photos Tuesday chatting with a female friend at the lobby of the four-star hotel while looking after his infant son.
"Swalwell, who represents parts of the San Francisco Bay Area, appeared dressed for the warm Miami weather, sporting a blush-colored polo, shorts, and boat shoes."
Republican Governor Ron DeSantis can use this hypocrisy to his advantage.
He should get his tourism bureau to put together a new campaign targeting California, New York, and other Democrat areas. The ads would show pictures of AOC, Swalwell, and other Democrats who went to Florida to party hardy. These pictures would make the point of the campaign, "Visit Florida. Your congressman did."
And it could have a clip of Every Conservative's Favorite Governor telling reporters, "If I had a dollar for every lockdown politician who decided to escape to Florida over the last two years, I'd be a pretty dog-gone wealthy man, let me tell ya."
Covid is going to be around for a while. Get used to it. Not to be morbid, but cancer killed three times as many people in 2020. (Final 2021 numbers aren't in but the results should be about the same.)
We may as well enjoy life.
In Florida, people are having such a good time that the state is attracting the Branch Covidians in Congress.
DeSantis should pounce.