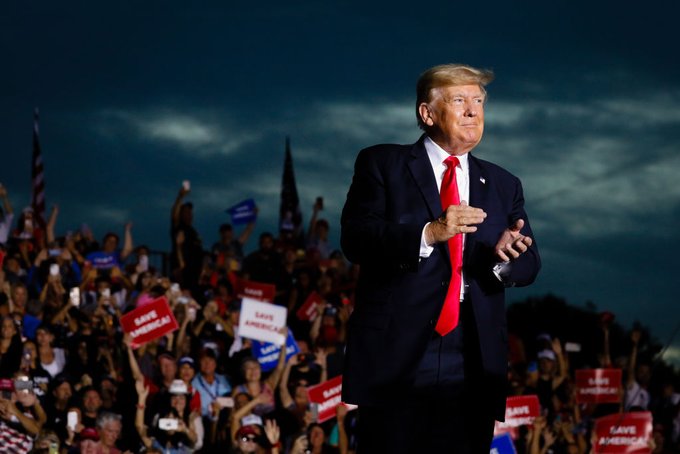 How about some good news to start Twenty-Tutu off right?
Red China's big telecom is melting down thanks to our old friend Donald John Trump.
Reuters reported
, "Chinese telecoms equipment giant Huawei Technologies Co Ltd, battered by U.S. sanctions, expects 2021 revenue to have declined nearly 30% and predicted continued challenges in the New Year.
"Revenue for the year is expected to be 634 billion yuan ($99.48 billion), rotating chairman Guo Ping said in a New Year letter to employees on Friday.
"That represents a fall of 28.9% from 2020 revenues of 891.4 billion yuan."
Just a few years ago, Huawei was doing great as it installed 5G around the world.
Then along came President Trump.
Reuters said, "In 2019, the U.S. Trump administration imposed a trade ban on Huawei, citing national security, which barred the company from using Alphabet Inc's Android for its new smartphones, among other critical U.S.-origin technology.
"The U.S. sanctions, together with weaker domestic consumption due to the coronavirus, weighed on Huawei."
Those sanctions were just the beginning.
On May 16, 2019, the day after Trump imposed those sanctions, the New York Times reported, "The Trump administration has filed criminal charges against Huawei for stealing technology. It has all but snuffed out the Chinese tech giant's sales in the United States, calling the firm an espionage threat. And it has tried to persuade other governments to do similarly.
"But Washington had not taken a straight shot at Huawei's ability to do business anywhere in the world until late Wednesday, when the Commerce Department announced restrictions on the company's access to American technology.
"American companies including Qualcomm, Intel and Broadcom sell Huawei microchips and other specialized parts that go into its smartphones and telecom equipment. Google's Android software powers its phones. Of the $70 billion that Huawei spent on components and other supplies last year, $11 billion went to American companies, a Huawei spokesman, Joe Kelly, said.
"If Huawei is cut off from these suppliers, the effect could be catastrophic for the millions of people who use Huawei smartphones — and for the mobile networks, across a wide swath of the planet, that run on Huawei gear."
America's Maoists did not like that.
NYT reported, "It would be 'the trade equivalent of a nuclear bomb,' said Kevin J. Wolf, a partner at the law firm Akin Gump Strauss Hauer & Feld and an assistant secretary of commerce under President Barack Obama."
But the Times assured its elitist readers, "Given the spiraling tensions between China and the United States on tariffs, the move against Huawei may also be short-lived. Talks to resolve the trade fight have stalled, and both sides are digging in their heels. The pressure is on to find common ground ahead of a potential meeting next month between President Trump and China's top leader, Xi Jinping, in Japan. Washington's campaign against Huawei could become a bargaining chip."
And Paul Scanlan, Huawei's CTO, assured CNBC this would backfire.
He said, "The Trump Administration has amplified its campaign to harm Chinese technology companies, widening its focus from Huawei and 5G to the Chinese social media apps TikTok and WeChat. It's clear that these maneuvers are designed to distract from pressing domestic issues and to hobble Chinese tech firms for the commercial benefit of U.S. competitors."
That was the best Huawei could do?
To be sure, Donald Trump no longer is president.
But Huawei's revenues dropped from $123 billion in 2019 to under $100 billion two years later.
And that $123 billion was down from the $135 billion it expected until Trump took action.
So far, Biden has not bailed out Huawei. Maybe he is holding out for a million-dollar-a-year no show job for his idiot son. We shall see.