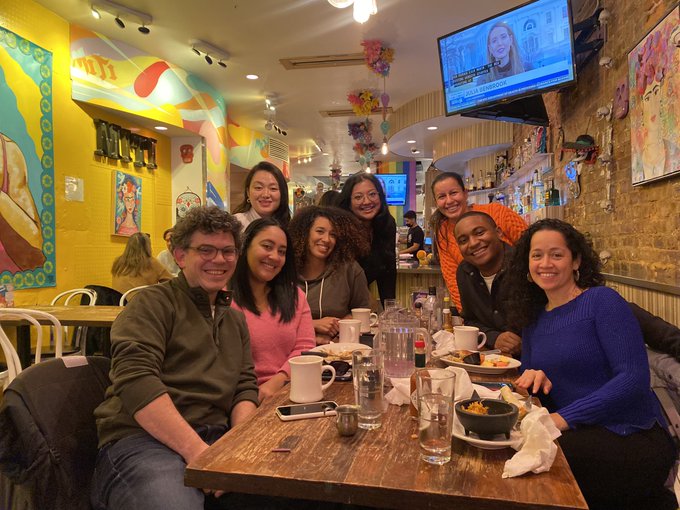 Chi Ossé, a New York City councilman, posted a picture of maskless councilmen having a good time in a city where policemen take people into custody for not wearing a mask at Burger King.
He did this knowing this would cause an outrage. He is 23. He grew up on Internet porn and social media. He wants you to know Democrats are above the law.
His caption is: "Up to no good."
Chi Ossé's message to the world is Fuck the People.
That is the message from all Democrats. Rules are for little people. They have ignored their own covid laws all along.
In the beginning, they hid it. When caught, they apologized.
But they stopped doing that when they realized, hey, there are no consequences. AOC dismissed her critics as people who are unhappy that they will never have sex with her.
Their actions show the obvious, that masks and social distancing do not stop a virus. Only a moon suit can protect you from a virus. As for that six-foot limit, a cough can travel 18 feet, a sneeze 24.
If you follow the science, you know the government/media/public health plan for covid was 100% wrong. We trapped children indoors when they should have been outside enjoying the sun and soaking up Vitamin D.
Oh, it is not a cure for covid but when you realize nothing is, you do like Democrats and party like it's 19-99.
But the covid cure concocted by quacks like Fauci served a purpose. It sowed seeds of doubt in everyone everywhere.
Yahoo reported, "Edelman's Trust Barometer for 2022 revealed that the global level of trust in government and media is dropping.
"An annual online survey conducted in 28 countries and reaching over 36,000 respondents found that distrust in political institutions fell in 2021 across the world.
"Among the key findings of the report was the overall lower trust in world leaders and institutions around the world, with 67% of respondents saying they worry that journalists and reporters were 'purposely trying to mislead people by saying things they know are false or gross exaggerations.' The figures were 66% and 63% for government and business leaders, respectively."
The New World Order is a communist's wet dream of power and control. Communists created Pravda not to inform their supporters but to misinform them because they wanted people to distrust their own eyes and what they read.
They wanted this distrust because it inoculated them from the truth because not only did the peasants disbelieve Pravda, they disbelieved all newspapers.
Today's peasants have college degrees and think their education will protect them from manipulation and conspiracy theories.
Two words: Russian Collusion.
Years of hiding the true intent of the Democrat Party -- socialism -- have emboldened party officials. They used to do white lies. Now they make up fairy tales that are outrageous. The more power they have, the more blatant the lies become. Boys are not girls, and girls are not boys but under the New World Order, you have to watch your pronouns.
Councilman Chi Ossé knows it is bullshit designed to put idiots like him in power. That photo was posted to flaunt his power.