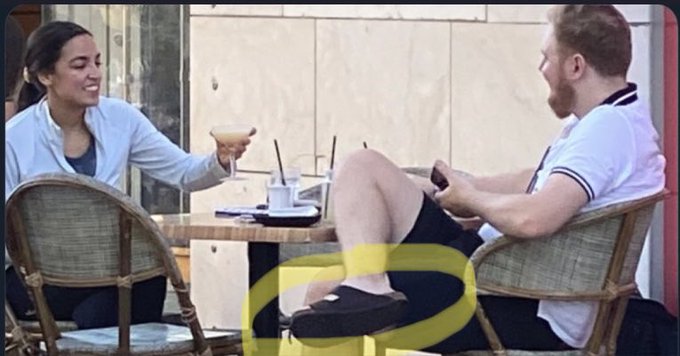 Political jokes sometimes become a nightmare reality. Look at Biden. Democrats now are gnawing off their feet to escape his trap.
Politico reported
, "The left is already looking to 2024. Some want to see a Biden primary challenge."
Paragraph 6 dismissed the most obvious and most potent challenger.
Politico said, "No one now in office — and none of the top-tier presidential contenders from 2020 — is viewed as a serious prospect to take on Biden. Nor is there any expectation that Sanders or Sen. Elizabeth Warren, both of whom have enjoyed a significant amount of influence in the Biden administration, would primary Biden. Few seriously think Ocasio-Cortez would risk her political capital in a long-shot challenge to the president, either."
The press also blew off Obama when he announced he was running in 2007 and Trump when he announced he was running in 2015.
She certainly is not a longshot for the nomination. If a tired, old, lazy socialist from Vermont can get nearly half the party's backing, why not her?
AOC is a giant killer, as she knocked off Joe Crowley -- an heir apparent to Pelosi -- in the 2018 primary in New York. None of the experts saw it coming. The New York Times did not bother interviewing her before the primary.
In August, she nixed a 2024 run. She turns 35 that year, the minimum age to be president or vice president.
She said she could run for the Senate and primary Chuck Schumer.
My take is she is better off running for president because she has a bigger national constituency than she does a state constituency. Crowley ignored her. Schumer won't. And he has markers galore and chits ahoy. The money men in New York are not going to trade in the Senate leader for a pretty face. Her base is small. Unlike her House district, the state is less than 7% Hispanic.
But the presidency could be hers. Lincoln lost to Douglas for the Senate. So what? 2 years later Lincoln beat him for the presidency.
Nationally, AOC would attract money. Maybe not as much money as Paternity Pete will get from the Gay Mafia, but the Silicon Valley crowd would finance her.
Her voting bloc is better established than Hillary's because all AOC has to do is show up and take Bernie Sanders votes. He has huge appeal in the Democrat Party. He forced Hillary to fight for the nomination. In fact, Trump secured his nomination a month before she did.
Had Sanders not sold out to Biden, he would have been the nominee in 2020.
AOC could do it in 2024.
The media will pimp her like it did Obama. Her Marxism may be nearly 200 years old, but she's young and pretty and easily sold as the First (Blank) American to be (Insert Office).
Democrats primarying Biden is not good news for Republicans. Ted Kennedy primarying Carter in 1980 did not split the party. Reagan really had to work to win that race. It was a dead heat (with a slight lead for Carter) up until their only debate two days before the election. No matter what happens, Republicans will be fighting for their lives in 2024, and AOC is dangerous.
Politico can blow her off because it is just a media outlet. Republicans cannot afford the luxury of being wrong.