The official government inflation number hit 7% last month as 2021 became the most inflationary year since 1982.
1982 was the year Reagan slew double-digit inflation. That led to nearly four decades of relatively stable prices. Biden, who always hated Reagan, has ended that winning streak. That'll show Reagan!
Trump left Biden with 1.4% inflation, by the way.
Heather Long, an editorial writer at the Washington Post, tweeted the agony of this defeat:
Gas 49.6%
Fuel oil 41%
Used cars 37%
Rental cars 36%
Hotels 27.6%
Utility gas 24%
Steak 21.4%
Beef 18.6%
Bacon 18.6%
Furniture 13.8%
Tires 12.4%
New cars 12%
Eggs 11%
Suits 11%
Chicken 10%
Fish 10%
Ham 10%
When a Democrat loses the Washington Post, he loses it all. The Post almost single-handedly saved Clinton from impeachment.
Cui Bono (who benefits) from inflation?
The 1%.
The Wall Street Journal reported, "U.S. stocks rose on Tuesday, led by a rebound in shares of technology companies. The S&P 500 added 0.9%, snapping a five-day losing streak. The yield on the benchmark 10-year note edged down to 1.745% on Tuesday from 1.779% on Monday, when it settled at a 52-week high."
To be sure, the stock market benefits many of us in the middle class, but we also are on the front lines paying these higher prices. Food is a greater portion of our spending.
Biden wants inflation. He is not changing his economic team. The Journal also said, "In November, President Biden announced his intention to nominate Jerome Powell, a Republican, to a second term leading the central bank after his current one expires next month."
Meanwhile, his unpopularity is deflating.
The New York Post reported, "President Biden's job approval rating has tumbled to 33% in the latest Quinnipiac University poll, a whopping 17 percentage-point drop​ from February and an indication of American voters' deep dissatisfaction over his administration's response to rising inflation and a resurgence of COVID-19."
But Biden's showing Reagan, isn't he?
Biden also is wiping out 4 years of wage gains for low-income people under Trump, who had reversed decades of the people at the bottom falling further behind.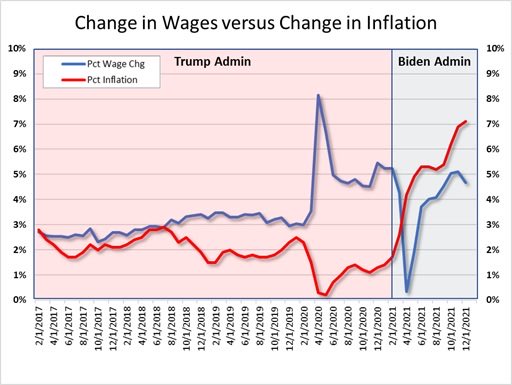 In its report on inflation, Zero Hedge said, "Finally, and perhaps most importantly for Main Street, real average hourly earnings fell (down 2.4% YoY) for the 9th straight month."
This is why Jeff Bezos, Bill Gates, Warren Buffett, Mark Zuckerberg, George Soros, and most other billionaires supported Biden and loathed Trump. Both men could make them rich, but they also wanted to make the poor poorer.
'Tis the psychology of communism. Class envy. It is not good enough that your team wins. The other team must lose.
58% disapproval for Biden.
Maybe the people have caught on.