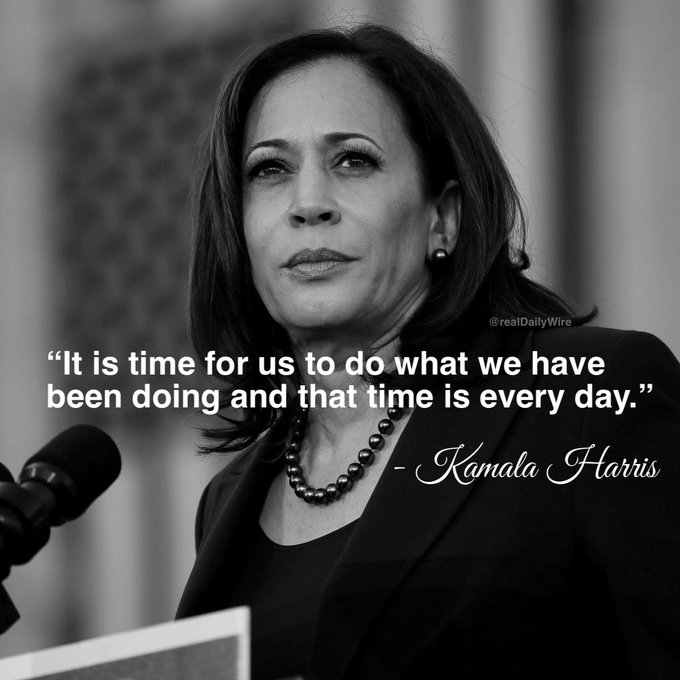 Sinema gave a Let's Go Brandon speech on the Senate floor on Thursday just before Biden's arrival at the Capitol for a private lunch with Senate Dems to rally support for federalizing elections.
Yes, she took jabs at Republicans too. But jaw-jaw means nothing. How she will vote does. And she will vote against her party's president and his agenda.
Politico said
, "Sinema is having Joe Biden for lunch," attributing the words to an anonymous third party.
And she will pay no penalty. Neither Jeff Flake nor John McCain paid for gumming up the works for their party's president 4 years ago. All 3 senators represented Arizona when they went rogue.
Democrats and Biden are in trouble because cheaters never prosper. Democrats may have gotten 81 million ballots for Biden through ballot harvesting in 2020 but he did not have 81 million supporters.
He pays for that now.
William Jacobson responded to a tweet that said, "Trump lowest approval in 4 years was 34%. Biden at 33% in his first year. Amazing."
Jacobson's take was amazing: "Biden has no base. He served a purpose and that is it. Same with Harris."
Oh he has a base. It is called the media.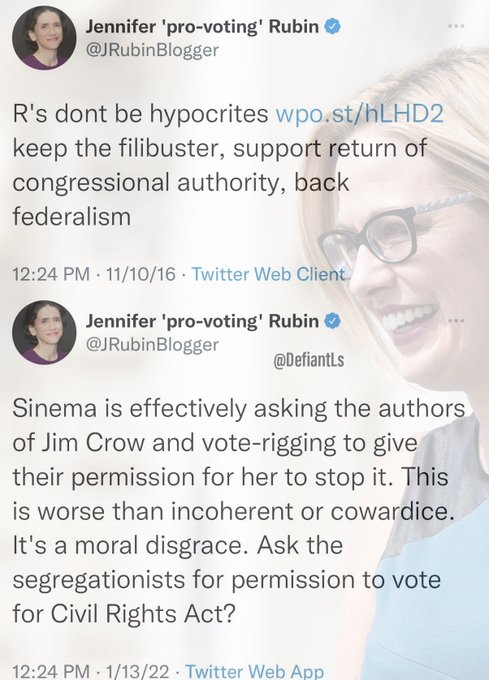 But the mainstream media has the survival instincts of cockroaches. The Wall Street Journal gave Peggy Noonan permission to sting Biden.
She wrote, "It is startling when two speeches within 24 hours, neither much heralded in advance—the second wouldn't even have been given without the first—leave you knowing you have witnessed a seminal moment in the history of an administration, but it happened this week. The president's Tuesday speech in Atlanta, on voting rights, was a disaster for him. By the end of Senate Minority Leader Mitch McConnell's answering speech on Wednesday you knew some new break point had occurred, that President Biden might have thought he was just crooning to part of his base but the repercussions were greater than that; he was breaking in some new way with others—and didn't know it. It is poor political practice when you fail to guess the effects of your actions. He meant to mollify an important constituency but instead he filled his opponents with honest indignation and, I suspect, encouraged in that fractured group some new unity."
Voting Rights is dog-whistle white guilt to federalize elections. The bill would make legal the things Democrats did to win in 2020 that the courts and the media deny they did.
Noonan wrote, "The speech itself was aggressive, intemperate, not only offensive but meant to offend. It seemed prepared by people who think there is only the Democratic Party in America, that's it, everyone else is an outsider who can be disparaged."
In other words, he delivered the boiler-plate Democrat argument in the 21st century: you stink.
But Biden has been talking shit for as long as I can remember. In 2012, he said to black people Republicans will put you in chains. He kicked comity to the curb long before Donald Trump came along.
She ended her piece, "When national Democrats talk to the country they always seem to be talking to themselves. They are of the left, as is their constituency, which wins the popular vote in presidential elections; the mainstream media through which they send their messages is of the left; the academics, historians and professionals they consult are of the left. They get in the habit of talking to themselves, in their language, in a single, looped conversation. They have no idea how they sound to the non-left, so they have no idea when they are damaging themselves. But this week in Georgia Mr. Biden damaged himself. And strengthened, and may even have taken a step in unifying, the non-Democrats who are among their countrymen, and who are in fact the majority of them."
Majority is the problem. Biden acts as if Democrats have a majority in Congress. They barely have one in the House, but the Senate is split 50/50. The things he wants to do require a supermajority. Big things always do.
The Civil Rights Act of 1964 required 67 votes. LBJ needed 23 of the 33 Republican senators to vote to end the filibuster by 23 Dixiecrats. He made a minor change and Everett Dirksen delivered 27 votes.
That is the power of the filibuster: It forces a compromise.
Biden opposes compromising. He acts as if he is Obama with 60 votes in the Senate. Biden does not have that.
Democrats have the worst of all worlds. They have a reckless, incompetent president who just abandoned Afghanistan one day in August on a whim, and who fought covid by alienating half the nation with his vax mandates.
They have the appearance of control of Congress, but they don't control Congress.
The likelihood of a Republican Congress a year from now leaves Democrats with few options. Manchin and Sinema do not look like they are budging.
As a lifelong Cleveland Indians fan, I know what losing looks like. in the 35 seasons from 1960 to 1993 inclusive, the Indians had but 6 winning seasons.
Since you cannot fire the players, you have to fire the manager.
But firing Biden leaves you with President Kamala. No, she must go first, which would allow Democrats to replace her with a president of Obama's choosing -- Jamaal Bowman? Kwanza Hall? -- which would make Biden expendable.
Shades of Gerald Ford, right?
That is worth a roll of the dice by Democrats because Ford came close to winning the 1976 race. If he had ballot harvesting, we never would have heard from Jimmy Carter again.
Otherwise, one and done.