FARM REPORT: U.S. had a record high yields of corn and soybean last year as carbon dioxide levels also rose.
AgWeb reported, "Just in corn, record yields occurred in Florida, Georgia, Indiana, Iowa, Kentucky, Maryland, Michigan, Nebraska, New York, North Carolina, Ohio, Oklahoma, Pennsylvania, South Carolina, Washington, and Wisconsin.
"For soybeans, record high yields occurred in Alabama, Delaware, Georgia, Illinois, Indiana, Iowa, Kentucky, Maryland, Michigan, Mississippi, Nebraska, New Jersey, New York, North Carolina, Ohio, Pennsylvania, South Carolina, Tennessee, Virginia, and Wisconsin."
Remember this should socialists fully take over the country and we run out of bread.
ITEM 1: The Kenosha News reported, "Kyle Rittenhouse seeks return of gun, says he wants it destroyed."
His gun, his choice.
ITEM 2: Via Instapundit, this.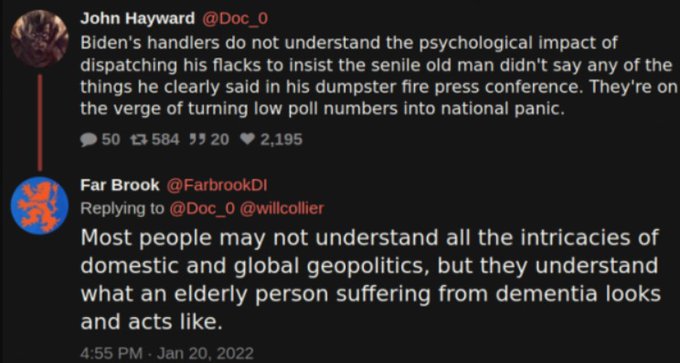 I held out hope that it was just an act, but it is dementia.
ITEM 3: The New York Post reported, "The chief of staff for Virginia's Loudoun County school district has been fired after a still-secret investigation into sexual assaults by a boy who was allowed to stay in classes, according to local reports.
"The troubled school district confirmed to local media this week that chief Mark Smith was no longer in the job — while also announcing a probe into the sex attacks had been wrapped, but would not be released.
"Asked about the end of Smith's job, which he held for exactly a year, a spokesperson for the district would only tell the Loudoun Times-Mirror, 'The position is vacant.'
"However, sources confirmed to Loudoun Now that he was axed last week. He was also scrubbed from the school board's website.
"His exit was directly linked to the independent investigation into sex assaults at high schools. Officials confirmed to 7News that the report had been completed, but was not going to be made public."
This was the boy in a skirt who raped a girl in the girls' restroom. Her father complained to the school board at a public meeting. The board had him arrested. Biden's administration labeled the man a domestic terrorist.
The real terrorist is a sick chief of staff who covers up such crimes. They moved the boy to another school. He did the same thing.
Republican Governor Glenn Youngkin should make the report public.
ITEM 4: The New York Post reported, "A 57-year-old disabled Tongan man has been hailed as a real life Aquaman for reportedly swimming roughly 27 hours straight after being swept out to sea during the devastating tsunami.
"Lisala Folau told local radio station Broadcom Broadcasting that he was painting his home on the tiny island of Atata on Saturday night when his brother alerted him about the tsunami after the eruption of the Hunga Tonga-Hunga Ha'apai volcano, the Guardian reported.
"He said his brother and a nephew came to his aid as waves crashed into his home."
He can barely walk. The Lord was watching over him.
ITEM 5: NBC reported, "TV reporter struck by car during live broadcast gracefully rebounds to finish shot."
That was Tori Yorgey, a reporter for NBC affiliate WSAZ of Huntington, West Virginia. Takes more than an SUV to stop a West Virginian.
She said, "You know that's live TV for ya! It's all good! I actually got hit by a car in college, too, just like that. I am so glad I'm OK!"
ITEM 6: USA Today reported, "'Corporate-sanctioned racism'? How war on critical race theory spread from schools to big business."
The story said, "America's culture wars have come to cubicles and corner offices across the country.
"From critical articles in right-leaning publications to legislation in statehouses, conservatives are taking aim at how racism is taught, not just in schools but in private companies. Their rallying cry: critical race theory."
We were told in the 1960s that the left wanted equality.
They lied.
ITEM 7: The New York Times reported, "The Most Exciting Sporting Event in the World Is Happening Right Now."
No it's not.
It's soccer. You know, live action foosball.
ITEM 8: Fox reported, "Chris Cuomo said he advised actor Alec Baldwin not to publicly speak out about cancel culture while the journalist's brother, Andrew Cuomo, was facing a sexual misconduct trial.
"Beginning in late 2020, a scandal broke out for Andrew Cuomo, then the governor of New York, when he was accused of sexual misconduct. He eventually stepped down from his position but insisted that he did no wrong.
"Chris Cuomo, the former CNN presenter, admitted to advising his brother amid the scandal and utilized his media connections to try to aid the politician.
"In his testimony – video of which was released on Thursday – the 51-year-old also revealed that he advised Baldwin, who knows both brothers, not to speak out on cancel culture amid the scandal."
Cuomo should have advised him not to shoot camerawomen.
Oh and the family of Lance Corporal Rylee J. McCollum, one of 13 servicemen killed by Biden's surrender of Afghanistan, are suing Baldwin for $25 million for defaming them.
ITEM 9: The New York Times reported, "Intel has selected Ohio for a new chip manufacturing complex that would cost at least $20 billion, ramping up an effort to increase U.S. production of computer chips as users grapple with a lingering shortage of the vital components.
"Intel said the new site near Columbus would initially have two chip factories and would directly employ 3,000 people, while creating additional jobs in construction and at nearby businesses, a person with knowledge of the matter said. But that is likely to be just the beginning."
Good.
We have no business doing business with Red China.
By the way, ESPN is not sending reporters to cover the Red Chinese Olympics. Maybe that is Disney's retaliation for Red China banning four Disney comic book superhero movies.
ITEM 10: The New York Post reported, "Biden said Thursday the Democratic Party was united despite a high-profile rift with two senators that blocked sweeping voting-rights legislation a day earlier."
Just 10 days ago he called them segregationists.
ITEM 11: The Washington Post reported, "The Federal Reserve is taking the next step in weighing whether to launch a U.S. digital currency, issuing a report Thursday that explores the potential benefits and drawbacks of such a move without indicating where it will land."
In Gates we trust.
Don't do it.
ITEM 12: The Texas Tribune reported, "The U.S. Supreme Court denied on Thursday abortion providers' latest request to intervene in the ongoing legal challenge against Texas' restrictive abortion law, cutting off one of their few remaining paths to a speedy victory.
"The case is currently before the 5th U.S. Circuit Court of Appeals, which sent the case to the Texas Supreme Court. That is expected to add months to the legal proceedings. Abortion providers were hoping the U.S. Supreme Court would direct the 5th Circuit to send the case to federal district court, where a judge previously blocked the law."
Reversing Roe v. Wade outright would make the matter moot.
ITEM 13: AP reported, "Just 16% think Biden's presidency has made the country more united; 43% think it's more divided."
I don't know. He seems to be uniting people into opposing him.
ITEM 14: Samuel Moyn is Henry R. Luce Professor of Jurisprudence at Yale Law School and Professor of History at Yale University.
He is no fan of Thomas Friedman of the New York Times or his most recent column, "Putin to Ukraine: 'Marry Me or I'll Kill You.'"
Moyn tweeted to Matt Taibbi, the renegade lefty journo, "Count of metaphors in one column: a whopping thirteen, *none of which have anything to do with each other*. Putin ends up an amputated ex-boyfriend peasant thug eating Ukraine in a tree, killing cows and threatening marriage between bites."
Taibbi had a lot of fun mocking Friedman's over-the-top writing style.
ITEM 15: But Taibbi missed the substance of Friedman's column, which is really horrifying because it reflects the thinking (such as it is) of the Democrat Party.
Friedman wrote, "I don't weep for Putin. He is the human embodiment of one of the oldest Russian fables: A Russian peasant pleads to God for aid after he sees that his better-off neighbor has just obtained a cow. When God asks the peasant how he can help, the peasant says, 'Kill my neighbor's cow.'
"The last thing that Putin wants is a thriving Ukraine that joins the European Union and develops its people and economy beyond Putin's underperforming, autocratic Russia. He wants Ukraine to fail, the E.U. to fracture and America to have Donald Trump as president for life so we'll be in permanent chaos.
"Putin would rather see our cow die than do what it takes to raise a healthy cow of his own. He's always looking for dignity in all the wrong places. He's rather pathetic — but also armed and dangerous."
Dismissing Putin's concerns as being jealous of Ukrainian success is a good way to wind up in a war. We have no business adding Ukraine to NATO because that puts us -- and don't kid anyone, NATO is the United States -- on Russia's border.
Russia has legitimate concerns, just as it did 43 years ago when it invaded Afghanistan. Democrats urged Reagan to arm the Afghans. Next thing you know, the Taliban replaced the Soviets and we wound up with 9/11 followed by 20 years of war and occupation.