Sign at City News Bureau of Chicago: If your mother says she loves you, check it out. This is why.
JUST IN - Britain's Prince Andrew loses military titles and patronages amid sex abuse lawsuit, Buckingham Palace has announced. pic.twitter.com/R1d9A8oXyi

— Disclose.tv (@disclosetv) January 13, 2022
ITEM 1: Shadow Government Statistics reported that "based on the methodology which was employed prior to 1980" to calculate the Consumer Price Index, inflation is at 15%, not 7%.
If it weren't for lies, the government would have nothing to say.
ITEM 2: The Supreme Court voted 6-3 to strike down the vax mandate, and 4-5 to keep it on health workers. The weasels were Kavanaugh and Roberts, who are behind conservatives 50% of the way.
My body, my choice, unless you work at a hospital.
CNBC reported
, "The vaccine-or-test rules faced a raft of lawsuits from 27 states with Republican attorneys general or governors, private businesses, religious groups and national industry groups such as the National Retail Federation, the American Trucking Associations and the National Federation of Independent Business."
Where was the Chamber of Commerce?
Too busy donating money to Democrats to be bothered with fighting unconstitutional OSHA regulations.
No mention was made of the inability of vaccines to stop the spread of viruses.
ITEM 3: GNews reported, "Japan Abandons Mandatory Vaccination and Clarifies that Vaccination Requires 'Informed Consent.'"
The people trust a government that trusts the people.
I envy Japan on this.
ITEM 4: Kyle Smith wrote, "Rarely do you see a court case with a title as tasty as the one that's coming on Feb. 1 in federal district court right here in Manhattan: Grab your popcorn for Palin v. New York Times.
"Unlike, say, Batman v. Commissioner (1950, federal tax court), however, this one is about exactly who you think it's about. Fun!
"But this trial is not only entertaining, it will address an important principle: you don't get to make up nasty stuff about somebody you don't like and print it anyway. Reminding us that there is punishment in store for those who do this could move us a half-a-baby-step closer to restoring civility in the discourse."
Batman lost.
Palin has a better case.
ITEM 5: Paul Manafort told Sean Hannity, "I always felt they were targeting me and a couple of others to try and get at the president -- the president -- then candidate Trump and then President Trump, which is one of the reasons why I find it sort of ironic that what's going on today, with these claims about January 6, when the people who are pushing the January 6 allegations are the very ones who for four and a half years refused to recognize the results of the 2016 election."
He went on to say prosecutors wanted him to lie about Trump. That is suborning perjury.
It never will be prosecuted, and so the feds will do it again.
ITEM 6: News Nation polled voters and found, "63% of respondents trust their doctors and 50% trust federal health authorities, including the Centers for Disease Control and Prevention or the Food and Drug Administration.
"But when asked who they trusted, only 31% chose Dr. Anthony Fauci, the director of the National Institute of Allergy and Infectious Disease; and 16% chose Biden."
Faucism is dead.
MEME OF THE DAY: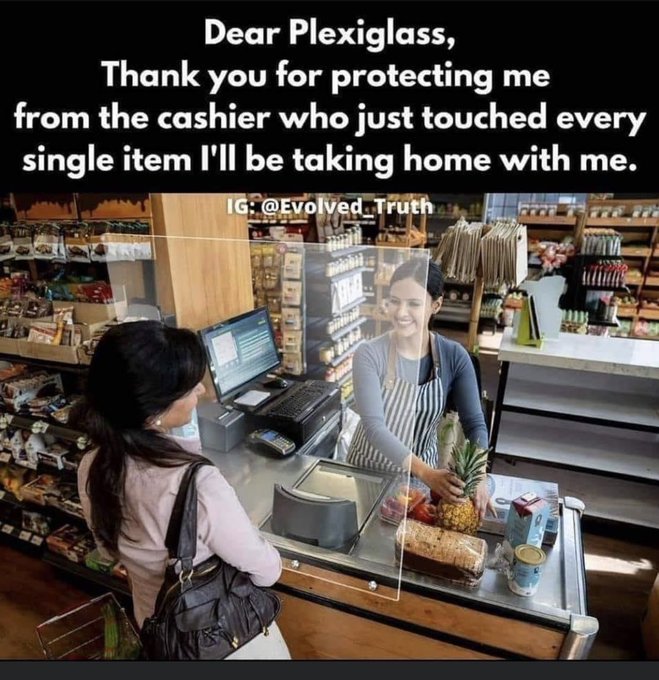 I should have bought Plexiglas when it was a dollar a share.
ITEM 7: AP reported, "13% of Democrats mentioned abortion or reproductive rights as one of the issues they want the federal government to address in 2022, according to a December poll from The Associated Press-NORC Center for Public Affairs Research. That's up from less than 1% of Democrats who named it as a priority for 2021 and 3% who listed it in 2020."
That means 87% of Democrats don't see it as a big deal -- despite the likelihood of a repeal of Roe v. Wade.
The story did not say how many independents or Republicans support abortion on demand. Always look for what a story does not say.
ITEM 8: The Federalist reported, "The Republican National Committee announced on Thursday that GOP candidates will no longer be required to participate in presidential debates hosted by the 'partisan' Commission on Presidential Debates due to the commission's refusal to 'provide a fair and impartial forum.'
"RNC Chairwoman Ronna McDaniel said that 'the RNC has a duty to ensure that its future presidential nominees have the opportunity to debate their opponents on a level playing field' and that as long as the CPD refuses to fix the overtly partisan issues that have plagued the debates for years, Republicans plan to no longer participate."
McDaniel is doing a bang-up job as RNC chairwoman.
ITEM 9: The Guardian reported, "California governor denies parole for Sirhan Sirhan, assassin of Robert Kennedy."
Good.
He should have been executed but instead he will rot in prison, a crueler punishment.
ITEM 10: The Senate did not kill the filibuster. The whole show was just to CYA Schumer and Pelosi for failing to deliver federalization of elections to the left.
The votes were not there in the Senate for this election deform. Work with Republicans? Schumer cannot even work with Democrats.
So we will pretend it was the filibuster, but really it was a majority of the Senate just saying no.
ITEM 11: The Independent reported, "Iran's supreme leader shares animated video depicting assassination of Donald Trump. Provocative video shows Iranian military targeting former US president in drone strike."
The reader who tipped me on the item said, "Twitter won't ban this video."
Jen Psaki's blaming Trump for Iran nuking up encourages Iran to create an atmosphere conducive to violence against Trump and his supporters.
This is not normal. The media should be cautious in airing her rash statements live. A tape delay on the daily briefings is in order.
ITEM 12: Judicial Watch announced that it filed a Freedom of Information Act (FOIA) lawsuit against the Central Intelligence Agency (CIA) for records of communications and meetings between then-CIA Director Gina Haspel and Chairman of the Joint Chiefs of Staff General Mark Milley (Judicial Watch, Inc. v. Central Intelligence Agency (No. 1:21-cv-03387))."
The reader who tipped me to this story said, "I like Fitton."
Tom Fitton is appropriately named.
ITEM 13: Citizen Free Press reported, "Glenn Youngkin announced that his Medical Advisory Team will be led by Dr. Marty Makary, along with Nancy Agee, Kathy Gorman, Alan Levine, Dr. Bogdan Neughebaeur, and Anand Shah.
"Dr. Marty Makary is a surgical oncologist and chief of the Johns Hopkins Islet Transplant Center. Makary has also served as a contributor to Fox News as a critic regarding some of the statements by Fauci and Walensky.
"Makary blasted the push for giving young people booster vaccines, saying, 'We have a modern-day McCarthyism if somebody asks a question about boosters in young people.'"
Timing is everything in politics and comedy. Youngkin hit the sweet spot. He's limited to one term, which will expire in 2025. That third year could be used to pursue the White House.
ITEM 14: WBFF reported, "Baltimore City State's Attorney Marilyn Mosby is now facing federal charges of perjury and making a false statement on a loan application."
Oh?
The story also said, "Mosby is accused of lying about experiencing covid-related hardship on an application where she asked to withdraw $40,000 from her Baltimore City retirement account."
What do you know. Perjury laws now apply to Democrats as well as Republicans.
ITEM 15: The New York Post reported, "The Food and Drug Administration said it will stop regulating French dressing after keeping a tight rein on its key ingredients since 1950. The US agency announced on Wednesday that it would lift guidelines that required manufacturers to sell a product with 35% vegetable oil if it wanted to market it as 'French dressing.'"
I remember reading this exchange at the Constitutional Convention.
Hamilton: Oh and we must empower the new government to regulate salad dressings.
Washington grabbed the parchment Hamilton was writing on, and crushed it in Hammy's face with his left hand.
ITEM 16: Rebecca Bodenheimer wrote, "How School Closures Made Me Question My Progressive Politics. I've never felt more alienated from the liberal Democratic circles I usually call home."
It's a pretty good column.
She wrote, "Parents who advocated for school reopening were repeatedly demonized on social media as racist and mischaracterized as Trump supporters. Members of the parent group I helped lead were consistently attacked on Twitter and Facebook by two Oakland moms with ties to the teachers union. They labelled advocates' calls for schools reopening white supremacy, called us Karens, and even bizarrely claimed we had allied ourselves with Marjorie Taylor Greene's transphobic agenda."
She is another liberal who does not realize how disposable she is.
To be progressive, you must follow the narrative religiously no matter how absurd it is. And over time, the absurdity grows exponentially.
But she is awakening from being woke.
FINALLY, Zero Hedge reported, "Global Economy Heading For 'Mother Of All' Supply Chain Shocks As China Locks Down Ports."
Lockdowns mean shortages.
Shortages mean inflation.
Inflation means a new president.
Red China ended Trump's presidency with covid -- which allowed Democrats to stuff the ballot box with mailed-in ballots.
Unable to turn off the spigot it opened, Red China has doomed its hand-picked successor. This is how it will play out throughout the world. We do not know which leaders will replace the current ones, but I suspect most of them will oppose Red China.