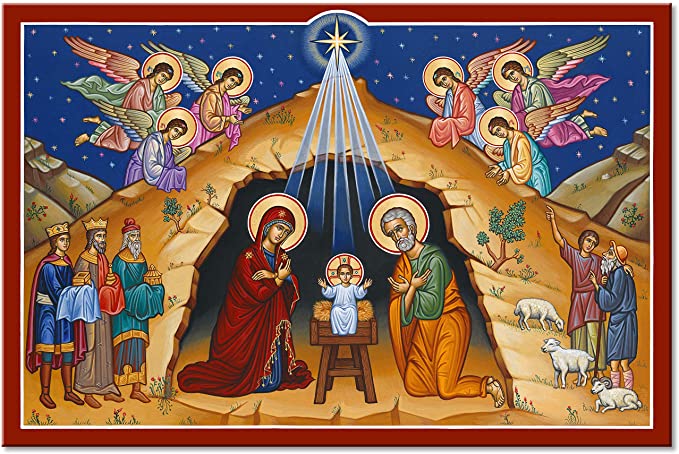 Merry Christmas!
Today is the Orthodox Christmas.
ITEM 1
:
Larry Kudlow reported
, "Game Over? Manchin's Job Approval Soars to 59% as He Stands His Ground."
In 2018, Manchin was the first senator from West Virginia to be re-elected with less than 50% of the vote. Certainly, I like him now.
Kudlow also said, "The guy is not going to cave. I fully expect him in the next couple days to tell us all that he intends to save America and kill the bill. I'm just waiting for that.
"This high tax, high spend, woke monstrosity is going nowhere. All these phony baloney political writers who say otherwise are wrong. Like the Axios report yesterday that breathlessly said that Mr. Manchin is really negotiating on a child tax credit."
I hope Kudlow is right and I am wrong.
ITEM 2: AP reported, "Residents of the Chinese city of Xi'an are enduring a strict covid lockdown, with business owners suffering yet more closures and some people complaining of difficulties finding food, despite assurances from authorities that they are able to provide necessities for the 13 million people largely confined to their homes.
"Stringent measures to stem outbreaks are common in China, which still maintains a policy of stamping out every COVID-19 case long after many other countries have opted to try to live with the virus. But the lockdown imposed Dec. 23 in Xi'an is one of the harshest in the country since a shutdown in 2020 in and around Wuhan, after the coronavirus was first detected there.
"On Tuesday, authorities announced that another city, Yuzhou in Henan province, was placed under lockdown over the weekend after the discovery of just three asymptomatic cases."
Is it covid?
Bear in mind, Red China censors AP.
ITEM 3: KING-TV reported, "An investigation by Seattle's Office of Police Accountability (OPA) shows officers exchanged fake radio transmissions about a nonexistent group of right-wing extremists at a crucial moment during 2020 racial justice protests.
"Fake radio chatter on June 8, 2020 about members of the Proud Boys marching around downtown Seattle, some possibly carrying guns, and then heading to confront protesters on Capitol Hill was an improper "ruse," or dishonest ploy, that exacerbated a volatile situation, according to OPA's report.
"A lieutenant with the Seattle Police Operations Center told OPA the radio communications may have been made to test 'the response of individuals who the department believed was monitoring its communication channels.'"
Bullshit.
The FBI is not the only group that sets people up.
ITEM 4: WND reported, "A weatherman for HLN lambasted Democratic Virginia Gov. Ralph Northam on air Wednesday morning for his comments on his state government's response to heavy snowfall and massive traffic delays.
"A snow-covered I-95 in Virginia left thousands of drivers stuck on the highway for several hours, with some trapped for more than a day. After HLN anchor Robin Meade said Northam insisted that his administration thought there would only be a few inches of snow, rather than a foot, meteorologist Bob Van Dillen called the governor out."
The weatherman said, "Who's the jackass that said that? We had it pegged for like three days (in) advance. You knew it was going to be a lot of snow."
Democrat Northam is fair game now because he leaves office in 8 days.
ITEM 5: WRVA reported that Democrat Governor Blackface Northam is "Sick and Tired of People Talking About What Went Wrong" in that 51-mile traffic jam on I-95.
Yes, let's talk to him about what went right.
Um.
Well.
Uh.
So what are your plans when you leave office in 8 days?
ITEM 6: Popular Science reported, "Aviation concerns have grounded a planned 5G expansion—again.
"Telecom companies have agreed to leave their 5G plans on pause due to continued FAA safety worries."
Maybe the concerns are real.
Maybe they are slowing it down in deference to Huawei, which Trump shut out of the 5G game.
ITEM 7: PJ Media reported, "Thomas Edsall, one of the few decent contributors at the New York Times, published a valuable piece of journalism Wednesday on the sheer size of philanthropic commitment to left-wing "racial justice" measures. With nearly 3,000 words of interviews and assorted content, he explores how much money — nearly $25 billion it turns out — was donated by progressive elites to divisive racial endeavors after the May 2020 killing of George Floyd."
No wonder Democrats turned the drug-overdose death of a drug dealer into a martyrdom.
They used it to shake down Corporate America.
Bribery and extortion are what banana republics do best.
ITEM 8: The Daily Veracity reported, "The new social media app, Gettr, touting itself as the 'free speech' alternative to Twitter has hired a global communications director with a long past of criticizing former President Donald J. Trump, supporting Hillary Clinton as well as praising the liberal Barack Obama."
Is Gettr done?
ITEM 9: The New York Post reported, "Mayor Eric Adams had tough words for Queens cops on his first day on the job, warning the bad apples that he'll bounce them from the NYPD if they're 'abusive to my community,' video obtained by the Post shows."
My community?
Is he the mayor of New York City or just the mayor of black people in New York City?
Well, if I have to ask, you know the answer.
And his community will suffer the worst when cops don't bother arresting black people. Why should they? The black DA in Manhattan won't prosecute.
ITEM 10: Newsweek reported, "Shattered mirrors, chandeliers, and furniture littered the halls of the Capitol on a day when a group that "openly advocates the overthrow of the U.S. Government through armed struggle and the use of violence" according to the FBI struck at the heart of our democracy. This was not January 6, 2021 but November 7, 1983, the day that the May 19 Communist Coalition detonated a bomb that blasted a hole in the wall outside the Senate chamber.
"But the 1983 incident—the day that a group with the goal of violently overthrowing the government bombed the Senate building—has been effectively wiped from memory. Susan Rosenberg, a May 19 member, was initially charged with a role in the 1983 Capitol bombing and two others, but the charges were dropped as part of a plea deal. In 1984, she was arrested in possession of 750 pounds of explosives and firearms, including automatic weapons, and a jury convicted her the following year. But 16 years into Rosenberg's 58-year sentence, President Bill Clinton commuted it on his last day in office. By 2020, Rosenberg, a convicted terrorist, was sitting on the board of Thousand Currents, which handles donations made to Black Lives Matter.
"The erasure of the 1983 bombing is all the more poignant amid a hysterical, week-long commemoration of the January 6 riot in which supporters of President Trump stormed the Capitol. This morning, President Biden said that those who stormed the Capitol 'held a dagger at the throat of America and American democracy' while Vice President Kamala Harris compared the riot to 9/11 and Pearl Harbor. And it's not only Democrats. 'We are approaching a solemn anniversary this week,' said Republican Sen. Ted Cruz on Wednesday. 'And it is an anniversary of a violent terrorist attack on the Capitol.'"
Newsweek is going old school by showing there are two sides to the story.
ITEM 11: The Daily Mail reported, "GOP Rep. Liz Cheney and her father, former vice president Dick, were the only two Republicans standing in the House chamber when Speaker Nancy Pelosi held a moment of silence on the first anniversary of January 6."
Dick is a former congressman, which gives him floor privileges. Dickette represents Wyoming.
Remember: The cheese stands alone.
Oh and Ted Cruz can pound sand.
Tucker: You called this a terror attack.. That's a lie. You told that lie on purpose. I'm wondering why you did
Cruz: The way I phrased things yesterday, it was sloppy and frankly it was dumb
Tucker: I don't buy that. Woah woah woah! I don't buy that pic.twitter.com/h2TSFa78eV

— Acyn (@Acyn) January 7, 2022
ITEM 12: Reuters reported, "The United States on Wednesday began returning migrants to the Mexican city of Tijuana in an restart of a Trump-era program that forces asylum seekers to wait for U.S. court hearings in Mexico, Mexican authorities and the U.N. migration agency said."
Trump got everything right.
The only time Biden is right is when he restores a Trump policy.
ITEM 13: Jonathan Turley reported, "Destroying a Democracy to Save it: Democrats Call for the Disqualification of Dozens of Republican Members."
The plan is to ban from Congress Republicans who aren't calling last year's skirmish an insurrection.
OK.
How about expelling every Democrat congressman when Republicans take over?
At the very least, if she remains in the House, Republicans should ban Nancy from any committee assignment in retaliation for her MTG move.
ITEM 14: The New York Post reported, "America isn't just seeing less of Mike Pompeo because the Trump administration is no longer in the White House. We are seeing less of the former secretary of state because there is literally less of him — 90 pounds, to be exact.
"The former director of the CIA has faced a lot of challenging situations in his long career, but he hesitates to talk about his weight loss because of a nagging fear he will put all the pounds he lost back on. But, in an exclusive interview with The Post, he revealed how he did it and why."
He's running for president.
After Bush 41, another former CIA director, no. Just plain no.
ITEM 15: KOMO reported, "In her new book published by National Geographic Press, Egyptologist Kara Cooney made a few errors that are drawing heat.
"In The Good Kings: Absolute Power in Ancient Egypt and the Modern World Cooney incorrectly states Kyle Rittenhouse shot and killed 'two Black men in Kenosha, Wisconsin,' which Cooney wrote occurred while Rittenhouse was 'waging a glorious race war on behalf of his inherited white power.'"
She tweeted, "On p. 341 of THE GOOD KINGS I state that Kyle Rittenhouse shot two black men when instead he shot two white men. That was my mistake, and I apologize. The response has been a hateful stew of ridicule and denial that America has a race problem at all."
Oh no. Someone criticized her. That proves there is a racial problem.
I have a feeling she knows as much about Ancient Egypt as she does current events.
ITEM 16: The New York Post reported, "The 2022 Golden Globes will not be streamed, and instead be a completely private affair, the Hollywood Foreign Press Association announced Thursday.
"The year's winners will be announced during the 90-minute ceremony on the Golden Globes website.
"Winners will also be tweeted, the organization stated."
From a network TV show to a podcast, just like that.
If no one is watching it anyway, why is it news? I mean, who cares?
ITEM 17: The Insurrection at the Senate Building.
We were planning to shut down the Capitol Building but the authorities were so scared of this #WomensWave that they shut it down for us.

1000+ women, survivors, and allies have gathered in the Hart Senate Building.
Every hallway. Every floor.#CancelKanavaugh #BelieveSurvivors pic.twitter.com/rIwjBht6e7

— Women's March (@womensmarch) October 4, 2018
Instead of shooting them, the Capitol Police just watched.
After all, they were just unarmed women.
ITEM 18: The Hill reported, "Federal officials are calling for convicted Boston Marathon bomber Dzhohkar Tsarnaev to contribute all of his remaining funds, including a $1,400 coronavirus relief payment, to the $101 million he owes victims and families."
I don't know which is dumber, sending him money or expecting him to actually pay restitution. But the federal government lives in another dimension that mortals will never fathom.
ITEM 19: CBS reported, "Washington Wizards broadcaster Glenn Consor made a very questionable reference to Houston Rockets guard Kevin Porter Jr.'s father on the air Wednesday night when Porter Jr. connected on a game-winning three in a game against the Wizards.
"'You've got to give credit. Kevin Porter Jr., like his dad, pulled that trigger right at the right time,' Consor said in the final seconds of Houston's 114-111 win.
"Porter Jr.'s father, Bryan Kevin Porter Sr., pleaded guilty to first-degree manslaughter in the shooting death of a 14-year old girl in 1993. Porter Sr. ended up being sentenced to four years and six months in prison for the crime. In 2004, Porter Sr. was shot and killed in a Seattle bar while attempting to help someone being attacked."
What?
How?
Why?
Consor tweeted, "Please allow me to take this opportunity to sincerely apologize to Kevin Porter Jr., his family, and the Rockets organization for the comments I made during last night's game.
"I mistakenly thought that Kevin was the son of former Washington player Kevin Porter and was unaware that the words I chose to describe his game-winning shot would be in any way hurtful or insensitive. I have reached out to Kevin to personally apologize and hope to be able to talk with him soon."
Washington's team was known as the Washington Bullets when Porter played there.
By the way, officially I am Donald Surber Jr. There is a Donald Surber Jr, in the West Virginia prison at Mount Olive. He's serving life for the brutal and cruel killing of his girlfriend. We have different middle names. We are not related. This is why people accused of crime are called by their full names.
ITEM 20: Via Kane at Citizen Free Press, John Nicosia of News Cycle Media tweeted, "Source @ Comcast: 'Joy Reid will lose her 7 pm show in the next round of reshuffling at MSNBC." - 'She does not have a show come mid Spring' - The 'decision has been made, the only thing left is messaging on the move, which will be ratings.'"
We shall see.
ITEM 21: The Washington Examiner reported, "The Marine Corps band was instructed last fall to come up with an entrance theme for the first lady, a source told the Washington Examiner. The band now has in its repertoire an original composition titled 'Fanfare for the First Lady.' The song, the source said, is essentially Jill Biden's personal 'Hail to the Chief,' in that it is to be performed and repeated at official White House functions, from her first appearance until she is ready to speak."
The reader who tipped me to the story said, "Not only is it really, really bad musically, it strangely brings to mind the theme song to the TV series 'F Troop.'"
Where Indian fights are colorful sights
And nobody takes a lickin'
Where paleface and redskin
Both turn chicken.

Someone should have said, chill Jill, you are acting like Hill.
ITEM 22: The AP reported, "Fresh violence erupted in Kazakhstan's main city on Thursday after Russia rushed in paratroopers to put down a countrywide uprising in one of Moscow's closest former Soviet allies.
"Security forces killed dozens of protesters and 18 police died during extraordinarily violent demonstrations in Kazakhstan that saw government buildings stormed and set ablaze, authorities said Thursday. Two police officers were found beheaded in escalating unrest that poses a growing challenge to authoritarian rule in the Central Asian nation.
"Despite the severe response from authorities, protesters took to the streets again in the country's largest city, Almaty, a day after breaking into the presidential residence and the mayor's office there."
So the deal was Putin backs off on Ukraine and retakes Kazakhstan, right? Because no one in Europe cares about Kazakhstan. In fact, the only reason they care about Ukraine is because it is a Corruptistan that buys off politicians through their offspring.
What?
You think only Joe Biden does this?
ITEM 23: Kamala said there is "a level of malaise" in the country. Jimmy Carter said the same thing.
PBS highlighted the statement.
Methinks they want her out.
FINALLY, via Kane at Citizen Free Press, the happiest boy in the whole USA.
🚨6 yr old Cancer survivor Case McIver with his 1st buck!!🚨 RETWEET THIS POST to show CASE your support!!!! I mean does it get any better??? LET's GOOOOOOO!!! #Case #TheMan #FirstBuck pic.twitter.com/ljMX8U7Rv6

— Derek Eaves (@RidgeRockHuntCo) January 7, 2022