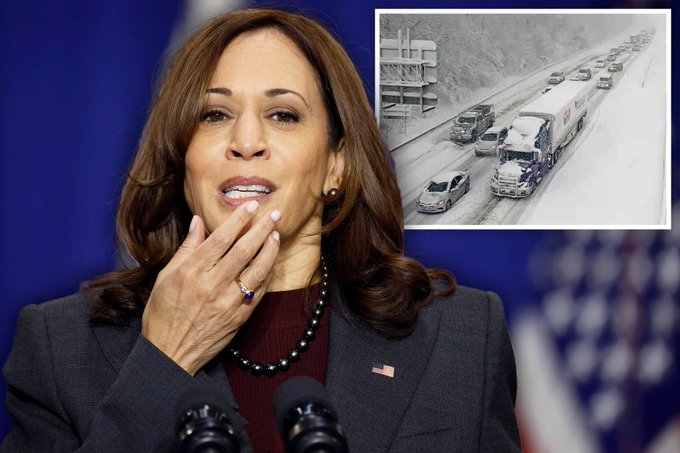 Kamala tweeted amid a 51-mile traffic jam just outside DC, "Because of the Bipartisan Infrastructure Law, America is moving again. That's what infrastructure is all about: getting people moving."
Now we know why Willie dumped her. Never marry stupid.
ITEM 1: Happy Insurrection Day!
I call it Insurrection Day because on this date 610 years ago -- in 1412 -- Saint Joan of Arc was born in Domrémy, France.
She led an actual insurrection against British rule. The Brits burned her at the stake for heresy on May 30, 1431. She lived only 19 years but she is still remembered centuries later because she listened to God.
Nancy isn't Joan of Arc. She's the one with the matches.
ITEM 2: AP reported, "Protesters in Kazakhstan's largest city stormed the presidential residence and the mayor's office Wednesday and set both on fire, according to news reports, as demonstrations sparked by a rise in fuel prices escalated sharply in the Central Asian nation."
According to AP, people who burn down buildings are protesters, but people who trespass a public building are insurrectionists.
AP is the fellow who handed Nancy the matches.
ITEM 3: The Daily Mail reported, "Democrats are ramping up their probe of the January 6th insurrection ahead of Thursday's one-year anniversary, considering 'Watergate-style' prime-time hearings with a bold-faced witness wish list that includes Mike Pence and Sean Hannity.
"Speaker Nancy Pelosi has a day-long slate of events planned for the one-year anniversary of the MAGA riot on Thursday, including a moment of silence on the House floor, testimony from lawmakers about their experience that day, and a prayer vigil on the steps of the Capitol."
Democrats are the jurors who sang come on, Nancy, light my fire.
ITEM 4: NYT Inc. announced, "Ben Smith Is Leaving The Times for a Global News Start-Up. Mr. Smith will help start a new organization with Justin Smith, the chief executive of Bloomberg Media."
Smith is the man who foisted the Russian Collusion lie upon America at Buzz Feed. That got him the NYT gig.
Tip to journalism students: Lying is the best way to get ahead.
ITEM 5: Via The Hill, Manchin said, "I'm really not going to talk about Build Back Better anymore because I think I've been very clear on that. There is no negotiation going on at this time."
He also said, "Our country is divided and I don't intend to do anything that divides our country anymore."
Amen.
The time for bipartisanship is at hand. A Republican Congress and a Democrat president are needed.
And then, of course, a Republican Congress and a Trump.
ITEM 6: Washington Secrets reported, "The latest Rasmussen Reports survey previewed by Secrets said that Biden's approval/disapproval rating by voters on the economy and national security have dropped below the worst recorded by former President's Donald Trump and Barack Obama.
"The numbers:
Economy: 32% good to excellent, 66% fair to poor, with 55% rating him poor.
National security: 34% good to excellent, 62% fair to poor. And 50% rated him poor. That is worse than his rating immediately after the botched troop withdrawal from Afghanistan.
"In a Rasmussen survey released last week, his numbers were even worse when voters were asked about his performance on crime and immigration."
Ballot harvesting the last election will haunt Democrats because it installed an incompetent president.
ITEM 7: The Hill reported, "Major U.S. corporations are looking to quietly restore ties with Republicans who objected to certifying the 2020 election results following the Jan. 6 insurrection, believing that they cannot afford to burn bridges with the party that is favored to win back the House in the 2022 midterms.
"Companies that froze PAC donations to the Republican objectors were met with outrage from GOP leaders, prompting many to reverse or soften their stance. More firms are preparing to resume giving this year, according to lobbyists at corporations and K Street firms.
"In total, corporations and trade groups have already made more than $8 million in PAC donations to GOP objectors' reelection campaigns since last year's Capitol attack, according to a report released by liberal watchdog group Accountable.US this week."
Take their money and tell them to pound sand after the election.
ITEM 8: PJ Media reported, "For the First Time Ever, the Best-Selling Carmaker in America Isn't an American Carmaker."
Toyota ended GM's 90-year run at the top, but with 10 plants in the USA, is it really not American?
The Center for Automotive Research said, "Toyota directly employs 135,900 people in manufacturing, supporting operations, and dealerships in the U.S."
20 miles to my west, Toyota makes engines and transmissions in Buffalo, West Virginia. That's close enough to American for me.
ITEM 9: Via Instapundit, the 2016 Democrat VP cast shade on the 2020 one.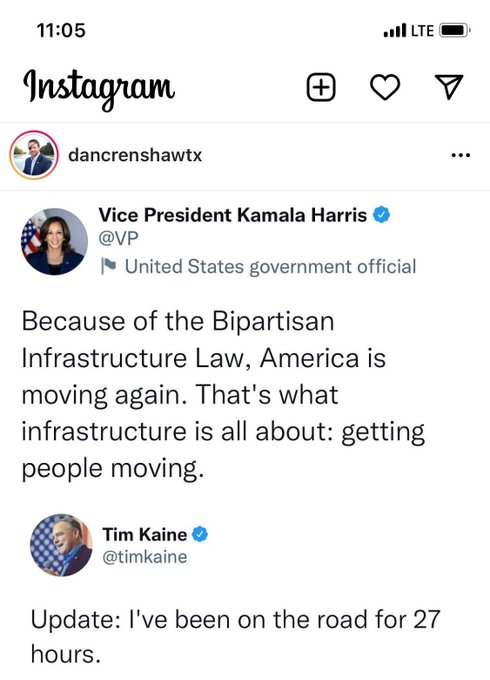 Kamala should consider spending more time with her family.
ITEM 10: Yahoo reported, "Democrats are likely to lose control of one or both houses of Congress in this year's midterm elections. But they may face an even bigger danger: A steady flow of Americans out of traditional blue states on the coasts and in the upper Midwest into red states mostly in the South."
Blue states are losing their Republicans at a time when they need them the most.
ITEM 11: Motorious reported, "New Law Will Install Kill Switches In All New Cars."
Well, that's a nifty way to kill a political opponent. Wait until he hits 70 on the freeway and stop his car.
The Deep State slipped it into the bipartisan infrastructure bill.
Motorious ended its report, "It's time for not only car enthusiasts but also regular Americans to get loud and tell their U.S. Representatives and Senators what they think of laws like these. Obviously, our elected officials don't care too much about our safety or privacy, so we need to remind them what we expect now and moving forward."
Democrats want a police state.
ITEM 12: The Epoch Times reported, "Australia and Japan are set to sign a historic treaty at a virtual leaders' summit on Jan. 6 to strengthen defense and security cooperation, a move seen as a response to China's growing assertiveness in the Indo–Pacific region.
"Australian Prime Minister Scott Morrison said in a statement that the signing of a reciprocal access agreement with Japanese counterpart Fumio Kishida would 'underpin greater and more complex practical engagement' between the two countries' defense forces."
Between Obama and Biden, our allies realize they no longer can trust us on defense.
No one wants to be Afghanistan-ed.
ITEM 13: Press California reported, "MAGA Mom Champions Beverly Hills as Second Amendment Sanctuary."
Don't mess with Mama Bear -- or MAGA Mom.
ITEM 14: Kane at Citizen Free Press reported, "Car thief in San Antonio faces instant justice…"
The story said, "The perp was shot 4 times but is expected to survive."
Come on, people. Let's hit those gun ranges.
ITEM 15: More from Kane, "Lyft Driver Was Packing Heat… Two carjackers now near death."
That's more like it.
ITEM 16: The New York Post reported, "NFL explores Super Bowl move from Los Angeles to Cowboys' AT&T Stadium."
They say its covid, but you know it is crime.
FINALLY, Politico ran a column, "Republicans Are Moving Rapidly to Cement Minority Rule. Blame the Constitution."
The byline was "Corey Robin is Distinguished Professor of Political Science at Brooklyn College and the City University of New York Graduate Center."
Robin went through the current litany of liberal bellyaches. The Senate gives Wyoming the same number of senators that California has. The Supreme Court has a conservative majority. The Electoral College isn't fair.
Waah.
He ended the column, "If there is any solace to be gained from this sorry story, it is that it is a typical American story. We are not facing the importation or imposition of a new mode of rule. We need no labored analogies or showy theories to make sense of it. We are in the same constitutional steeplechase that generations past have had to hurdle across or hurl themselves through. Whether we are at the start, middle, or end of that course is now, as always, an open question."
Our Founding Fathers knew what they were doing.