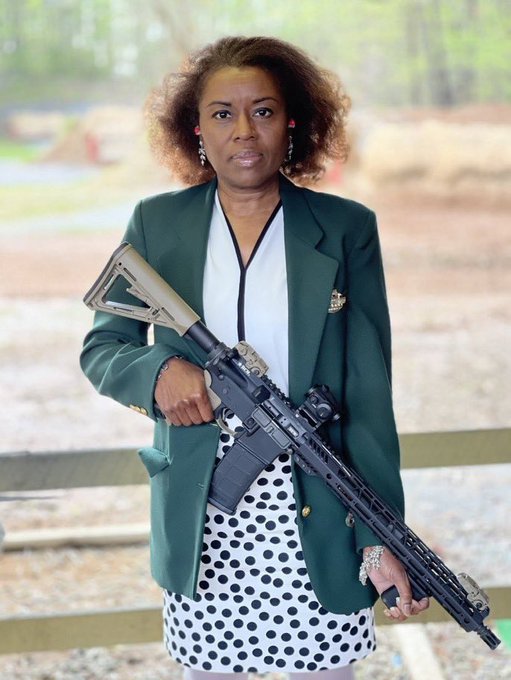 My second favorite Marine (after Woody Williams) became lieutenant governor of Virginia on Saturday.
Don't mess with her.
ITEM 1: Virginia also swore in Governor Glenn Youngkin who issued 11 executive orders immediately.
restore excellence in education by ending the use of divisive concepts, including Critical Race Theory, in public education.
empower Virginia parents in their children's education and upbringing by allowing parents to make decisions on whether their child wears a mask in school.
restore integrity and confidence in the Parole Board of the Commonwealth of Virginia.
investigate wrongdoing in Loudoun County.
creating the Commonwealth Chief Transformation Officer.
declare Virginia open for business.
combat and prevent human trafficking and provide support to survivors.
establish a commission to combat antisemitism.
withdraw from the Regional Greenhouse Gas Initiative.
cutting job-killing regulations by 25%.
rescinding the vaccine mandate for all state employees.
He hit the ground running.
ITEM 2: Virginia also swore in Jason Miyares as attorney general.
Virginia's new Attorney General has just fired the entire civil rights division in the AG office and announced that he will prosecute criminal cases in jurisdictions where Soros DAs decline to prosecute.

He is also the first PoC Attorney General in Virginia history! pic.twitter.com/cLKHvnoNNQ

— Dr. Benjamin Braddock (@GraduatedBen) January 15, 2022
Voters went 3 for 3.
ITEM 3: The Richmond paper said, "Attorney General-elect Jason Miyares notified about 30 staff members in the office — 17 of them attorneys — that they won't have jobs in his administration, including the lawyer who was investigating dangerous conditions at a South Richmond apartment complex in Richmond's largest Latino neighborhood."
The paper also said, "Among those let go is Helen Hardiman, an assistant attorney general who focuses on investigating and litigating housing discrimination in the Office of Civil Rights."
Hardiman told the paper, "I expected some personnel changes, which likely come with any change of administration. I am not a political appointee. I don't have a political job."
Baloney. If you serve at the will and pleasure of the elected official, you are a political appointee.
I call these stories SOS: Save Our Sources. Journalists side with the people in these various offices because they are their sources.
ITEM 4: How dare YOU people not listen to me? Just who do you think you are?
Mexican TV Host loses it , calls all antivaxxers "morons"
"You damned antivaxxers, gaggle of morons! Stop with your bullshit and at least put on a god damned face mask, and stop hitting the brakes for the entire world! Yes, you antivaxxers, you are a moron! Put on a face mask!" pic.twitter.com/EYb5WCcByB

— Dallas (@59dallas) January 15, 2022
Someone needs a timeout.
ITEM 5: AP reported, "A man held hostages for more than 10 hours Saturday at a Texas synagogue where he could be heard ranting in a livestream and demanding the release of a Pakistani neuroscientist who was convicted of trying to kill U.S. Army officers in Afghanistan.
"One of the four hostages held at Congregation Beth Israel in Colleyville was released during the standoff; three others were rescued when authorities entered the building about 9 p.m., authorities said. The hostage taker was killed and FBI Special Agent in Charge Matt DeSarno said a team would investigate the shooting incident.
"An FBI and a police spokeswoman declined to answer questions about who shot the man."
In a later tweet, AP said, "The FBI says the Texas synagogue hostage taker's demands were specifically focused on issues not connected to the Jewish community."
Really? Then why didn't he take hostages at a mosque?
Another jihad terrorist bites the dust.
First Amendment attorney Ron Coleman, tweeted, "And in one night Texas LEO's do more to stop and prevent terrorism and anti-Semitic violence than five years' worth of ADL press releases."
ITEM 6: The Washington Free Beacon reported, "As the hostage situation at a Texas synagogue developed on Saturday, Michigan's attorney general, Democrat Dana Nessel, raised the possibility that white supremacists were behind the attack.
"Appearing on MSNBC on Saturday afternoon, about an hour after it had been reported that the attacker was demanding the release of imprisoned terrorist Aafia Siddiqui, Nessel said her 'biggest concern' was that the attack was a 'hate crime' or 'domestic terrorism,' pointing to 'white supremacy organizations.'"
Well, she didn't know the terrorist was Muslim.
The story said, "More than an hour before Nessel's appearance, ABC News reporter Aaron Katersky reported that the hostage-taker was demanding the release of Siddiqui, who is known as Lady al Qaeda and is serving an 86-year sentence in a Texas federal prison for trying to kill American soldiers. The effort to secure her freedom through violence is not a surprise—Muslim terrorists associated with ISIS and al Qaeda have been working to free Siddiqui for years, and Muslim groups in the United States such as the Council on American Islamic Relations have long advocated for her release."
Before.
Well, at least she did not blame Zionists.
WHAT AN ACTUAL RESISTANCE LOOKS LIKE:
Somebody put up this incredible street art in DC over night.

Knowing DC it'll be ripped down within hours. All must comply!

If you know the artist drop it in the replies! pic.twitter.com/nTe7sXWGwA

— 🐺 (@LeighWolf) January 15, 2022
ITEM 7: Space.com reported, "Satellites orbiting Earth captured a powerful undersea volcanic eruption from space on Thursday.
"In the South Pacific kingdom of Tonga, which is made up of over 170 islands, the mostly underwater volcano on the island Hunga Tonga-Hunga Ha'apai erupted, sending plumes up to 12 miles into the air, the Tonga Geological Services has shared online.
"Orbiting probes have captured images of the ongoing explosive event, which follows a previous eruption in December 2021. This event is more than seven times as powerful as December's eruption and has so far sparked a tidal wave in Tonga's capital Nuku'alofa and a tsunami warning for all islands in Tonga, in addition to possible threats of acid rain."
Acid rain? There's something I have not worried about in 40 years.
Then again, so was inflation.
ITEM 8: The Sun reported stars of a TV show are human!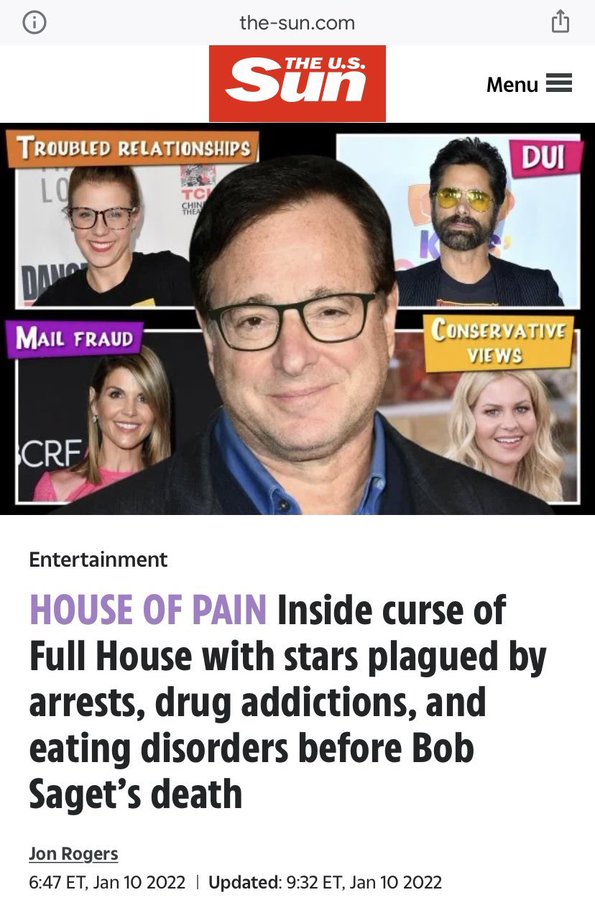 Oh no! DJ has "conservative views."
ITEM 9: Cartoonist Walker Bragman tweeted, "Take Manchin into a back room, tell him federal investigators are going to look into his daughter's price-fixing; tell him the military bases are moving out of West Virginia; tell him he's off his committees… Or he can play ball."
(Schumer looks at map) We're gonna close Fort Gay.
(Looks at map again) And if that guy from Indiana gives us any more lip, close Fort Wayne.
ITEM 10: The Detroit Free Press reported, "The University of Michigan Board of Regents has unanimously fired school President Mark Schlissel for cause following an investigation into a relationship with a subordinate, the board announced Saturday evening."
He's a college Cuomo.
The story said, "According to emails posted by the university on its website, Schlissel wrote to the female employee regularly, including in October 2019 when he emailed about receiving a box of knishes. The woman said in reply that she liked the doughy snack food. Schlissel replied again: Can I 'lure you to visit with the promise of a knish?'"
She should have told him to knish her ass.
ITEM 11: Neon Nettle reported, "Ghislaine Maxwell to Expose Names of 8 Powerful Men Linked to Epstein's Crimes."
I dunno. But Neon Nettle never lied to me, unlike NYT.
The reader who tipped me said it could knock 20 years off her sentence.
It could also convert her sentence to Arkancide.
ITEM 12: CBS has a new poll out. Biden's approval is 44%. That's not what I found interesting.
In October, 53% said covid instructions were clear.
Now, 57% say they are confusing.
Covid was once his strength. It is becoming his liability. Look for the press to soon drop the subject.
ITEM 13: The Washington Post reported, "Freight is taking longer than ever to cross the Pacific, with goods requiring an average of 113 days to travel from Chinese factory gates to American hands, according to data from Flexport, a freight forwarder. On Friday, the floating traffic jam of container ships waiting to enter the Ports of Los Angeles and Long Beach numbered a near-record 106 vessels, according to the Marine Exchange of Southern California, a nonprofit maritime group."
Economist Phil Levy said, "If anything, it's getting worse."
All those boats waiting to queue are the Let's Go Brandon Navy.
ITEM 14: Jalopnik reported, "It is difficult to find a single sector in the United States that isn't struggling to find commercial drivers. There aren't enough drivers to transport our goods. There aren't enough drivers for ambulance services and non-emergency medical transportation. There aren't enough drivers to operate school buses. Now, there aren't enough drivers to move snow off our roads.
"As a significant snowstorm moves up the Eastern Seaboard of the United States, it is evident that states across the entire country are having problems hiring enough people to clear snowfall from roadways. The Iowa Department of Transportation has filled two-third of its seasonal snow-clearing positions. Kansas is in the same position as Iowa. Montana only has half the winter workers the state needs for the season. Pennsylvania only has 40% of the drivers it needs."
Instead of sending our best and brightest to college, we should have sent them to truck-driving school.
Not my concern. It snows, I stay home.
FLASHBACK TO JANUARY 2021: CNN reported, "Bed Bath & Beyond stops selling My Pillow after CEO's Capitol siege comments."
And now, CNBC reported, "Bed Bath & Beyond delivered disappointing fiscal third-quarter results on Thursday, with earnings and sales missing analysts' expectations, prompting the home goods retailer to slash its outlook for the full year.
"Shares initially dove more than 9% in premarket trading on the news but quickly erased those losses, closing the day up nearly 8%."
Now for the kicker.
CNBC also said, "Chief Executive Mark Tritton said a lack of inventory due to supply chain bottlenecks cost the company about $100 million."
The CEO can go cry on his pillow.
Oh wait, he threw that away.
ITEM 15: AP reported, "Biden backers 'not seeing the results' a year into his term."
Hahahaha.
ITEM 16: Axios reported, "Jamal Simmons, Vice President Kamala Harris' new communications director, is scheduled to meet with the Congressional Hispanic Caucus on Thursday to listen to their concerns about his old tweets, congressional officials tell Axios."
Curiously, Axios did not quote the twoubling tweets.
Instead it reported, "In summoning Simmons to a full CHC videoconference, some Latino lawmakers are indicating their level of concern over his 2010 tweets — in which he appeared to call for the deportation of an undocumented migrant being interviewed on MSNBC — and want to have a frank and direct conversation with him."
Oh my gosh. That's hilarious.
Democrat Congressman Lou Correa of California, told Axios, "Is he a Trumper?"
Opposing the deportation of illegals is a quick way to lose the Hispanic vote, but don't tell Democrats. We will keep it our little secret.
TWEET OF THE DAY:
Average Number of Viewers per Show:

CNN Primetime: 810,000

Joe Rogan: 11,000,000

— Dandinohill (@dandinohill) January 16, 2022
ITEM 17: The Intercept reported, "George Nader, an American adviser to the government of the United Arab Emirates, convicted sex offender, and frequent visitor to the White House during President Donald Trump's first year in office, has pleaded guilty for his role in helping the UAE pump millions of dollars in illegal campaign contributions into the U.S. political system during the 2016 presidential election, according to documents submitted in federal court last month.
"Federal prosecutors disclosed in a December sentencing memo that Nader had agreed months earlier to plead guilty to a single count of felony conspiracy to defraud the U.S. government by funneling millions in donations to Hillary Clinton's campaign and concealing the funds' foreign origin. Nader's plea has not been previously reported."
I like how the press has to taint Trump with Hillary accepting foreign bribes.
Trump was the victim.
Just like he was the victim of Hillary and Obama colluding with Putin to get a fake dossier on Trump to justify their illegal spying on him.
FINALLY, Happy Martin Luther King Day.
In his honor, work on the content of your character.