The Supreme Court heard arguments over whether to keep one of Biden's unconstitutional vax mandates.
6 justices wore masks. That does not bode well for the Constitution.
ITEM 1
: The Texas GOP still tweets.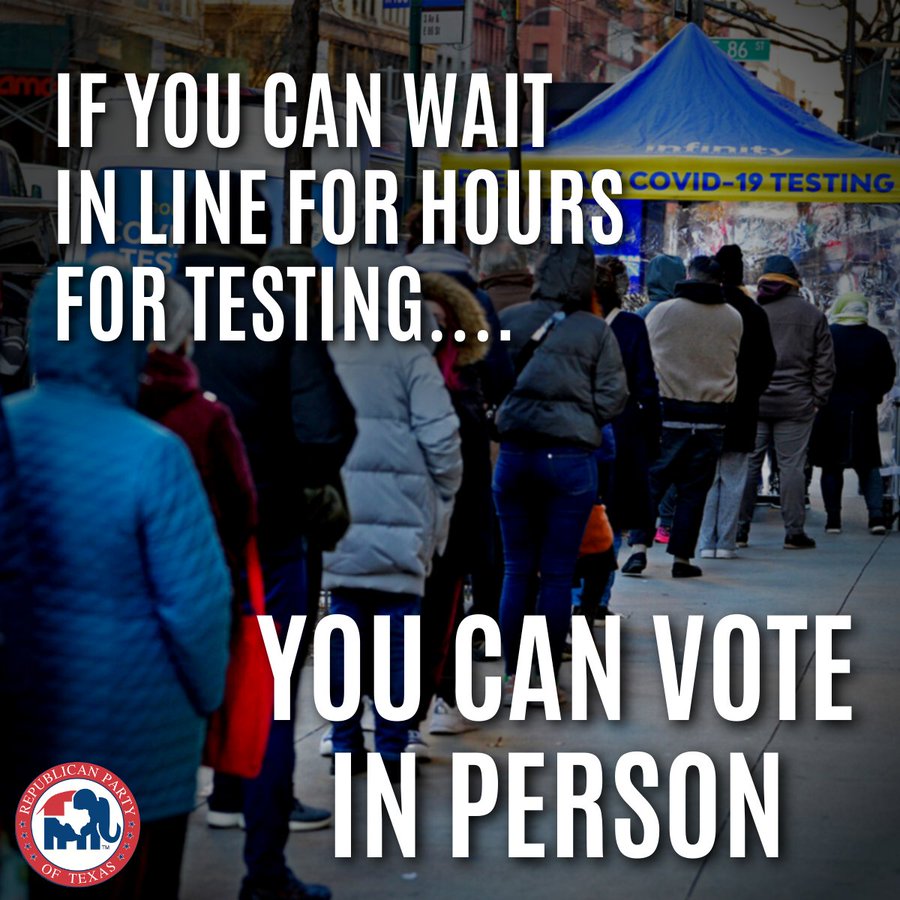 And it still scores.
ITEM 2: AP reported, "Two North Carolina Supreme Court justices — the son of a powerful legislator among them — said on Friday they won't step away from hearing a case that challenges a pair of constitutional amendments, one of which mandates photo voter identification.
"Associate Justices Phil Berger Jr. and Tamara Barringer wrote separately that each believes they "can and will be fair and impartial" in hearing the lawsuit brought by the state NAACP. Both justices cited in part the will of the voters who elected them in 2020 to resolve judicial questions.
"Lawyers for the civil rights group asked last summer that the two justices be disqualified from participating in the deliberations, citing conflicts. The attorneys pointed to Berger as the son of Republican state Senate leader Phil Berger, who is a defendant in the lawsuit that challenges in part the legality of a 2018 statewide referendum that enshrines a voter ID mandate in the North Carolina Constitution. And as a senator, Barringer voted in favor of holding the referendum on the voter ID amendment.
"The younger Berger wrote that it's plain that his father is listed as a defendant due to procedure in his official capacity only, and that the lawsuit is truly against the state."
How odd.
I thought liberals dismissed the Constitution as a slave document, but here they are trying to use it to overturn the will of the people.
Son of a gun.
ITEM 3: Rasmussen announced, "Fewer voters now trust the Federal Bureau of Investigation, and many believe the agency is acting as President Joe Biden's "personal Gestapo."
"A new national telephone and online survey by Rasmussen Reports finds that 46% of Likely U.S. voters have a favorable impression of the FBI, including 15% who have a Very Favorable view of the agency. That's down from May 2020, when 60% had a favorable impression of the FBI. 47% now view the FBI unfavorably, including 26% who have a Very Unfavorable impression."
Decades of FBI lies finally cost the bureau its credibility.
ITEM 4: Liberty Justice Center announced, "A group of Chicago parents have filed a lawsuit against the Chicago Teachers Union, calling this week's school closures an illegal strike and demanding that teachers return to school for in-person learning. The lawsuit was filed late Thursday by attorneys at the Liberty Justice Center, a national nonprofit law firm that fights for students' educational rights.
"More than 300,000 students were locked out of Chicago Public Schools starting Wednesday after unionized teachers refused to teach in-person. Not only is the strike illegal under Illinois law, it also violates the union's own contract."
Unless union officials are jailed, and the union is fined and de-certified, the ban on strikes is meaningless.
Go get 'em.
ITEM 5: AP spun, "Virginia will join other Republican-led states and business groups in challenging Biden administration mandates intended to increase the nation's COVID-19 vaccination rate once GOP Gov.-elect Glenn Youngkin and Attorney General-elect Jason Miyares take office, the two said in a statement Friday."
How about in the next news story on Texas law, AP calls it an abortion ban intended to increase the nation's birth rate?
Youngkin may be OK.
At least he isn't a Clintonite.
ITEM 6: The New York Post reported, "Mayor Eric Adams has tapped his younger brother to serve as a deputy NYPD commissioner."
Nepotism is alive and well and living in New York. The job pays almost a quarter-million bucks a year.
Has Mayor Cop appointed anyone who isn't black?
ITEM 7: Politico reported, "The Drudge Report made its name by making life hell for Democrats in the White House.
"But over the past several months, the website, named after its infamous and enigmatic founder Matt Drudge, has continued the surprising trend that emerged during the 2020 presidential campaign: Taking a relatively muted editorial stance on Joe Biden."
That's because Drudge sold the report.
ITEM 8: I missed this on Monday.
A group of people forced their way into a San Jose jewelry store Monday, smashed display cases with hammers and stole several pieces of jewelry before taking off, according to police. https://t.co/S0ac32nsyj pic.twitter.com/ZsqFkaad2Q

— NBC Bay Area (@nbcbayarea) January 5, 2022
Now you know why Democrats want everyone to wear masks.
I like how they keep bouncing those hammers on the counter. That is where the glass is thickest. They need to smash the sides. Not only is the store being looted, but it being looted by incompetent losers.
ITEM 9: Politico reported, "The strongest voices lobbying Joe Manchin to change Senate rules and advance elections reform aren't liberal activists or die-hard filibuster opponents. Instead, they're a small group of his friends who once shared his reluctance."
OK.
But here's the best part of the story, "He's heard from former Presidents Bill Clinton and Barack Obama and talk-show legend Oprah Winfrey, plus former staffers to both Manchin and former Sen. Robert Byrd (D-W.Va.), according to a person familiar with the talks. Manchin's office declined comment on those calls."
Oh no, not Oprah and Obama -- a TV star and a man who failed to carry West Virginia in two presidential elections.
Why not send in Phil Donahue and Al Gore?
ITEM 10: The Washington Examiner reported, "Leaked photos reveal Biden's disastrous detention of migrants in Arizona."
Politics aside, this is a human tragedy. Biden invited them. They came. They were detained.
When I call Biden evil, I am not joking.
ITEM 11: Breitbart reported, "As the media fawned over House Speaker Nancy Pelosi (D-CA) commemorating the January 6 Capitol Hill riot on Thursday, few remembered when she praised protesters who stormed the Wisconsin State Capitol in 2011.
"Over a decade ago, in the February of 2011, unionists stormed the Wisconsin State Capitol to prevent a vote on collective bargaining reform – the Act 10 protests. As Fox News noted, 'thousands of demonstrators managed to enter the building by violently breaking down doors and shattering windows.'"
The Siege went on for days.
ITEM 12: Sky News Australia reported, "Friends and family left shocked by death of double vaccinated 23-year-old with no underlying medical conditions
"Tributes are flowing for 23-year-old James Kondilios who died after he tested positive for covid-19. The powerlifter was double vaccinated and had no underlying health conditions."
The left chortles when an unvaxxed person dies.
I feel only sadness over this death.
I am vaxxed. You do you.
ITEM 13: The Washington Times reported, "A new NFL rule threatens teams with financial penalties and the loss of a draft pick if they ask prospective recruits about personal issues such as their marijuana habits, sexual orientation and whether their mothers have ever been prostitutes."
Now you know why they call it the National Felons League.
ITEM 14: NBC News reported, "Leaning San Francisco skyscraper is tilting 3 inches per year as engineers rush to implement fix
"The 58-story, 645-foot tall Millennium Tower is now tilting 26 inches north and west in the heart of San Francisco's financial district."
Some people say it leans left.
Others say right.
It depends on where you are standing.
ITEM 15: The Daily Mail reported, "A married lesbian couple facing murder charges in the 2020 fatal stabbing in Dallas of a Seattle woman have cut off their ankle monitors and fled while free on bond—and cops did not learn of their abscondment until 10 days later. Nina Marano, 50, and her wife, Lisa Dykes, 58, were out on their $500,000 bonds for six months when they removed their GPS trackers on Christmas Day within moments of each other and at the same location, according to court documents filed this week in Dallas."
It's a remake of The Fugitive with a lesbian couple replacing the old white male lead.
Equity, man.