This ad from Florida Gov. Ron DeSantis taking aim at Dr Fauci is absolute fire.

"Fauci can pound sand." 😂😂pic.twitter.com/yPoWpaZ3yC

— Scott Morefield (@SKMorefield) January 26, 2022
ITEM 1: Given all the misinformation about covid Tony the Phony Fauci has spewed, why does the media allow him to go on the air without a real-time fact-check?
He lies! All the time! About everything!
Forget the 7 dwarves, Peter Dinklage should protest Fauci's portrayal of short people.
ITEM 2: Reuters reported, "Xiomara Castro was sworn in as Honduras' first woman president on Thursday, with U.S. Vice President Kamala Harris in attendance, as her government faces tests over a sharply divided Congress, rising debt and relations with [Red] China."
Maoists stick together.
When women take over the world, there will be no wars, just Red China conquering everything. Remember, the Iroquois were a matriarchy. How'd that work out?
ITEM 3: AP reported, "Cabell County and the city of Huntington sued AmerisourceBergen Drug Co., Cardinal Health Inc. and McKesson Corp. A federal judge must rule whether the companies created a public nuisance in distributing 81 million prescription pain pills over eight years — and whether they ignored signs that the Ohio River community was being ravaged by addiction.
"The plaintiffs are seeking more than $2.5 billion. The money would go toward prevention, treatment and education."
Sure.
Just like all that tobacco settlement money went into research on lung cancer and pancreatic cancer.
Still, I hope the companies pay.
ITEM 4: Next, sue Red China over fentanyl.
ITEM 5: The Clarksville Leaf-Chronicle reported, "Pentagon orders 101st Airborne Air Assault at Fort Campbell ready for possible deployment."
The 101st's commanding general said, "As we have for the last 77 years, the 101st Airborne Division stands ready to deploy anywhere to support and defend the Nation and our Allies."
Does that mean they are headed to our southern border or Russia's?
ITEM 6: Breitbart reported, "Biden-appointed U.S. Surgeon General Vivek Murthy said Silicon Valley tech companies have an 'important role to play' in preventing the spread of alleged coronavirus 'misinformation.' His comments came during an MSNBC interview that specifically mentioned Joe Rogan."
He's sworn to defend the Constitution.
Impeach.
ITEM 7: Breitbart reported, "Parents of fourth and fifth graders in a Beaverton, Oregon, elementary school are outraged about the creation of a Queer Student Alliance (QSA) club they say their children were asked to join without their consent.
"At a January 18 virtual school board meeting, parents of children aged 9-11 years who attend Raleigh Hills Elementary School expressed concern about the appropriateness of the club, reported Reduxx the following day."
First communists took over our schools.
Then the perverts came along.
ITEM 8: The Atlantic Journal-Constitution reported, "President Joe Biden's approval rating has fallen off a cliff in Georgia, according to an Atlanta Journal-Constitution poll released Thursday that showed just one-third of registered voters approve of the Democrat's job performance."
Herschel Walker is up 3 points over the Democrat in the Senate race.
Kemp is up 7 over Stacey Abrams.
Beware of early polls.
Heck, beware of any election poll.
ITEM 9: The New York Post reported, "Navy SEALs to stop using Washington state parks after residents voice fears of seeing 'armed men.'"
That's the same state that had no problem allowing Antifa and BLM riot in the streets of Seattle for months.
ITEM 10: UPI reported, "About one in five lesbian-, gay- and bisexual-identifying adults smokes cigarettes, compared to about one in seven adults who identify as straight -- placing LGB Americans among the top 10 populations disproportionately affected by tobacco use, according to a new report by the American Lung Association.
"Along with Black American smokers -- about 81% of whom use menthol cigarettes -- women and youth, LGBTQ+ people also disproportionately consume menthol."
New acronym: LGBTK, Gotta include the Kools curious.
ITEM 11: Two fearless guys.
January 28, 2022
Celebrities seldom say this because they dare not piss off the news media.
ITEM 12: NBC reported, "Rep. Cori Bush's parked car hit by gunfire in Missouri, her office says."
AP reported, "Bullets strike congresswoman's parked car; she wasn't in it."
CNN reported, "Cori Bush's car struck by gunfire while the Missouri lawmaker was not in the vehicle."
None of these stories mentioned she opposes funding the police. When was the last time a celebrity got covid and NBC, AP and CNN all failed to mention it?
ITEM 13: Fox reported, "A Los Angeles County judge on Thursday ordered Hannah Tubbs, a transgender California woman, to serve two years in a juvenile facility after she pleaded guilty to sexually assaulting a 10-year-old girl in 2014.
"Before doing so, the judge criticized far-left District Attorney George Gascon, whose office declined to prosecute the repeat offender as an adult.
"Tubbs, 26, recently pleaded guilty to molesting the girl in a women's bathroom eight years ago when Tubbs was two weeks away from turning 18. At the time of the crime, she identified as male and went by James Tubbs. She did not identify as female until after she was taken into custody, according to prosecutors."
Why is a judge putting an adult child molester in a juvenile facility?
Isn't that a candy store for pedophiles who molest 10-year-old girls?
ITEM 14: In These Times reported, "Top Weapons Companies Boast Ukraine-Russia Tensions Are a Boon for Business
"In calls with investors, Raytheon and Lockheed Martin boasted that the worsening conflict is helping profits."
Also, politicians expect a boon in foreign bribes, lefties expect an uptick in anti-war donations, and CNN hopes the conflict will end its ratings slump.
ITEM 15: A school board in Tennessee was falsely accused of censoring an anti Holocaust book.
It issued a statement.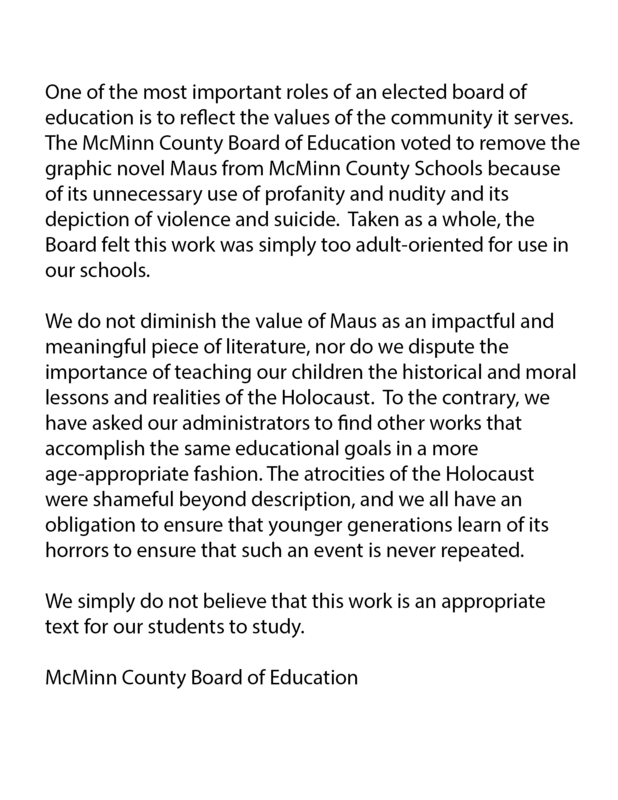 Lefties blew this move up because the jig is up on CRT. Normal people finally see the racism schools are spreading. The board is right to seek other ways to tell the story. We all need to clean up our language, including me.
The lefty calls against censorship are beyond parody and hypocrisy.
ITEM 16: CNBC reported, "Republican billionaire Ken Langone donated to Joe Manchin's PAC after senator opposed Biden's Build Back Better Act."
If he donated before the vote, you might have a story but this is dog licks hand.
ITEM 17: Politico reported, "Former President Donald Trump is facing serious backlash from die-hard loyalists over his decision to intervene in a Tennessee House race, with his supporters accusing him of spurning a staunch Republican ally who's running.
"Trump on Tuesday evening endorsed Morgan Ortagus, who served as a State Department spokesperson during his administration and is pondering a run for a Middle Tennessee-based congressional district. The announcement has caused a firestorm, with far-right, high-profile backers ranging from North Carolina Rep. Madison Cawthorn to conservative activist Candace Owens taking to social media to voice their support for Robby Starbuck, a rival candidate who's been a mainstay of the pro-Trump movement.
"Even Florida Rep. Matt Gaetz, one of the former president's most prominent supporters, promoted a tweet outlining criticisms of Ortagus. The gripes have included everything from Ortagus' support of Jeb Bush in the 2016 GOP primaries to her being photographed with President Joe Biden and having her wedding officiated by Supreme Court Justice Ruth Bader Ginsburg."
He needs to improve his vetting process.
Trump needs to realize that conservative populism is bigger than he is.
ITEM 18: Sinema issued a statement on the confirmation of whomever Biden picks for the Supreme Court, "As with all nominees and as I did during the 2020 Supreme Court nomination, I look forward to fulfilling my constitutional duty to provide advice and consent by thoughtfully examining the next nominee based on three criteria: whether the nominee is professionally qualified, believes in the role of an independent judiciary, and can be trusted to faithfully interpret and uphold the rule of law."
Manchin said, "As with all nominees and as I did during the 2020 Supreme Court nomination, I look forward to fulfilling my constitutional duty to provide advice and consent by thoughtfully examining the next nominee based on three criteria: whether the nominee is professionally qualified, believes in the role of an independent judiciary, and can be trusted to faithfully interpret and uphold the rule of law."
Those statements said absolutely nothing.
They may defend the filibuster, but so far they have not rejected a judicial appointment by Biden.
And BBB isn't dead until Republicans take over the House or the Senate.
ITEM 19: Yahoo reported, "The Los Angeles Rams' efforts to prevent their home stadium from becoming hostile territory on Sunday may have an unintended consequence.
"It appears the Rams' defensive maneuver has only made 49ers fans more motivated to snatch up tickets to Sunday's NFC championship game.
"Lifelong 49ers fan Shane Stern didn't want the Rams to get away with restricting ticket sales to buyers with credit cards registered in the Los Angeles area. Last Sunday morning, Stern posted on Twitter that he would happily buy everyone's tickets using his Thousand Oaks billing address if 49ers fans Venmoed him money in advance.
"Stern didn't check his phone again until later that day when he arrived at the mall with his wife and daughter. What he found was an onslaught of messages from 49ers fans from all over the country eager to take him up on his offer."
You cannot stop the Internet.
FINALLY, a reader reminded me that in 2013, a year before I retired, I wrote in a column, "In 1950, Florida and West Virginia had six congressmen each. Today, Florida has 27 and West Virginia has three.....Democrat policies in Charleston hurt the state's economy, which in turn cost it population. Young people had to leave for greener pastures elsewhere."
Next year, Florida will have 28 congressmen, West Virginia 2.
I cannot link the original column because the lame brains who ran the paper into the ground sold the "dailymail.com" URL to the London Daily Mail. However, I laugh because that sale triggered the trip to bankruptcy court that caused the owners of the Charleston Gazette to lose both papers.
The mismanagement of the papers reflects the mismanagement of the state under eight decades of Democrat rule. That ended in 2014 but returning to normal will take some time.
Do you think California, New York or any of the other deep blue states won't depopulate? Do you really believe Oregonians are somehow smarter than West Virginians and will escape this fate? West Virginia had a thriving chemical industry in the 1950s. Charleston once had more PhDs per capita than any other state capital, and those degrees were in hard sciences. All of that is gone save a few small factories.
My newspaper boss would never let me call the population loss a brain drain, but that's what it was.
What began turning West Virginia around was a brain drain from Maryland and DC.