ITEM 1
: Politico libeled Justice Sonia Sotomayor by saying she wined and dined with Pelosi, Schumer, and Klobuchar after hearing the vax mandate case. Politico's evidence was the back of someone's head.
I passed on the story because I don't go by the back of someone's head. (Pats self on the back.) This is why we have the 24 Hour Rule. If it looks too good to be true, it is.
And so it was with this Fake News. The back of the head belonged to Schumer's wife, not Sotomayor.
Libeling a Supreme Court justice should cost Politico money and someone their job because that lie will stick forever in the minds of some of the public. Instead, people are praising Politico's correction.
ITEM 2: The Post Millennial reported, "Yao Pan Ma, a 61-year-old Asian man, was horrifically and brutally attacked on April 23, 2021, in East Harlem. Sadly, he didn't recover from the spring 2021 attack and the NYPD announced Saturday that he has succumbed to his injuries.
"Ma, an out-of-work Chinese immigrant, was repeatedly kicked in the head last year when he was collecting cans at Third Avenue and 125th Street. The lone assailant was seen in footage stomping on Ma's head knocked onto the concrete.
"Ex-convict Jarrod Powell, who claimed he acted in self-defense, was identified on video assaulting Ma and caught days after the apparent anti-Asian attack, which left the hate crime victim comatose in critical condition before the Dec. 31 death."
Where are the protests?
Where is the media's concern?
Where are the cries for Justice for Ma?
Nowhere.
The old media standard was black-on-black crime doesn't matter. The new standard is black-on-anyone crime doesn't matter.
Expect more.
ITEM 3: When you hate Trump so much you don't care if you die.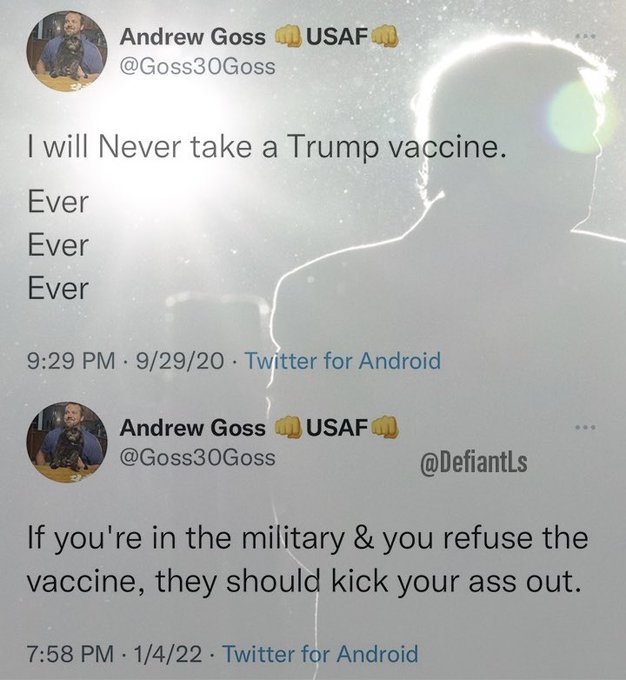 Liberals are predictably insane. Follow the Babylon Bee to see their next move.
ITEM 4: The Washington Post reported, "Biden faces delays in undoing Trump's war on efficient dishwashers, dryers and lightbulbs that made him 'look orange.'"
Where in the Constitution does it say the government dictates how much water a dishwasher uses?
With the looks-orange comment, I see where liberals still judge people by the color of their skin. So 19th century.
ITEM 5: Townhall reported, "Guidance from the Food and Drug Administration says that some people may be considered high risk based on their race and will be prioritized for monoclonal antibodies and oral antivirals used to treat COVID-19.
"The agency issued a fact sheet for healthcare providers, which was updated in December, notifying them that it had approved emergency use authorizations of sotrovimab, a monoclonal antibody proven effective against omicron. However, the antibodies are only approved for patients considered to be high risk.
"'Medical conditions or factors, such as race or ethnicity' may 'place individual patients at high risk for progression to severe COVID-19,' the guidance reads, adding that the 'authorization of sotrovimab under the EUA is not limited to the medical conditions or factors' outlined by the agency."
Systemic racism rears its ugly head.
ITEM 6: Rasmussen Reports announced "52% of Likely U.S. voters have a favorable impression of Trump, including 33% who have a Very Favorable view of him. 47% of voters view Trump unfavorably, including 38% who have a Very Unfavorable impression of the former GOP president. These findings almost exactly reflect the final job approval ratings for Trump in January 2021."
Meanwhile, Biden's poll numbers go down, down, down. It's almost as if he were elected by 81 million ballots and not 81 million people.
ITEM 7: Breaking 911 reported, "At least 19 people were killed, including 9 children, in a Sunday fire that engulfed an apartment building in the Bronx, officials said. Mayor Eric Adams said the probable cause of the fire was a malfunctioning electric space heater.
"The blaze at the 19-story apartment building on East 181st Street in Fordham Heights is being called one of New York City's worst in 30 years.
"The FDNY says more than 60 people were injured — with 32 suffering from life-threatening injuries."
This is terrible. This is the worst disaster in NYC since 9/11. It is so sad.
ITEM 8: The New York Post reported, "Alexandria Ocasio-Cortez tests positive for covid.
She was so excited, she called her mom, and said, "I passed the test."
ITEM 9: Mike LaChance reported, "Penn's Transgender Swimmer Loses to Yale's Transgender Swimmer in Women's 100 Meter Race."
Can't cut it as a man?
Put on a dress and call yourself a woman.
ITEM 10: Outkick reported, "Canadian politician Jon Reyes made it perfectly clear Saturday morning that he doesn't wear the pants in his own house. The member of the Legislative Assembly of Manitoba got up Saturday morning and snapped a photo of his wife, Cynthia, shoveling their driveway and bragged that she was shoveling after a 12-hour nursing shift at a local hospital.
"It didn't take long for the social media warriors to have Reyes by the balls for not throwing on his boots to help Cynthia clear the driveway. It didn't help Jon's cause that he tweeted early Saturday morning that he stayed up late to watch an ATP Cup tennis match."
Good for him for giving his wife snow equity.
But look for some trans to break her record next week.
By the way, my solar-powered snow removal system worked. The snow was gone in two days.
ITEM 11: The New York Times reported, "Left Out of High-Level Talks, Ukraine Tries Other Diplomatic Channels."
Yes, why include Ukraine in the planning of its future? Putin and Biden know best.
ITEM 12: The New York Daily News reported, "Vaccine appointments multiply after Quebec requires shots for weed, alcohol stores."
A good leader knows what incentives will result in the outcome he seeks.
ITEM 13: The Wall Street Journal reported, "Taliban Detain Prominent Critic, Intensifying Crackdown on Dissent in Afghanistan."
Nancy Pelosi taught them well.
ITEM 14: The Washington Examiner reported, "White House worried Iran is plotting assassination attempts against Trump administration officials."
Are they worried Iran will fail?
ITEM 15: The Daily Mail reported, "A teen girl was gunned down and killed during a robbery while working her shift at a Harlem Burger King—with the killer making off with only $100.
"Kristal Bayron-Nieves, 19, was working as a cashier at the Burger King at 116th Street and Lexington Avenue in East Harlem early Sunday morning when an armed robber entered the restaurant. The gunman pistol-whipped a male customer before punching a female manager in the face. Bayron-Nieves, who just started the job three weeks ago, gave the robber $100 cash from the drawer, an eyewitness said, according to her mother."
19.
Mayor Cop showed up to say gee that's too bad, days after he appointed his brother to a $242,000-a-year gig in the police bureaucracy.
Priorities.
ITEM 16: The New York Post reported, "A Los Angeles Taco Bell worker was fatally shot Saturday night by a customer who tried to purchase a drive-thru order with a phony $20 bill, a report said."
Gee, I wonder why no one wants to work at fast-food joints anymore.
ITEM 17: Zero Hedge reported, "Down the street from the US Capitol Building, right in front of Union Station, more than a dozen tents have been erected, highlighting the homeless problem in the nation's capital.
"The area outside the train station is a 16-minute walk from the Capitol Building. Lawmakers who take the train to work have to pass by this area and gaze upon the homeless who have been knocked out of the workforce and unable to afford shelter, food, and energy because of inflationary conditions produced by unorthodox monetary and fiscal policies."
Um, America's drug policy likely had more to do with this.
ITEM 18: Fox reported, "American Airlines apologetic after Twitter user complains about pilot with 'Let's Go Brandon' sticker.
"American Airlines made headlines in 2020 for allowing crew to wear BLM pins."
Let's go ban this unAmerican, anti-free speech company from calling itself American.
ITEM 19: AP reported, "Watershed moment in NYC: New law allows noncitizens to vote."
It is another watered-down moment as Democrats head toward their goal to make citizenship worthless.
AP is rooting for this because its CEO is a noncitizen living in the USA.
FINALLY, via Kane at Citizen Free Press.
God decided that he had heard enough BS pic.twitter.com/n4XdwlmOvc

— Shane McMinn author since 2011 🇬🇧 in 🇨🇦 (@shane_mcminn) January 9, 2022