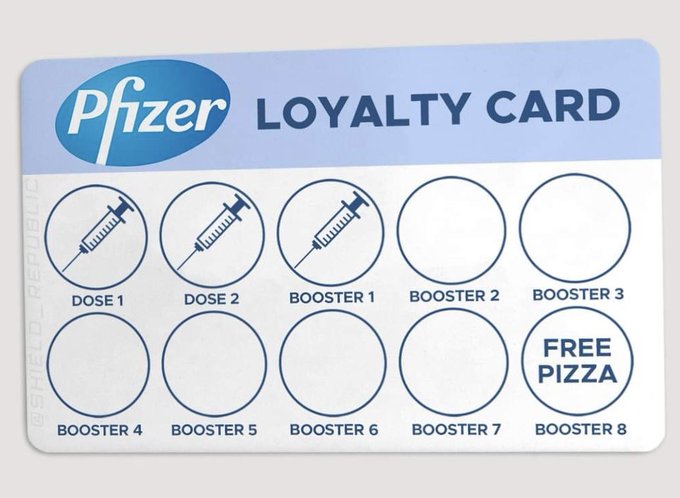 ITEM 1: Bloomberg reported, "A fourth dose of the Pfizer-BioNTech vaccine was insufficient to prevent infection with the omicron variant of Covid-19, according to preliminary data from a trial in Israel released Monday."
I am beginning to think that maybe all the booster shots do is boost profits.
ITEM 2: Someone wants to make Fentanyl Floyd's birthday a holiday.
Biden: "Even Dr. King's assassination did not have the worldwide impact that George Floyd's death did." pic.twitter.com/sth2bArDDI

— The Post Millennial (@TPostMillennial) January 17, 2022
The death of Corn Pop was even bigger.
ITEM 3: Via Citizen Free Press, Gallup found in the first 3 months of the year, 49% of the country identified as Democrat, 40% as Republicans.
Now, 42% are Democrats and 47% are Republican.
Gallup said, "Both the nine-point Democratic advantage in the first quarter and the five-point Republican edge in the fourth quarter are among the largest Gallup has measured for each party in any quarter since it began regularly measuring party identification and leaning in 1991."
Thank you, Joe Biden, the best recruiter for Republicans since Barack Obama.
ITEM 4: Media-ite reported, "Democrat strategist Paul Begala explained on CNN Monday that the reason why the party has come up short in passing voting rights is because it has bad followers."
His actual words were, "I think the problem for the Democrats right now is not that they have bad leaders. They have bad followers, OK?"
Fact-check: Well, he's half-right.
ITEM 5: Axios reported, "School districts from Pennsylvania to Wyoming are bowing to pressure from some conservative groups to review — then purge from public school libraries — books about LGBTQ issues and people of color."
Tiffany Justice, co-founder of Moms for Liberty, told Axios, "Books that promote indecency and immorality... I believe we should have an accounting for those."
60 years ago, the Supreme Court banned school prayer. No Bible? OK, no gay porn books aimed at kids.
ITEM 6: The New York Post reported, "Los Angeles' top prosecutor is under fire for allowing a transgender woman who sexually assaulted a 10-year-old girl as a minor to face a no-jail wrist-slap sentence.
"Hannah Tubbs, now 26, pleaded guilty to attacking the girl in a women's bathroom at a Denny's restaurant in 2014, two weeks before she turned 18, the Los Angeles Times reported."
She was a he when he raped a 10-year-old. His age does not matter.
Meanwhile, dozens of dissidents remain in solitary confinement in DC a year after they protested inside the Capitol.
ITEM 7: The Daily Wire reported, "Democrat Rep. Maxine Waters (CA) attacked members of her own party over the weekend, suggesting that they were racist because they do not support far-left measures that the party is pushing.
"Waters made the remarks in reference to Sens. Joe Manchin (D-WV) and Kyrsten Sinema (D-AZ), who oppose Democrats' efforts to eliminate the filibuster so that they can ram through their partisan agenda."
Black supremacists like Waters will someday be held accountable for their racism. Sadly, she will have died of old age long before that happens.
ITEM 8: The Center Square reported, "United Van Lines report: Americans continue moving out of higher-tax states."
The story said, "Vermont saw the largest percentage of inbound moves compared to outbound, with 74% of movers moving in. New Jersey saw the largest percentage of residents leaving the state, at 71%. New Jersey has been the top outbound state for four consecutive years, according to the report.
"Following Vermont, the next largest percentage of United Van Lines customers moving into a state compared to moving out were South Dakota (69%), South Carolina (63%), West Virginia (63%) and Florida (62%). All four are lower taxing red states; two have no state income tax."
Whoa, whoa, whoa. As a West Virginian, I must warn people in blue states that this is a terrible place to live. There is no coastline but there are coal mines. After 38 years of living here, I must warn liberals to stay away. Vermont is a much better place. Go there.
Please.
ITEM 9: Hot Air reported, "Supply chain crisis status: Still bad, and China's lockdowns about to make it worse"
My solution to the supply chain crisis: Stop importing supplies from Red China.
ITEM 10: Life Site News reported, "A federal appeals court has issued a ruling today allowing the Texas abortion ban to continue saving the lives of unborn children from abortions. The 5th Circuit moved the case to the Texas Supreme Court, where pro-life groups say it's more likely to receive a favorable ruling upholding it long-term."
As Mahatma Gandhi said. "The true measure of any society can be found in how it treats its most vulnerable members."
God bless Texas.
QUOTE OF THE DAY: Republican Senator John Kennedy of Louisiana, "If Aliens Landed Tomorrow And Said Take Me To Your Leader, It Would Be Embarrassing."
Kang and Kodos feel our pain.
ITEM 11: West Virginia State Treasurer Riley Moore announced "the Board of Treasury Investments, which manages the state's roughly $8 billion operating funds, will no longer use a BlackRock Inc. investment fund as part of its banking transactions.
"The decision was based on recent reports that BlackRock has urged companies to embrace net zero investment strategies that would harm the coal, oil and natural gas industries, while increasing investments in Chinese companies that subvert national interests and damage West Virginia's manufacturing base and job market."
Red China also is using coal, oil and natural gas.
The only Black Rock for West Virginia is coal.
ITEM 12: AP reported, "Singer and music producer Pharrell Williams is challenging corporate America to do more by supporting entrepreneurs of color and adopting economic equity measures."
Equity is dog-whistle racism.
He has a net worth of $200 million. Let him invest in entrepreneurs of color.
After 50 years of affirmative action, it is time to take the training wheels off.
ITEM 13: Yahoo reported, "Golden State Warriors owner Chamath Palihapitiya suggested recently that nobody cares about China's system of concentration camps, forced labor, and high-tech surveillance against the Uyghur community in Xinjiang.
"'Nobody cares about what's happening to the Uyghurs, okay?' Palihapitiya said during an appearance on the All-In podcast. 'You bring it up because you care and I think it's nice that you care. The rest of us don't care. I'm just telling you a very hard, ugly truth. Of all the things that I care about, yes, it is below my line.'"
That makes me a nobody, I guess.
ITEM 14: In more pleasant NBA news, the DC team has a new head coach.
Wizards acting head coach Joseph Blair is a former Harlem Globetrotter and busted out some tricks postgame to celebrate the win 😂. pic.twitter.com/QUXdQHKn6O

— Chase Hughes (@ChaseHughesNBCS) January 18, 2022
Sweet Georgia Brown is that guy good.
ITEM 15: The Daily Wire reported, "A Waukesha County judge ruled Thursday that ballot drop boxes cannot be used in the state of Wisconsin, asserting that the Wisconsin Elections Commission has no authority to permit the drop boxes."
18 months too late, but better late than never.
ITEM 16: Zero Hedge reported, "According to Argus Media, the European Commission -- that murder of career bureaucrats -- has proposed exempting private jets and cargo flights, two of the most polluting forms of transportation, from the planned EU jet fuel tax. A draft indicates that the tax would be phased-in for passenger flights, including ones that carry cargo.
"The draft, which the commission will on 14 July present with its proposed revisions to the bloc's 2003 energy-taxation directive, indicates there could be an exemption from taxation for energy products and electricity used for intra-EU air navigation of cargo-only flights. It proposes allowing EU states to only tax such flights either domestically or by virtue of bilateral or multilateral agreements with other member states."
The power to tax pales compared to the power to exempt from taxes.
ITEM 17: Clay Travis snarked on Twitter, "We're completing a full weekend of 12 NFL teams playing six games in a week where covid hit all time highs in the country & suddenly virtually no NFL player tested positive for covid. Amazing how that worked out, isn't it? Someone should run the odds on this based on past weeks."
Given the legalization of sports betting across the USA, the fear should be false positives. How easy it is to knock out an opponent long before the game is played.
ITEM 18: The Daily Mail reported, "A majority of Americans says in a stunning new poll that U.S. democracy is at risk of 'extinction.' The assessment comes in a new poll near the anniversary of President Joe Biden's first year in office, just days after the anniversary of the Capitol riot. About half, or 26%, said U.S. democracy's survival 'is secured for future generations,' according to the poll from Schoen Cooperman Research. Slightly fewer, 23%, said they weren't sure, with 51% saying democracy was in danger of extinction."
Fear not.
A majority now sees that Democrats, RINO, and the media cheated.
The cheaters will suffer.
We will make their fascism extinct.
ITEM 19: The Liberty Loft reported, "Life Insurance Company Denies Claim of Vax Victim Since Jab is Experimental."
Kids, don't do drugs because they can harm your body.
Also: kids, you must be vaccinated.