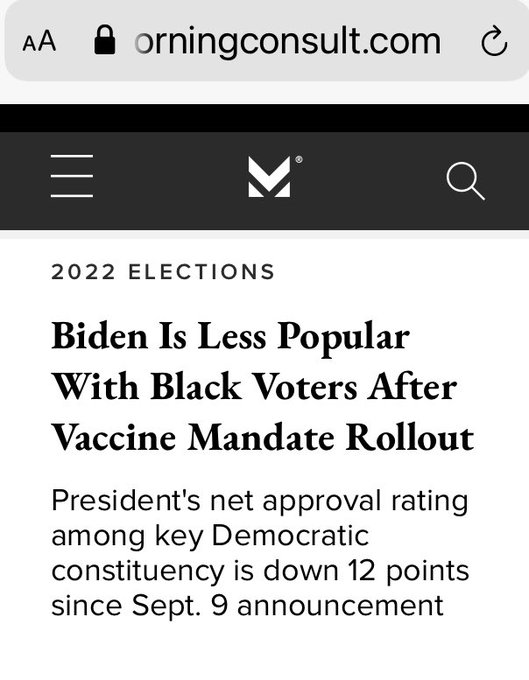 Prediction for 2022: I will have a choice this year and make the wrong decision.
I will have another choice this year and I will make the right decision.
My resolution is to remember the right decision and move on from the bad.
ITEM 1: The New York Times ran an editorial, "Every Day Is Jan. 6 Now," making the Capitol protest an official Reichstag Fire to enable the fascist in Washington and Upper Manhattan to repeal our constitutional rights.
We don't need Donald Trump. He's too nice. I want a president who will shut down Twitter and Facebook. I do not want to get even. I want to take command. I never want to be in the situation we are now in where I am a second-class citizen.
ITEM 2: The Telegraph reported, "Polar bears are being forced to migrate from America to Russia due to climate change."
It's not climate change. It's freedom. Putin doesn't make them wear a mask or get a vax.
Cool picture, though.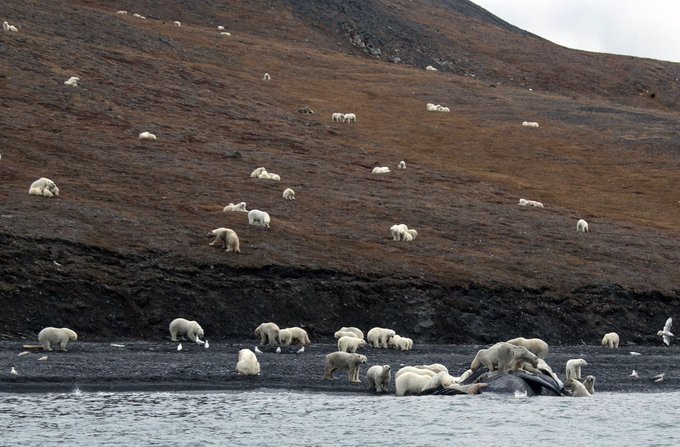 The photo is from 2017.
They are feasting on a whale.
ITEM 3: Gab sent me an email, "Twitter banned Congresswoman Marjorie Taylor Greene this morning. Thankfully Congresswoman Greene was smarter than many of her colleagues because she got on Gab over a year ago and built up a tremendous following over hundreds of thousands of people. Her ban from Twitter should come as no surprise. Once Twitter crossed the Rubicon and banned a sitting President there was nothing stopping them from banning each and every Republican from the platform without thinking twice."
If Gab were doing its job right, I would not use Twitter. I have tried Gab over the years and have been disappointed every time. I gave it $99 last year. Not this year. Nobody goes there because there's nobody there.
ITEM 4: Twitter suspended MTG for stating 18,000 people died from covid vaccines.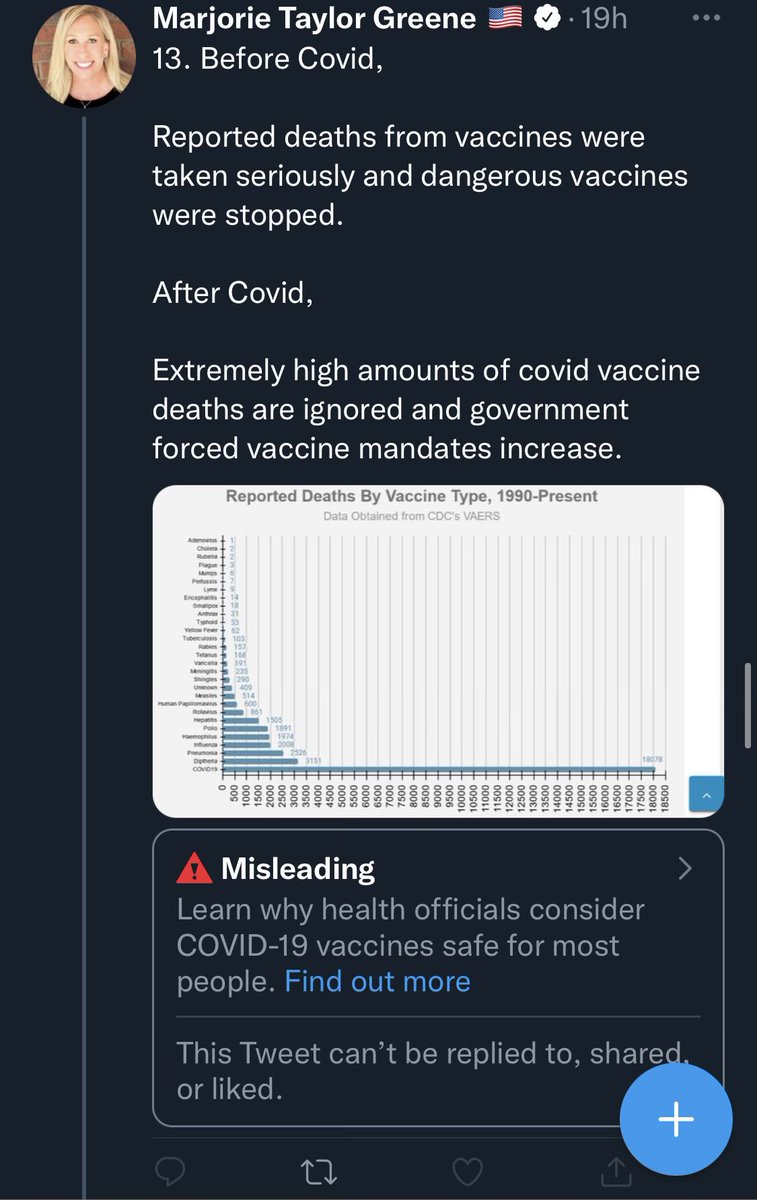 She cited CDC's own numbers.
Either you are for free speech or you are for tyranny. There is no middle ground.
ITEM 5: Fox reported, "Cleveland-area carjackers have 'declared war,' prosecutor says, after police officer shot dead
"Cleveland police Officer Shane Bartek, 25, was fatally shot while off duty around 6 p.m. Friday in the city's Kamm's Corners neighborhood."
They are carjacking police officers.
I lived near Kamm's Corner for a few years. It was so peaceful, it was boring.
But that was 40-plus years ago.
ITEM 6: Deutsche Welle reported, "The US removed access for Ethiopia, Mali and Guinea from a duty-free trade program on Saturday, due to their recent alleged human rights violations and recent coups.
"President Joe Biden had threatened to remove Ethiopia from the African Growth and Opportunity Act in November, due to human rights violations in the Tigray region. Mali and Guinea have been targeted due to recent coups."
Such a tough man.
Biden is taking on these itty-bitty countries. When is he going to take someone his own size like Red China? Its abuses are worse.
ITEM 7: Attention LuAnn.
Fox reported, "Health ministry officials in Quebec, Canada, had their tails between their legs Saturday after facing backlash for new coronavirus-related curfew rules that don't allow dog owners to walk their pets between 10 p.m. and 5 a.m.
"A previous version of the curfew rules allowed residents to help their pets take care of business in the overnight hours, provided they remained within 1 kilometer (3,280 feet) of their home, CTV News reported. Why the exception wasn't included in the newest rules wasn't clear, the outlet reported.
"'What if you can't walk your dog [before curfew] because of work or other restraints?' asked Louise Makovsky, a dog owner and animal activist, according to CTV News."
Dog Bites Fascism is a news story.
ITEM 8: National Review reported, "Hong Kong Media Outlet Shuts Down Days after Raid on Pro-Democracy Website."
None of our American media need fear shutting down because they all blindly support our federal government.
ITEM 9: Just the News reported, "Insurance CEO says deaths up 40% among working age people, and it's not just covid."
Shutting down hospitals over fears of overcrowding in 2020 -- which rarely happened -- reduced early detection of cancer and other life-saving treatments. Politicians deemed colonoscopies to be non-essential based on advice from bureaucrats with medical degrees.
A year later, non-covid patients are filling up ICU beds.
America needs a complete review of this mess when Republicans regain control of the government.
ITEM 10: The New York Post reported, "A 28-year-old man died when he jumped a subway turnstile in Queens on Sunday and struck his head on the floor, cops said.
"'The man was attempting to evade the fare' at the Forest Hills-71st Avenue train station around 6:45 a.m. when he hopped the turnstile, a police spokesman said."
How sad to kill yourself over the price of a subway ride.
Look for liberals to demand softer floors.
ITEM 11: News.com.au reported, "Ghislaine Maxwell's brother says she won't rat out for lighter sentence.
"Ghislaine Maxwell may be linked to a number of alleged co-conspirators, but according to her brother, she'll remain tight-lipped on the truth."
That's an interesting spin.
The reality is federal prosecutors do not want her talking.
The brother said, "Prosecution confirmed no plea bargain offers were made or received [before the trial]. I expect that position to be maintained."
She does not want a lighter sentence.
She wants to live.
ITEM 12: Glamour reported, "The Harry Potter Special Hilariously Mistook Emma Roberts For Emma Watson."
Maybe they should have asked J.K. Rowling which is which. She created Harry Potter. Oh wait, she has been banned from these celebrations for saying women menstruate.
ITEM 13: Zero Hedge reported, "A decade ago, Washingtonian pundits were buzzing about how New York's junior Senator, Kirsten Gillibrand, might someday eclipse her onetime mentor, Hillary Clinton, to become the most powerful woman in the Democratic Party. But in the years since, the senator has seen her public profile shrink remarkably after her 2020 presidential campaign fizzled before it even got off the ground. She still holds one of the most powerful elected positions in the country, but whatever she had been trying to prove with this strategy, it has clearly backfired.
"Because New York has a new celebrity politician who is younger and (arguably) better-looking than Gillibrand (even if her political chops aren't up to par). And the message to Gillibrand from her Democratic colleagues is getting increasingly emphatic: either step it up, or step aside and get ready for AOC to launch and win a primary campaign for the Senate seat just like she did when she challenged Joe Crowley for his seat in the House."
The seat is up in 2024.
Hmm.
That means AOC would give Schumer a pass in this year's Senate race.
ITEM 14: The Post Millennial reported, "In a viral video that has spread across Twitter, a transgender TikTok user accuses a baby of being transphobic, even causing the baby to cry at one point.
"The person in the video accuses a baby of liking them more with long hair as opposed to short, which they say makes them look more feminine. The person said that they confronted this baby about it, which caused the baby to cry."
So, if we are born transphobic, that means the onus is on others to accept transphobia.
Isn't that how it works?
Born this way, and all that.
ITEM 15: Bloomberg reported, "The Bloomberg Commodity Spot Index, which tracks 23 energy, metal and crop futures, is ending 2021 with a 27% gain, the biggest since the 2009 recovery from the great financial crisis. Prices for everything from gasoline and corn to copper and lumber have soared, making it more expensive to fill up the tank, build houses, eat meat, manufacture cars and heat homes.
"The rollout of vaccination campaigns and easing restrictions on travel and gatherings led to a surge in demand for raw materials at a time when supplies were still largely restrained due to lack of capital spending, weather-driven crop losses and logistic bottlenecks. Widespread shortages drove a rally that was particularly acute in commodity futures for near-term delivery, making the market even more attractive for funds already looking for exposure to energy, food and metals as an inflation hedge.
"As 2022 dawns, though, there are growing doubts about how far commodities can keep rising as a projected slowdown in economic growth, especially in China, and a rebound in supplies will likely weigh on prices. This year's rally has put inflation at the center-stage of policy-making, with central bankers considering scaling back the massive injections of cash used to revive economies during the heights of the pandemic. The specter of rising interest rates also means commodities could appeal less to investors."
Hmm.
So inflation just cures itself. It magically shows up and then vanishes, according to Bloomberg.
That $4.99 a pound hamburger must be my imagination.
FINALLY, Morning Consult polled voters and reported, "Only Democrats Give Major Weight to Jan. 6 Attack."
Hahahahahahahahahahahahahahahaha (breathe) Hahahahahahahahahahahahahahahaha (breathe) Hahahahahahahahahahahahahahahaha.
Ah yes, the "insurrection" in which people stormed the castle carrying nothing but the American flag.
Well, as the song says, thy banner makes tyranny tremble...
The poll also shows another reason people tune out the news. Often the news is about things people care little about presented in an unappealing manner.