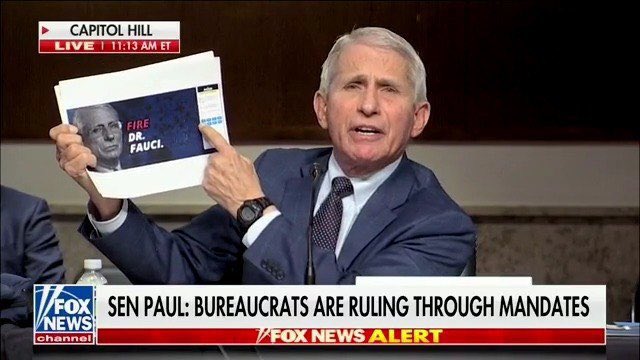 His sign says "Fire Dr. Fauci."
Follow the science. Via Kane at Citizen Free Press. Not photoshopped.
QUOTE OF THE DAY
: Biden asked Democrats on Tuesday, "Do you want to be the side of Abraham Lincoln or Jefferson Davis?"
Lincoln was a Republican, Davis a Democrat.
ITEM 1: Clay Travis tweeted, "Pfizer made a copyright claim to remove their CEO's video comments that two doses of their covid vaccine offers 'limited protection, if any.' This is wild."
Twitter banned the video.
Fauci's daughter works for Twitter.
ITEM 2: Katie Pavlich reported, "Speaking during a hearing in front of the Senate Health Committee Tuesday morning, Health and Human Services Preparedness and Response Assistant Secretary Dawn O'Connell revealed the Biden Administration has not signed new contracts with Wuhan coronavirus testing manufacturers and producers. Instead, they're working with warehouses already storing millions of tests that need to be distributed."
Two years ago they found millions of N95 masks in storage in Indiana, but refused to distribute them because they expired.
The deep state only cares about power.
QUESTION OF THE DAY: Sebastian Gorka tweeted, "What's with all the soccer players getting heart attacks?"
The CDC will get right on it in 75 years, just like they wanted to wait on releasing the vaccine documents.
ITEM 3: Fox reported, "Republican Sen. (and medical doctor) Rand Paul and National Institute of Allergy and Infectious Diseases Director Anthony Fauci sparred once again in a Senate hearing, with the lawmaker pressing Fauci Tuesday on reports he sought to 'quash fringe' epidemiologists' coronavirus mitigation strategies and accusations he is at least tangentially culpable in the creation of viruses through gain-of-function research."
Fauci has lied to Congress repeatedly at previous hearings.
He tried to deflect criticism by claiming without evidence that Dr. Paul's criticism led to death threats.
A Democrat ambushed Paul while he was mowing his lawn, cracking his ribs.
ITEM 4: At a different Senate hearing, Ted Cruz tried to weasel his way back from conservative purgatory after calling the 2020 protest inside the Capitol a terrorist attack.
On Tuesday, Cruz grilled Jill Sanborn, the FBI's executive assistant director for the national security branch.
The Washington Examiner reported, ""How many FBI agents or confidential informants actively participated in the events of January 6th?"
And, "Who is Ray Epps?"
Of course she did not answer. If he thought she would, he would have never asked the questions.
ITEM 5: Paul Sperry reported, "Cop Who Killed Ashli Babbitt Was Cleared of Criminal Wrongdoing Without Interview."
We knew it but finally the story comes out.
Before the Internet, the Washington Post, New York Times, and all the alphabet networks would have been able to keep this story from reaching the public. That is the true power of the press.
ITEM 6: Ed Perlmutter of Colorado became the 26th Democrat congressman to declare he won't stand for re-election this year. That's the most since 1996 when 29 Democrats quit rather than stay in the first Republican-run House in 40 years.
(Sings) Won't you come home, Perl Mutter...
ITEM 7: For the Win reported, "Tom Brady refused to come out of the game until Gronk got his $1 million bonus."
Longtime teammate Rob Gronkowski needed a pass or two to trigger the bonus. Brady took care of him.
A good leader takes care of his men.
ITEM 8: The New York Post reported, "The prospect of dying unexpectedly from COVID-19 can concentrate the mind wonderfully — on buying an expensive car.
"That's according to Rolls-Royce chief executive Torsten Müller-Otvös, who said the luxury automaker sold more cars last year than it did during any other year in its 117-year history.
"Müller-Otvös told the Financial Times he believes Rolls-Royce rolled to its record because the pandemic got people to realize that 'life can be short.'"
I agree. YOLO.
ITEM 9: Oil Price reported, "China Boosts Imports Of Cheap Oil From Sanctioned Iran And Venezuela."
It is Chairman Xi's way of saying Let's Go Brandon.
ITEM 10: AP reported, "The U.S. Supreme Court has refused to hear the appeal of a woman who left home in Alabama to join the Islamic State terror group, but then decided she wanted to return to the United States.
"The justices declined without comment on Monday to consider the appeal of Hoda Muthana, who was born in New Jersey in October 1994 to a diplomat from Yemen and grew up in Alabama near Birmingham."
As a diplomat's child, she never was a citizen.
She is not worthy of our time.
ITEM 11: Steve Harvey, star of just about every show on TV now, said, "The only way I can do one more special is if it's at the end of my television career because it will end my television career.
"We're in the cancel culture now. No stand-up that is sponsor-driven can say anything he wants to. Chris Rock can't. Kevin Hart can't. Cedric the Entertainer can't. D.L. Hughley can't. I can go down the list. The only person that can say what they want to say on stage is Dave Chappelle because he's not sponsor-driven. He's subscription-driven."
It's called selling out. The three surviving "Original Kings of Comedy," and Rock and Hart may have sold out but Chappelle hasn't. He's not peddling credit cards or hosting a game show. He's telling jokes.
Don't blame the cancel culture. Harvey's choice.
ITEM 12: AP reported, "Inflation up, virus down as priorities in US: AP-NORC poll."
68% said it's the stupid economy. 37% said the virus. Maybe that's a good thing for Biden considering how he has mismanaged covid.
ITEM 13: Breitbart reported, "House GOP Leader Kevin McCarthy told Breitbart News that the U.S. Chamber of Commerce has no place in the modern Republican Party and that the big business lobby is not going to be welcome back if and when Republicans are back in power."
He's becoming Charlie McCarthy telling conservatives what we want to hear: The truth.
ITEM 14: The Washington Examiner reported, "Even Mark Zuckerberg is leaving California for Texas."
The story said, "Zuckerberg's company, Meta (formerly Facebook), announced it would lease offices in a massive new building in Austin, Texas. Big tech companies, who cut their teeth and built empires in California, are fleeing the state and relocating to Texas. It's almost as if high taxes, stifling corporate regulations, and out-of-control housing costs are unattractive to businesses and long-term sustainability."
Remember the Alamo.
Keep these corporate communists out!
ITEM 15: Andrea Widburg reported, "It turns out that, if you doubted COVID's deadliness, you were correct."
I try not to lie and go with reliable sources. Readers come first.
Which is why Highlights of the News so seldom relies on NYT, WaPo, ABC, CBS, NBC, CNN or Reuters for news items.
In fact, none of them made today's highlights. Oil Price did. For the Win did. And of course, Andrea Widburg did.
ITEM 16: Newsmax reported, "Florida Republican Gov. Ron DeSantis's reelection campaign is cashing in on a stream of Democrats recently caught on camera vacationing in the Sunshine State.
"After several nationally prominent Democrats, including Michigan Gov. Gretchen Whitmer, California Rep. Eric Swalwell, and New York Rep. Alexandria Ocasio-Cortez, have been caught on camera enjoying vacations in Florida, without donning masks, or observing other COVID-19 restrictions enforced in their home states, the DeSantis campaign is launching new merchandise calling attention to their visits.
"'Escape to Florida' T-shirts are now available on the campaign's official website for $25, that show the state with an 'open' sign on it, and "Lockdown Libs Tour" written across the bottom of the shirt's front."
Visit Florida. Your congressman did.
ITEM 17: The Daily Mail reported, "Upstate New York and Massachusetts face coldest temperatures since 2019 as Arctic Blast moves in: More than 15 MILLION are under wind chill alerts as East Coast temperatures dip 45 below zero."
Guess it's not a topdown day.
ITEM 18: KTTH radio reported, "The Seattle Police Department confirmed it lost an astonishing 170 officers in 2021, but that only tells part of the story. Dozens more will be separated from the department in the coming weeks, a result of the former mayor's vaccine mandate.
"The final separations report, which includes retirements and resignations, comes after a year of anti-police activism and a vaccine mandate that sidelined upwards of 100 officers. Some of those sidelined officers who were going through the accommodation repeal process ended up quitting or complying with the mandate. Others are still on the list as they await their inevitable firing — unless newly sworn-in Mayor Bruce Harrell changes direction."
Breaking local police forces is by design.
Democrats want to federalize the police, just as they federalized health and education.
They also want to federalize elections because they still side with Jeff Davis.