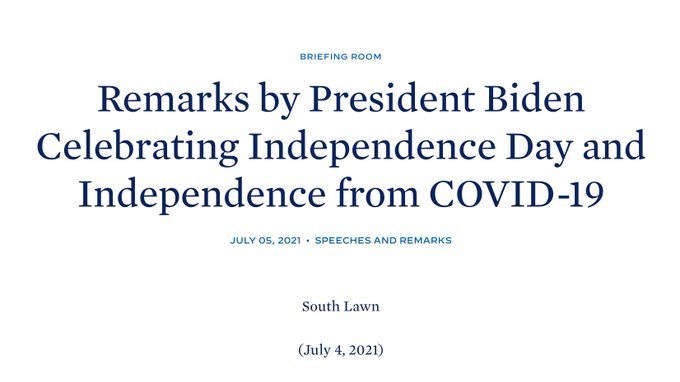 Unemployment is at 3.9%. Stocks are at an all-time high.
So why is Biden's approval on handling the economy at 40% while the disapproval of his economy is at 56%?
Covid.
Don't get me wrong. I know his economic policies suck and will drive inflation into the double-digits this year.
But thus far, inflation is just a nuisance. He should not be minus 16 on the economy. Yet, there he is.
The economy is not doing him in. Covid is. His failure to maintain the public's confidence in his handling of covid is knocking out the agenda of Biden and Democrats.
Hot Air reported, "Atlantic writer: I'm not sure I'm a Democrat anymore thanks to their awful covid school policies."
First, let's look at the numbers.
Biden overall is at 42%approval/54% disapproval. Minus 12.
At this point in their presidencies, Obama was at 50%/45% Plus 5.
Obamacare passed 2 months later.
Trump was at 39%/56%. Minus 17.
The wall went unbuilt.
Bush 43 was at 82%/11% but that was inflated by 9/11.
Before 9/11, Bush was at 53%/39%. Plus 14.
At that same point, Biden was at 46%/49%. Minus 3.
Having established that Biden is in trouble, let us see why.
He crossed into negative territory in mid-August as opposed to Trump who never enjoyed a full 1 point plus.
Biden's withdrawal from -- surrender of -- Afghanistan flipped him from plus 8 points on August 1 to minus 3 by September 1.
His 11 point drop in one month was followed by a 9 point drop over the next 4 months. He's headed to the 30s in job approval, a point at which presidents become pariahs.
Afghanistan knocked him by 11 points.
Covid has knocked him by another 9 points.
On September 1, 53% approved of his handling of covid while 41% disapproved. Plus 12.
Now he is at 47.6% approve and 46.1% disapprove. Plus 1.5%.
Among independents, his approval on covid is down to 41%.
Covid was propping his approval up.
Now covid cannot save him because not only has covid not gone away but it appears to have strengthened.
Voters have a high tolerance for corruption and stupidity, as long as the mayor or governor or president gets the job done. Vote for the crook, it's that important got Democrat Edwin Edwards back into Louisiana's governor's mansion in 1991 for a fourth term.
He later served a term in federal prison. Voters may not care about corruption, but federal prosecutors used to.
When the crook or the nincompoop fails to deliver, he gets tossed on his ear. Given that Biden is both, his failures could end his term prematurely.
The president and his party have failed to re-open schools, which really, really concerns parents.
Angie Schmitt wrote in that aforementioned Atlantic article, "I kept hoping that someone in our all-Democratic political leadership would take a stand on behalf of Cleveland's 37,000 public-school children or seem to care about what was happening. Weren't Democrats supposed to stick up for low-income kids? Instead, our veteran Democratic mayor avoided remarking on the crisis facing the city's public-school families. Our all-Democratic city council was similarly disengaged. The same thing was happening in other blue cities and blue states across the country, as the needs of children were simply swept aside. Cleveland went so far as to close playgrounds for an entire year. That felt almost mean-spirited, given the research suggesting the negligible risk of outdoor transmission—an additional slap in the face."
The Democrat response is ridicule.
She wrote, "Compounding my fury was a complete lack of sympathy or outright hostility from my own team. Throughout the pandemic, Democrats have been eager to style themselves as the ones that 'take the virus seriously,' which is shorthand, at least in the bluest states and cities, for endorsing the most extreme interventions. By questioning the wisdom of school closures—and taking our child out of public school—I found myself going against the party line. And when I tried to speak out on social media, I was shouted down and abused, accused of being a Trumper who didn't care if teachers died. On Twitter, mothers who had been enlisted as unpaid essential workers were mocked, often in highly misogynistic terms. I saw multiple versions of 'they're just mad they're missing yoga and brunch.'
"Less extreme, but perhaps just as harmful to social cohesion, was the widespread refusal among rank-and-file Democrats to seriously wrestle with the costs of pandemic-mitigation efforts. Beyond the infuriating nonresponse to school closures—'kids are resilient'—the discussion regarding masks has also been oblivious at times. Research shows that good masks worn correctly can slow the spread of the coronavirus, but it's silly to suggest that they have no drawbacks. They are uncomfortable and a barrier to communication—and that's just for adults."
Kids are not resilient.
And neither is an aged lifer senator sitting at the Resolute Desk or his party.
Breitbart reported, "Only 28% of likely voters believe President Joe Biden will be reelected in 2024, a Rasmussen poll revealed Thursday."
Biden looks like a lameduck, quacks like a lameduck, and walks like a lameduck.
Not every Democrat wants to be caught in his web.
Joe Manchin's job approval was 44%/44% in September 2020.
A year later, after opposing the BBB, Manchin was up to 42%/37%. Plus 5.
Don't think other Democrats in Congress do not notice. There may be a hill they are willing to die on but it is not Capitol Hill.
Many Democrats face a choice. Either they vote against the party's agenda or they quit. Already 25 House members have decided not to seek another term this year.
That's the most since 29 Democrats quit in 1996 following the end in 1994 to 40 years of Democrat control of the House.
Biden's incompetence in losing Afghanistan and losing to covid (as well as his border debacle) are killing his agenda, which makes sense. If you screw up on three major problems, why would the public trust you with more problems?
The economy won't save him because this time it's the stupid, stupid.