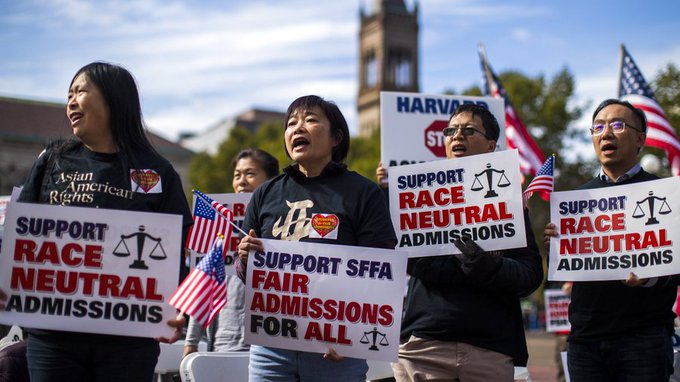 If Democrats thought only abortion was in trouble when Trump's three Supreme Court nominees were confirmed, they underestimated the upheaval against failed liberal domestic policies.
A few minutes ago, justices agreed to hear a case by Asian-Americans suing Harvard over its discrimination against Asian-Americans in favor of less qualified students of other races.
The media spin was predictable.
Reuters reported, "The U.S. Supreme Court on Monday agreed to hear a bid to bar Harvard University and the University of North Carolina from considering race in undergraduate admissions in a case that imperils affirmative action policies widely used to increase the number of black and Hispanic students on American campuses."
Wow.
Reuters did not mention Asian-Americans in the headline or lead sentence. That is how vested the media is in the nearly 50-year-old policy that was sold as a temporary fix.
Others also downplayed the fact that Harvard is discriminating against Asian-Americans based solely on their race.
NBC did not mention Asian-Americans until Paragraph 3.
Wow.
Vox didn't mention Asian-Americans at all, instead saying, "The Supreme Court announced on Monday that it will hear Students for Fair Admissions v. President & Fellows of Harvard College and Students for Fair Admissions v. University of North Carolina, two cases that present an existential threat to affirmative action in university admissions.
"These cases are the culmination of a years-long strategy by conservative activists — and by one activist in particular — to win a court decision invalidating affirmative action. The president of Students for Fair Admissions, the lead plaintiff in the Harvard and UNC cases, is not a student at all. It is Edward Blum, a former stockbroker who was also the driving force behind several other lawsuits asking the courts to expand the power and influence of white people."
Why is Vox important? It is one of the top sites Google linked to this story.
The racists are the first to call opponents racist.
Harvard's lawyers told the court, "Mandating race-blind admissions programs would undermine those universities' ability to engage in the kind of individualized review that yields a class that is both diverse and excellent."
The Constitution mandates color blindness!
Clarence Thomas knows affirmative action firsthand. A graduate of Yale Law School, he saw the pat on the back that held him back.
Business Insider reported, "Thomas graduated from Yale Law School, and in 2007 he attacked his alma mater's affirmative action policies in his memoir and in an interview with ABC News. Thomas argued that what he called the stigmatizing effects of affirmative action put him at a huge disadvantage when he was trying to find work as a lawyer.
"Thomas said he went on interviews with one high-priced lawyer after another who didn't take him seriously because they thought he got special treatment."
He couldn't stop it in 2013.
He can now.
And boy does the media hate that.