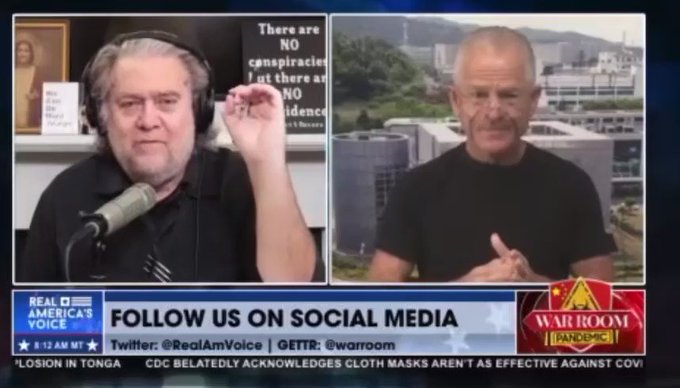 Gallup reported that 49% of Americans identified as Democrats and 40% as Republicans when 2021 began.
When the year ended, 42% were Democrats and 47% were Republicans -- a 14 point swing. Gallup never saw such a shift in the 31 years it has tracked party affiliation.
How that plays out in November's congressional races is anyone's guess.
But Steve Bannon is optimistic.
He said, "The Gingrich revolution took place in November 1994. That polling they're talking about occurred in January 1995 it was the post-Gingrich revolution. This is the type of tectonic plate shift we got. Remember, we are not just about killing the Biden administration, that's dead, only Mitch McConnell keeps it on life support. Because they stole the election, the great irony and the way divine providence is working here is to show us exactly how radical they were.
"We have a once-in-a-lifetime opportunity to destroy root and branch the Democrat party. That is what this is telling us right now. If we stick to the plan and stay focused on their illegitimacy if you stay focused on their horrible policies if you stay focused on the fact a 70-year nurse African American nurse goes to a hospital and is beaten to death on the street because the Soros DAs won't put guys in jail…We can shatter the Democrat Party with 100 seats in the House."
That is a stunning forecast because there appears to be so few vulnerable seats. The Cook Political Report says only 8 Democrat seats are toss-ups plus 5 that lean or are likely Republican. It lists 6 Republican seats as toss-ups and 1 leans Democrat.
But Cook missed the Republican shellacking of Obama in 2010, and the Gingrich Revolution of 1994.
DC-centric media always underestimates Republicans because the pundits and reporters do not understand conservatism. They think George Will and Bill Kristol are still relevant.
Mostly, they do not know just how fed up the country is with Democrats and Biden. Salena Zito tries to tell them, but they know everything. Just ask them.
The left is bitter because Democrats have not delivered their pie in the sky. Also, Democrat catering to blacks, LGBTs and illegal aliens are turning off Hispanics and Asians.
The rest of us tire of covid and the race wars. Trump supporters are growing in number as people come to realize Democrats cheated him out of the presidency. Losing Afghanistan and rising inflation further damage Democrats.
Finally, Democrats foam at the mouth too often. Biden's calling those who disagree with him George Wallace, Bull Connor and Jefferson Davis. He is coming off as a clanking, cranky, out-of-touch geezer.
Republicans could pull off a 1994 when they gained 54 seats or even a 2010 when they had a net gain of 63 seats.
But that will occur only if the pieces fall in place. Republicans had the element of surprise back then. Democrats see this one coming.
As for 100 seats, no one has pulled off a triple-digit flip since the 19th century.
Even the election of FDR in the Great Depression in 1932 did not do this. Democrats fell short as they gained 97 seats. Six years later, Republicans gained 81 seats, but Democrats still held a comfortable 262-169 majority.
Nope, you have to go back to 1894 to see such a sea change. That was a special circumstance in which Democrat Grover Cleveland presided over the Panic of 1893, a global economic collapse. Republicans more than doubled their House seats by gaining 130 seats. They not only wiped out a 94-seat advantage Democrats had, but created a 254-93 majority.
20 years earlier, Democrats pulled off a 94-seat House flip following the Panic of 1873.
Notice the pattern?
Bad economies lead to political change. It indeed is the economy, stupid.
I would not write off Bannon's prediction, even though I would settle for half that because that would give Republicans 262 congressmen -- the most in 94 years.
With 100 House seats, though, you get a large enough majority to expel Pelosi, Waters, Schiff, Swalwell, Nadler, and anyone else.
And Republicans could impeach Biden.
But we are dreaming now. Biden can start a war in the hopes of saving his party.