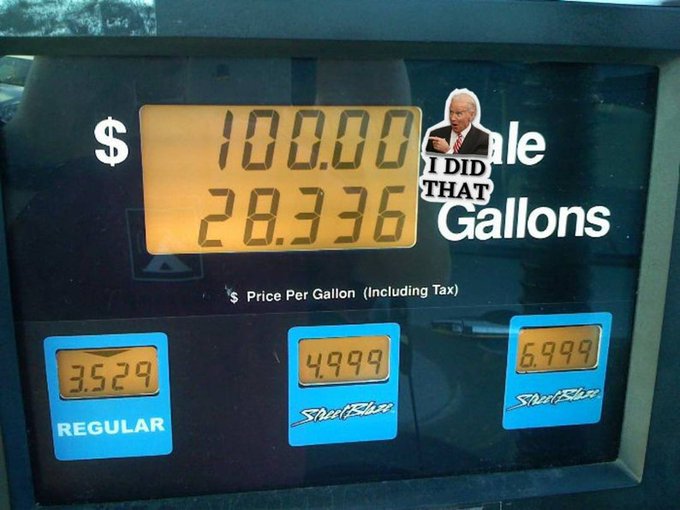 I ended my last post yesterday, "Biden's failures all stem from one source: his obdurate obsession with undoing everything President Trump accomplished.
"The actual President Clinton would have been savvy enough to keep Trump's policies and take credit for their success. And a compliant corporate media would have gladly credited him."
President Trump dropped unemployment to a 50-year low and kept it there for a year until covid came along.
He left Biden with a 1.4% inflation rate, three covid vaccines, and no combat deaths in Afghanistan for 11 months. Illegal border crossings were at a 30-year low.
Biden reversed those policies and disaster, calamity, and catastrophe followed.
Under Trump, we were energy independent for the first time in 50 years. Now Biden is begging the House of Saud to increase production to make up for the drop in production his policies wrought.
Conrad Black wrote, "The Twin Pillars of Biden's Failure."
He cited inflation and the invasion at our southern border. I would add Afghanistan and covid, but inflation and invasion ordinarily would be enough to blow down a president.
Black wrote, "Everything has gone so terribly wrong for the Biden Administration, and in the ways that were widely predicted, that it is hard to believe Joe Biden could be perceived as a successful or at least potentially successful president if only he had avoided being such a tool of the Democratic extreme Left. On the afternoon of his inauguration, he killed the Keystone XL Pipeline and curtailed fracking and offshore oil and gas exploration, and ordered the end of construction of the southern border wall. The consequences have been over 200,000 illegal migrants entering the United States across the southern border most months and the rise in the price of gasoline from approximately $2 a gallon to $5 a gallon across the country.
"As practically everyone outside his immediate entourage saw and predicted, these were disastrous errors."
Of course, the White House dismissed the warnings because the Biden administration is the road company production of the Obama administration. Psaki and the rest are not as smart, not as talented, and not as experienced as the Obama White House.
Black wrote, "Trump's 'broken' immigration policy was the most successful the country has had at least since Eisenhower's time in the 1950s, and the border was on the verge of a full and functioning restoration that would have enabled the country to admit those whom it wished to admit and decline those whom it wished to exclude, when Biden was inaugurated. There can be only one conceivable explanation for the current policy of admitting such a flood of unprocessed arrivals, which doubtless includes many worthy and good people who will unquestionably be assets to the country and its future. But it is also demonstrably true and in any case inevitable, that this mass of undocumented migrants contains an inordinate number of riffraff, dangerous criminals, and people incapable of contributing usefully to American life and certain to be a dead weight on the social, law enforcement, and educational services of the country where they have illicitly arrived."
Ike sent a million Mexicans home.
I get that Biden and the rest want illegal aliens to invade the country. What I don't get is the timing. Rather than wait long enough to say, well, we don't need the wall, Biden opened the gates on Inauguration Day. Thus, he made the case for the wall.
Black ended his column, "Biden and his followers and minders will go down more than anything else on these two issues. If the president just kept his head at least on his first day in office and dodged these two bullets, he might not be facing the dismal personal and national future that he did this Thanksgiving weekend."
Now here is the bad news for Democrats. Barring death or resignation, their ticket in 2024 will be Biden/Harris because every sitting president has stood for re-election since Chester Arthur's poor health kept him from being nominated. His party promptly lost the election.
TR, Coolidge, Truman, and LBJ were vice presidents thrust into the presidency upon death. Americans re-elected them, but understandably they did not seek a second re-election.
Biden not seeking a second term would be an admission that Democrat policies failed, which likely would cost them the presidency for 20 years.
Democrats are stuck with Biden/Harris.
Americans are, too, but not necessarily for long. The reasons are simple: Afghanistan, covid, inflation, and invasion.