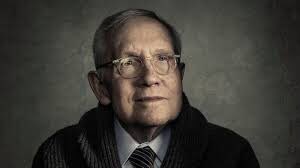 I was going to pass on mentioning Harry Reid's death at 82 under the Never Say Anything Bad About The Dead rule.
But thanks to A.J. Kaufman, I have reason to thank Harry Reid, an austere religious scholar, for turning the Senate into the angry, divided zoo it is today. He single-handedly ended the comity and horse-trading that made the Senate the world's most deliberative body.
The blowback from Reid's bitterness stopped Biden's Build Back Bolshevik plan.
For as long as I had been following American politics, the Senate was 100 people who would politely argue a point, and then vote. Close votes did not fracture the Senate because those in the majority always knew they would be in the minority someday and the paybacks would be a bitch.
Reid changed that. He rose to Senate Majority leader in 2007 and for the next 8 years, he treated the opposition party like trash. In 2009, his party had 60 votes, enough to stymie any attempt by Republicans to filibuster and slow the legislative process down. The American use of the filibuster dates back to the drafting of the Constitution itself.
On February 4, 2010, the 60 became 59 when Republican Scott Brown succeeded Democrat Paul G. Kirk after a special election in Massachusetts.
Reid continued to run the Senate as if he had 60 votes. When Republicans melted that down to 53 in the 2010 general election, Reid got mad and began rolling back the filibuster.
On November 21, 2013, Reid changed the Senate rules. Suddenly, you could no longer filibuster the confirmation of judicial nominees.
His Republican counterpart, Mitch McConnell warned him about using what the drama queens in DC called the nuclear option. He said, "You'll regret this and you might regret it even sooner than you might think."
Less than a year later, voters elected a Republican majority to the Senate that stopped Obama's destruction of America cold in his final two years.
Republicans stopped confirming judicial appointees, which left 106 vacancies for President Trump to fill, including a Supreme Court nomination. Ha Ha Ha.
I was no fan of Bobby Byrd but comparing his time as Senate Democrat Leader to Reid's run makes me better appreciate the Old Exalted Cyclops because he understood the power and the purpose of the filibuster.
Had he been alive in 2013, he would have smacked Reid upside the head and told him to preserve the filibuster, which may be a pain in the ass but pain keeps you from doing stupid things.