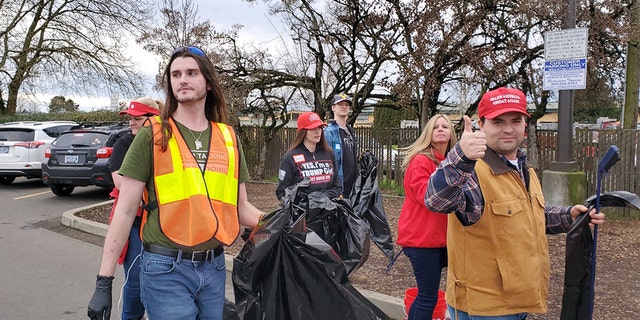 And a dog walker shall lead them...
I wasn't going to do a man of the year but then a reader reminded me that last month,
Republicans flipped Florida, a state that Democrats owned for its first 176 years of statehood
.
My first thought was thank you Scott Presler. He's the dog walker who is changing American politics one voter at a time. He travels around the country getting people to register to vote Republican. It is painstaking work that has earned him a fan club among grassroots Republican ladies and gentlemen.
In February, CPAC honored him with its Ronald Reagan Award.
He was a dog walker and supporter of President Donald John Trump. In July 2019. President Trump drew the ire of the media for (spins dial) calling Congressman Elijah Cummings's home district in Baltimore a "disgusting, rat and rodent infested mess."
Presler grabbed his pooper scooper and went to Baltimore to clean up the city. He and other volunteers picked up 12 tons of garbage in 12 hours.
What was his thanks?
The Baltimore Sun ran a nasty, cynical, scathing editorial blasting him for being politically motivated.
The Sun said, "Whatever he says his motives were, Mr. Presler's presence in Baltimore reinforces the tired image of our failing urban cores. That the poor people in this dilapidated city can't take care of their own neighborhoods and all the public officials around them have failed as well. The bureaucratic, all-talk Democrats strike again. If a crowd of volunteers could clean up 12 tons of trash in 12 hours, how incompetent and helpless must Baltimoreans be if they can't manage it in decades, right?"
Instead of mocking a stranger who came to town and cleaned it up, the Sun should lead efforts to make Baltimore clean again.
The editorial ended, "we'll see how clean the neighborhood still is when he returns in September" -- as if it is his fault that Baltimorons would rather live in their own filth.
Presler had no time to worry about what liberals thought about him. He moved on to lead cleanups in other cities, including Portland, Oregon.
That segued into registering new Republican voters.
In accepting the CPAC award in February, Presler said, "This is the coolest, gosh darn moment of my life. I want to thank you. You have changed my world, and don't even know it. And my two most ardent supporters, my mom and dad are here with us tonight.
"To our young viewers, who are watching this conference, follow your dreams and live a life of passion, where you are determined to succeed. And, who knows, one day you may be that dog walker on the stage at CPAC."
He has a degree in criminal justice from George Mason University. And he's gay. And he's leading a new Republican revolution.
One voter at a time.