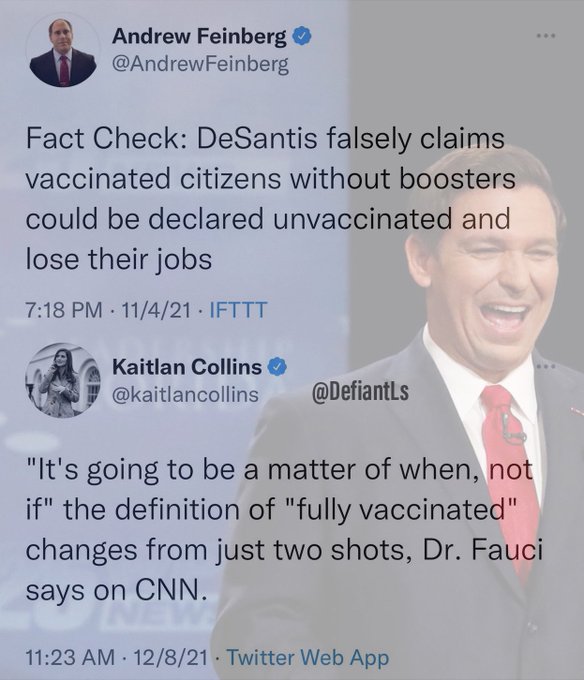 Federal News Network reported, "A federal judge in Georgia has blocked the Biden Administration from enforcing its vaccine mandate for federal contractors across the country, siding with several state attorneys general and contractors who said the mandate created an unfair economic burden."
Stan Baker, a Trump judge, blocked it in all 50 states and U.S. territories.
The story said, "Although the initial lawsuit was filed by state elected officials in Georgia and six other states, the judge also allowed a construction trade association, the Associated Builders and Contractors (ABC), to join the lawsuit as an intervenor. And Judge Baker found that since ABC has members throughout the country, the only way to address what he called an extreme economic burden was through a nationwide injunction."
That is one of five vax mandates Biden issued. Each covers a particular group. Each is going down in flames in the courts because the Constitution did not make him the Great and Powerful Wizard of Oz.
He's barely president, and then only because of mail-in ballots.
Reuters reported, "The legal setbacks for President Joe Biden's vaccine policy come as concerns that the Omicron coronavirus variant could trigger a new wave of infections and curtail travel and economic activity across the globe.
"Biden unveiled regulations in September to increase the U.S. adult vaccination rate beyond the current 71% as a way of fighting the pandemic, which has killed more than 750,000 Americans and weighed on the economy.
"Republican state attorneys general, conservative groups and trade organizations have sued to stop the regulations."
The court of public opinion is turning on vax mandates.
In September, Gallup reported 68% of Americans supported, "Requiring companies with more than 100 employees to provide paid time off for employees to get vaccinated or to recover from vaccine side effects."
3 months later, The Hill reported, "50% of voters back President Biden's vaccine mandate for large private companies, according to a Wall Street Journal poll released Tuesday.
"The poll also found 47% of voters opposed the measure."
Democrats in DC can read polls. They are unhappy.
Politico reported, "In recent comments, several high-profile Democrats have stated their opposition to vaccine mandates, specifically applied to private businesses. The most recent Democratic lawmaker to voice her concern was Michigan Gov. GRETCHEN WHITMER. Once considered to be Biden's vice president, Whitmer said she opposes mandates, citing the impact on the state's workforce — as Michigan grapples with upticks in cases and residents are split on whether or not to get the vaccine."
Really?
The woman they call Whitler is calling the mandates an overreach.
Manchin, Tester of Montana, and even Governor Karen (Kathy Hochul) of New York now oppose mandates.
Politico quoted White House officials and an anonymous Democrat strategist who show what the problem is. Biden and company truly believe they are so right that they won't listen to anyone else.
A Democrat strategist told Politico the White House is "on solid ground, both politically and morally."
By staking out a "moral" ground for a political decision, you are painting yourself in a corner because you have jettisoned the possibility of a compromise.
That strategist also said, "They can't backpedal now — nor should they. That would be insane. It would fuck every local elected official who has tried to follow their lead and cause mass confusion."
I'm vaxxed. You do you.
I can see the point of the unvaxxed. Nothing these Bozos have done has stopped the spread of a virus because, duh, it's a virus. Masks and social distancing are pandemic theater. It is difficult to trust people who wear masks in front of the camera and take them off once the cameras are gone.