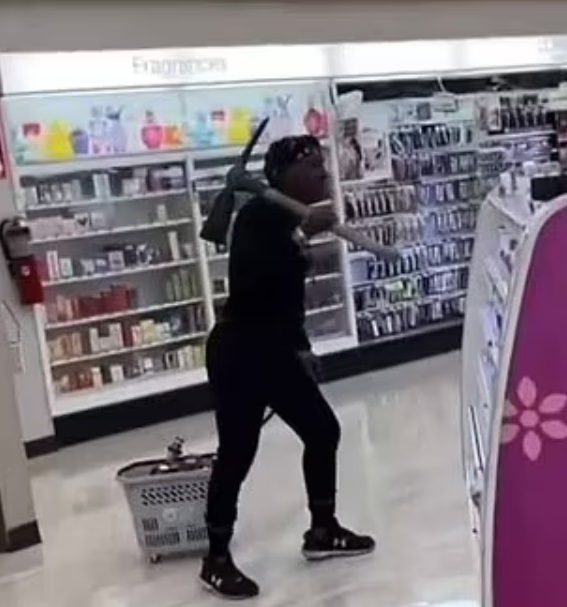 The Daily Mail reported, "A woman, armed with a pickaxe, was shoplifting at a Los Angeles Rite Aid.
"Shoppers videotaped the bizarre scene on Thursday as the woman walked up and down the aisles with the weapon in hand.
"She reportedly threatened employees and customers and warned that she would come back as she walked out with a basket full of merchandise.
"It comes as LA and cities throughout California continue to be plagued by robberies amid the state's zero bail policies."
There's your democracy. Californians voted to decriminalize shoplifting. Californians elected pro-criminal DAs.
Shoplifting and the outright looting of stores are rampant in California.
But just as the media called massive riots by Democrats in city after city mostly peaceful protests in 2020, the media is denying the theft.
In the epicenter of the new lawlessness, the San Francisco Chronicle is the bulwark for thieves.
It published on July 20, "San Francisco's shoplifting panic desperately needs some context" by Adam Johnson.
He began, "You no doubt have seen The Video. A man, in broad daylight, brazenly empties the shelves of a San Francisco Walgreens and casually rides a bike out of the store with little intervention from a nearby guard.
"The lawlessness, the complete societal breakdown. A shocking sight that offends the basic notions of law and order.
"When I say you've no doubt seen the video, I am absolutely confident you have, because a recent analysis by the media watchdog FAIR found that the video — taken by ABC7's Lyanne Melendez — garnered over 300 articles of media coverage around the world and millions of clicks, from the United Kingdom to Mexico to France and beyond.
"That's a sizable amount of coverage, indeed, for a single instance of petty theft."
If someone stole his bicycle, I doubt he would consider the theft petty.
On October 15, the Chronicle reported, "Is shoplifting forcing Walgreens to cut back in S.F.? Data on the closing stores puts the claim into perspective."
Relying on city government data, the Chronicle claimed, "But the timing of Walgreens' decision led observers to wonder whether a $140 billion company was using an unsubstantiated narrative of unchecked shoplifting to obscure other possible factors in its decision."
On November 28, the newspaper admitted there might be a problem, but it said, "The GOP is blaming coordinated retail thefts on 7-year-old Prop. 47."
Finally, this month, the Chronicle reported, "'This Safeway is getting weirder and weirder,' one shopper muttered as he walked through newly installed security gates at the entrance of the grocery store near San Francisco's Castro District.
"The automatic gates, added to the Safeway at 2020 Market St., let customers easily enter the store but swing quickly shut behind them, preventing would-be thieves from dashing out with shopping carts full of stolen items.
"The supermarket also has added barriers around its self-checkout area, funneling customers through only one exit. Checkout aisles that aren't staffed are blocked with large physical barriers rather than just a cord, and the entire side entrance to the store has been closed and blocked off by a large display of plastic water bottles.
"Safeway executives said that the new security measures were a response to what it says is increased shoplifting at the locale."
The Safeway is not getting weirder. San Francisco is.
Liberals are in the denial stage of rampant retail theft. The Atlantic called reaction to the stealing "The Great Shoplifting Freak-Out."
The magazine was rather starchy about calling the theft shoplifting.
It said, "Recent news stories describe a shoplifting surge, but this narrative conflates an array of very different offenses into a single crime wave said to be cresting right now, all over the country, in a frenzy of naked avarice and shocking violence. Smash-and-grabs are awful, but they're pretty rare (and already very much felonies). Nevertheless, a handful of viral videos and some troubling statistics from retailers and industry groups have set Americans on edge during the year's most economically essential shopping season, wondering if the mall where they buy their Christmas presents might be next. The deeper you search for real, objective evidence of an accelerating retail crime wave, the more difficult it is to be sure that you know anything at all."
Ah, the game of pedantic semantics. My how liberals love to play that game because it avoids the topic and makes them sound so smart. It's like when they tell you Oct-tually it's not pedophilia if she is 12 because that's hebephilia and if she is 15 that's ephebophilia.
Wrong is still wrong.
And stores are still closing.
And liberals are still in denial.
The Atlantic argument eventually devolved into the elitist communist argument, "How many people who make $12 an hour to get screamed at by strangers for 31 hours a week (any more and the company would have to give them health insurance) are going to interrupt someone dumping bottles of shampoo into a garbage bag so that they can save their corporate overlords a rounding error's worth of losses? Is it worth finding out if that guy has a gun?"
He's just stealing shampoo to feed his family.
Meanwhile, to read the article, I had to switch browsers because The Atlantic blocks people with ad-blockers. Its corporate overlords gotta make a buck.
What a hoot. Their site, their rules. No problem.
But I do have a problem with the smug hypocrisy and the word games.
A woman shopping with a pickaxe and not paying for the goods is theft but in California if she steals less than $950 that's not a major crime because that's just shoplifting.