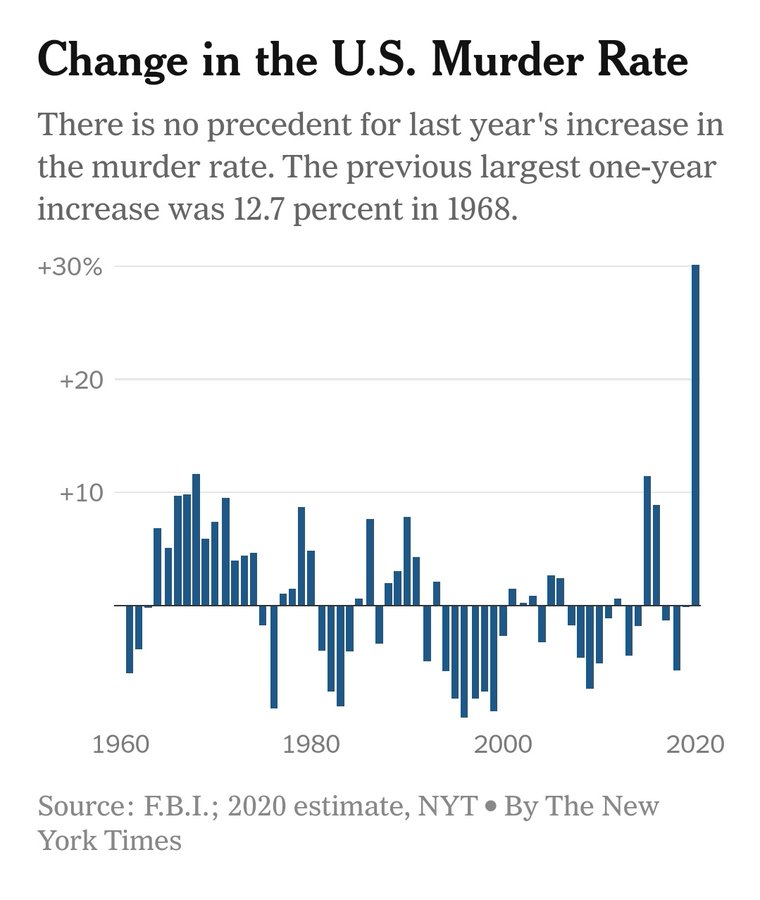 ITEM 1: NBC reported, "Executions, death sentences declining across the U.S. Capital punishment fell to a 34-year low while death sentences nationwide near 49-year low."
NYT reported, "Murder Rose by Almost 30% in 2020."
A record rise.
ITEM 2
:
Politico reported
, "Tensions are boiling over as discussions about finishing Democrats' $1.7 trillion domestic spending bill drag on between President Joe Biden and Sen. Joe Manchin."
Biden campaigned on his bipartisan skills, but he cannot even get Democrats to support his agenda.
ITEM 3: AP reported, "Black juror: Smollett's reaction to noose makes no sense."
The first thing you do when someone puts a noose around your neck is to take it off. He didn't.
ITEM 4: NBC reported, "The Antarctic ice shelf could crack, raise seas by feet within decade, scientists warn. Thwaites is the widest glacier in the world and has doubled its rate of melt within the last 30 years, a researcher said."
As Antarctica approaches the longest day of the year when it gets the sun 24 hours a day, temperatures at the South Pole are -15 degrees.
The glaciers are not melting. They are calving as the weight of the growing ice pushes it to the sea.
ITEM 5: Outkick reported, "During a Senate committee hearing on Wednesday, Sen. Roger Wicker (R-MS.) inquired with various airline CEOs regarding the masking policies ailing several of their companies. Two of the CEOs were honest about the lack of data behind mask mandates.
"'I think the case is very strong that masks don't add much, if anything, in the air cabin environment. It is very safe and very high quality compared to any other indoor setting,' answered Southwest Airlines CEO Gary Kelly.
"'I concur,' added American Airlines CEO Doug Parker. 'An aircraft is the safest place you can be. It's true of all of our aircraft — they all have the same HEPA filters and airflow.'"
Karen hardest hit.
ITEM 6: Just the News reported, "Kevin Clinesmith, the former senior FBI lawyer who was placed on probation as a convicted felon for falsifying a surveillance document during the Trump-Russia investigation, has been returned to good standing as a member of the D.C. Bar Association."
Lying to a federal judge to get permission to spy on a political opponent is considered good standing by the lawyers for the leaders of the federal court. Look for Darrell Brooks to keep his driver's license.
ITEM 7: Paul Krugman whined, "Inflation is an emotional subject. No other topic I write about generates as much hate mail."
People telling you you're wrong is not hate mail. It is constructive criticism.
ITEM 8: The Epoch Times reported, "The Biden administration has announced a new plan to increase the number of truckers on American roadways amid a nationwide shortage of drivers.
"The plan includes $30 million in funding to expedite the Commercial Driver's License process, while the Department of Labor will steer $8 million to trucking apprenticeship programs.
"The plan also outlines an initiative to reach out to veterans groups.
"In addition, a new partnership between the Department of Transportation and DOL, as part of the recently signed federal infrastructure legislation, plans to study the issue of truck driver pay, develop strategies to attract more women drivers, and drivers as young as 18. It also sets up a task force meant to investigate predatory truck leasing arrangements, according to a White House fact sheet."
Get every college to replace womyn's studies programs with truck-driving school.
We will be up to our necks in truck drivers by June.
ITEM 9: Joseph Curl reported, "A New York Times columnist is imploring President Joe Biden — who turned 79 last month and would be 82 if he were sworn into office again in 2025 — to not run for president again.
"Bret Stephens, a conservative and strong critic of former President Donald Trump, went so far as to say that Biden should announce his decision not to run as soon as possible to give fellow Democrats time to prepare to succeed him in the White House."
So no Biden-Trump rematch.
How about a Hillary-Trump rematch then?
ITEM 10: The New York Post reported, "An MTA manager claims an inflatable doll that's been riding shotgun in his Kia Telluride is there 'for the company' — and not to skirt HOV restrictions, as his coworkers suspect.
"Giulio Divirgilio, a general superintendent at the MTA Buses department, pulled into his Brooklyn office building early Wednesday morning with the blown-up dummy plopped in the front seat like Otto Pilot in the 1980 comedy 'Airplane!'"
Dude needs to make some friends.
ITEM 11: Red State asked, "Did Chevrolet Have to Make America Cry With Its New Christmas Ad?"
No, but it is a great commercial that reminds us that before it was Government Motors, Chevy made some great cars.
ITEM 12: KCRA reported, "Less people have moved to California from other U.S. states while more people have left the Golden State for other parts of the country since the start of the pandemic, according to a recent study. Researchers are mostly surprised by the drop in people moving into the state.
"The findings by the California Police Lab shows a 38% decrease in people moving in and 12% increase in residents moving out-of-state. Researchers say that number is in line with trends before the pandemic."
People moving out, no one moving in.
All because of the governin'
Run, run, run to the other side.
ITEM 13: Reuters reported, "Top asset manager BlackRock Inc. on Tuesday said it wants U.S. companies to aim for a board that is 30% diverse and, for the first time, contains at least one member from an under-represented group.
"In new guidelines explaining its priorities for 2022 at portfolio companies, posted on its website, the $9.5 trillion asset manager also gave companies new guidance for reporting on climate change. But it said some continued investment in fossil fuels will be needed.
"Together, the updates showed the influential New York-based firm taking steps similar to other big asset managers pressing portfolio companies on environmental, social and governance considerations."
The next Republican president should slap a civil rights lawsuit on these bigots.
ITEM 14: Law Officer reported, "San Jose police arrest 6 men accused of targeting Asian women in 70 robberies."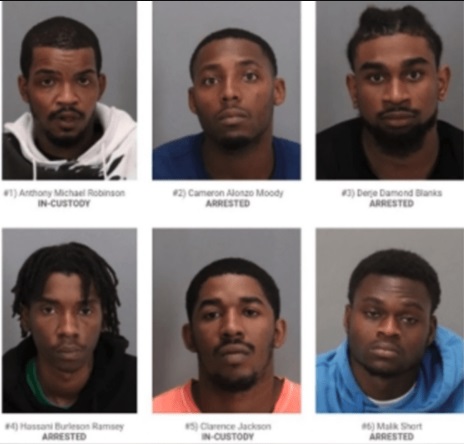 Maybe we ought to dump CRT in school and replace it with a more accurate portrayal of racism.
ITEM 15: The New York Post reported, "Growing up in Thailand, Bew Jirajariyawetch always idealized New York City and dreamed of moving there.
"Then last month, the 23-year-old aspiring model and recent immigrant saw the other side of the Big Apple when she was brutalized and robbed on a subway platform, she told The Post on Wednesday.
"'I'm just glad that I'm still alive,' Jirajariyawetch said about the horrifying Nov. 22 mugging at the 34th Street-Herald Square station that left her bloodied and bruised.
"The young woman, who moved to New York over the summer, was waiting for the train home to Queens around 4 a.m. after seeing Thai American singer Daboyway in concert with friends."
This actual attack deserved the attention Jussie Smollett's fake attack got.
Where is our First Asian-American VP's tweet of standing by Miss Jirajariyawetch?