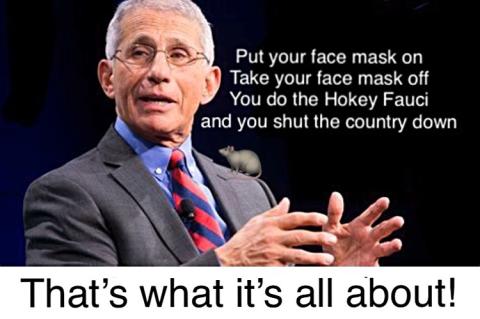 ITEM 1: Peter Doocy at Fox does press conferences like no one else.
Doocy: "You advised the president about the possibility of new testing requirements for people coming in to this country, does that include everybody?"
Fauci: "The answer is yes."
Doocy: "What about … these border crossers?"
Fauci: "That's a different issue."
Hey Fauci, where's that AIDS vaccine we sent you to Washington to get 40 years ago?
ITEM 2: Fox reported, "Waukesha parade suspect Darrell Brooks says he feels 'dehumanized,' 'demonized' in first jailhouse interview."
The story said, "The two Fox News reporters on the other side of the video screen marked the first visitors he's seen since the Nov. 21 night of horror."
And it said, "Not even his mother has dropped by, he said. Earlier in the day, she released a statement on behalf of the family decrying Wisconsin's criminal justice system for failing her son, a longtime felon with a 50-page rap sheet detailing domestic violence, firearms, drugs and other convictions in Wisconsin."
The system did not fail him. Mom did.
ITEM 3: Alec Baldwin told ABC, "The trigger wasn't pulled. I didn't pull the trigger."
The trigger pulled him!
ITEM 4: Heavy reported, "Ethan Crumbley was identified by officials as the Oxford High School shooting suspect who authorities allege killed four students and injured six other students and one teacher who suffered minor injuries on Tuesday, November 30, 2021.
"Oakland County Prosecutor Karen McDonald announced in a press conference Wednesday afternoon that Crumbley, 15, is being charged as an adult with four counts of first-degree murder, one count of terrorism causing death, seven counts of assault with intent to murder and 12 counts of possession of a firearm in commission of a felony. She said other charges may be filed. The suspect's arraignment, where he appeared in an anti-suicide smock, was held December 1, 2021. You can watch it here.
"The weapon used in the shooting was purchased by the suspect's dad, James Crumbley, on Black Friday, officials said Tuesday night. The suspect's mother is Jennifer Crumbley."
Michigan, alas, does not execute mass murderers.
ITEM 5: Tissue alert.
Barstool Sports reported, "In the wake of the shooting at a school in Michigan on Tuesday, tens of thousands of people have signed a petition to rename the local football stadium in honor of a student who was reportedly killed trying to disarm the shooter.
"Tate Myre, 16, has been identified as one of the three victims who died in the shooting at Oxford High School. The others have been named as 17-year-old Madisyn Baldwin, and 14-year-old Hanna St. Julian.
"According to his fellow students, Myre, who played running back for the Oxford Wildcats football team, was shot while trying to disarm the shooter and later died from his injuries."
RIP, Tate.
ITEM 6: Justices heard the case that likely will end Roe v. Wade just as the Warren Court ended Plessy v. Ferguson.
Constitutional Accountability Center President Elizabeth Wydra bitched, "Let there be no confusion: the Constitution protects the right to abortion in every state. To the extent that conservative justices suggested that the Court must remain "neutral" with respect to abortion regulations, they are wrong for the simple reason that the Constitution itself is not neutral when it comes to protecting fundamental rights, including bodily autonomy and reproductive liberty.
"What shouldn't be lost in today's arguments is the first principle that the 14th Amendment guarantees equal citizenship to all in America."
Wydra and the rest deny 14th Amendment protection to nearly a million unborn Americans every year.
The government should stay out of a woman's womb. So should the abortionists because that womb is the home to a baby who is a separate individual from the woman.
Baby's body, baby's choice.
ITEM 7: Living on a prayer.
Praying outside the Supreme Court today - praying for an end to abortion. pic.twitter.com/ORzFNdsg7m

— Obianuju Ekeocha (@obianuju) December 1, 2021
Literally.
ITEM 8: The New York Post reported, "A Facebook manager who once worked for Andrew Cuomo secretly advised the disgraced ex-governor's team to 'victim shame' a sexual harassment accuser, according to text messages released this week by the New York Attorney General's office.
"The Facebook staffer then sought to cover up her involvement in advising the governor, the messages reveal.
"'Like I'm nervous about FB knowing I've been working on this etc etc.,' Dani Lever, the former Cuomo staffer, wrote in March about her new employer. The same evening as that message, Cuomo spokesman Rich Azzopardi told Lever he'd gotten her name removed from a news story that was set to come out.
"'Rich I could kiss you but it seems like bad form this week,' Lever replied as the governor was embroiled in allegations he'd acted inappropriately toward staffers."
You are daft if you believe Cuomo is the only Democrat who gets special treatment like this.
By the way, who will replace Chris Cuomo? The real Fredo, John Cazale, is dead. My guess is the Hispanic Fredo: Jim Acosta.
ITEM 9: Buzz Feed reported, "Over the past 14 years, the Central Intelligence Agency has secretly amassed credible evidence that at least 10 of its employees and contractors committed sexual crimes involving children.
"Though most of these cases were referred to U.S. attorneys for prosecution, only one of the individuals was ever charged with a crime. Prosecutors sent the rest of the cases back to the CIA to handle internally, meaning few faced any consequences beyond the possible loss of their jobs and security clearances. That marks a striking deviation from how sex crimes involving children have been handled at other federal agencies such as the Department of Homeland Security and the Drug Enforcement Administration. CIA insiders say the agency resists prosecution of its staff for fear the cases will reveal state secrets.
"The revelations are contained in hundreds of internal agency reports obtained by BuzzFeed News through Freedom of Information Act lawsuits.
"One employee had sexual contact with a 2-year-old and a 6-year-old. He was fired. A second employee purchased three sexually explicit videos of young girls, filmed by their mothers. He resigned. A third employee estimated that he had viewed up to 1,400 sexually abusive images of children while on agency assignments. The records do not say what action, if any, the CIA took against him. A contractor who arranged for sex with an undercover FBI agent posing as a child had his contract revoked.
"Only one of the individuals cited in these documents was charged with a crime. In that case, as in the only previously known case of a CIA staffer being charged with child sexual crimes, the employee was also under investigation for mishandling classified material."
Instead of calling it the Beltway, why don't we call the Metro DC area what it really is.
Gomorrah.
ITEM 10: Politico reported, "Democrat Stacey Abrams launched a bid for Georgia governor on Wednesday, kicking off one of the most anticipated campaigns of the 2022 midterms."
Is Andrew Gillum going to seek a rematch against Ron DeSantis, or is Gillum permanently benched after being caught doing meth and male hookers?
ITEM 11: Fox reported, "Symone Sanders, a senior adviser to Vice President Harris and her chief spokesperson, will depart at the end of the year, in a sign of growing turmoil within the office.
"Sanders is the second top Harris aide to announce her departure in less than a month. Just two weeks ago, it emerged that Harris Communications Director Ashley Etienne had resigned. Harris has been plagued by poor approval ratings and questions from Republican critics about her competence."
Kamala ain't going nowhere.
The carousel of personnel will continue to spin for another 3 or 7 years.
Why do they leave? It's the cackle. I'll bet Willie Brown used to stuff cotton in his ears.
ITEM 12: WPIX reported, "A man made anti-Asian remarks after striking a woman with his bicycle's handlebars Saturday, police said Wednesday. The incident happened about 6:30 p.m. inside the 116th Street Station in Manhattan, police said. The victim—a 53-year-old woman—was walking on the platform when the man hit her from behind. When the victim asked him why he struck her, the man responded by making anti-Asian slurs, police said."
He's black.
ITEM 13: Cato Institute issued "Freedom in the 50 States."
The freest is New Hampshire, followed in order by Florida, Tennessee, Nevada, and South Dakota.
New York was 50th, Hawaii 49th, California 48th, New Jersey 47th, and Oregon 46th.
West Virginia is 35th.
ITEM 14: The Daily Mail reported, "Black Lives Matter has announced its seventh year of boycotting 'white companies' during the holiday season to support 'Black Xmas.' On Black Friday, the official Black Lives Matter Global Network shared an Instagram post calling to 'support Black-led-Black-serving organizations.'
"'We're dreaming of a #BlackXmas. That means no spending with white companies from Black Friday until New Years Day', the official blackxmas.org site states. The group suggest three ways for its supporters to take part in Black Xmas: Build Black, Buy Black, and Bank Black."
I call on the NAACP to denounce these black supremacists.
I also want a Bentley.
I do not see either happening.
ITEM 15: Martin Cothran wrote, "While conservative media have spent the last few holiday seasons bemoaning the War on Christmas, one television network is actually doing something about it. Using the cultural weapons of heartwarming settings, wholesome plotlines, and endearing characters, the Hallmark Channel has spent the last decade vanquishing the enemies of Christmas, who now lie prostrate on the field.
"But this cultural onslaught of wholesomeness has not come as welcome news to everyone. Hallmark movies, proclaims Salon Magazine's ill-tempered Amanda Marcotte, 'constitute the platonic ideal of fascist propaganda.' The movies, she said, 'work to enforce very narrow, white, heteronormative, sexist, provincial ideas of what constitutes normal.'
"Well, I guess I'll mark her off my holiday party list.
"Most criticisms of Hallmark Christmas movies take a slightly less fanatic approach. Their settings, the criticism goes, are unrealistic, their plots predictable, and their characters insufferably clean-cut. These may sound like bad things to some, but they are precisely the reason people like them. In the case of Hallmark Christmas movies, their weaknesses are precisely their strengths."
I am glad I am not the only person who understands what the Hallmark Christmas movies are all about.
Wholesomeness.
We spend 364 days a year dealing with depravity on TV. How about once a year we praise wholesomeness?
That's not your definition of normal? Well, too bad. Go watch the unwholesome crap on all the rest of the channels.
ITEM 16: the Epoch Times reported, "An elderly covid 19 patient has recovered after a court order allowed him to be treated with ivermectin, despite objections from the hospital in which he was staying, according to the family's attorney
"After an Illinois hospital insisted on administering expensive remdesivir to the patient and the treatment failed, his life was saved after a court ordered that an outside medical doctor be allowed to use the inexpensive ivermectin to treat him, over the hospital's strenuous objections.
"Ivermectin tablets have been approved by the U.S. Food and Drug Administration (FDA) to treat humans with intestinal strongyloidiasis and onchocerciasis, two conditions caused by parasitic worms. Some topical forms of ivermectin have been approved to treat external parasites such as head lice and for skin conditions such as rosacea. The drug is also approved for use on animals.
"Remdesivir has been given emergency use authorization by the FDA for treating certain categories of human patients that have been hospitalized with COVID-19. But the use of ivermectin to treat humans suffering from COVID-19 has become controversial because the FDA hasn't approved its so-called off-label use to treat the disease, which is caused by the CCP virus also known as SARS-CoV-2."
I know why all those politicians oppose Ivermectin.
It kills parasites.
FINALLY, John Lennon was right. All you need is love.