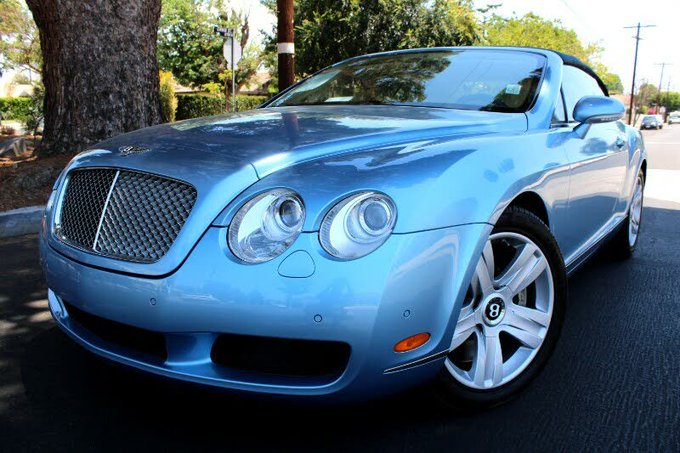 'Twas the night before Christmas, when all through our home
Every creature was snoring, even the garden gnome
Lou Ann in her nighty, and I in PJs
Had just settled to sleep before the Big Day.
When nature called, I had to address the matter
I sprang from my bed to take care of my bladder
On the way back, I checked out our estate
Away to the window, I tore open the drape
The moon on the breast of the new-fallen snow
Gave a luster of midday to objects below
When what to my wondering eyes did appear
But a gift from the man with the eight tiny reindeer
It was a blue Bentley: 12 cylinders quick
Thank you mean old wife, and you too St. Nick
Back to bed I went almost unable to sleep
When I awoke, the snow had fallen two feet deep
With shovel in hand I went to clear the way
To uncover my gift on this Christmas Day
As I brushed the snow from the car, it was red, not blue
Well, a Bentley is a Bentley and it was free too
But as I unveiled my prize I started to say dang
It wasn't a Bentley, it was my old Mustang
Nothing had changed and my heart was now broke
Attached to the windshield was a Santa note.
Oh, somewhere in this favored land the sun is shining bright
The band is playing somewhere, and somewhere hearts are light
And somewhere men are laughing, and somewhere children shout
But there is no joy for me. Santa wrote: "You'll poke your eye out."
ITEM 1: 538 announced, "Nearly 1 in 4 American women will have an abortion before the age of 45. But over the past decade, access to abortion in America has changed dramatically. There are fewer clinics and more restrictions. And now it seems likely that the Supreme Court will limit the right to abortion even further. As we document the impact of these shifts, we want to include the voices of people who have had abortions in the U.S."
We're just numbers crunchers.
We're not partisan.
Trust us.
ITEM 2: Democrats keep saying America is a democracy.
They also say women should decide on abortion.
Well, 3 out of 4 women have never had an abortion so ban it.
Thar's how democracies work. Which is why our nation is a constitutional republic.
ITEM 3: Reuters reported, "Fact Check: Image purporting to show New York Times opinion piece calling for teachers to 'tolerate bullying towards unvaccinated children' is digitally altered."
So it is fake.
Just like the Russian collusion story the New York Times peddled was.
The hoaxers should identify themselves and collect their Pulitzer prizes.
ITEM 4: AP reported, "The South Korean government said Friday it will grant a special pardon to former President Park Geun-hye, who is serving a lengthy prison term for bribery and other crimes.
"The Justice Ministry said in a statement that Park's pardon is aimed at overcoming past divisions and promoting national unity in the face of difficulties caused by the coronavirus pandemic.
"The ministry said the 69-year-old Park was among 3,094 people who are to be pardoned on Dec. 31."
She was the country's first woman president. I think her name translates as "Hillary Park."
ITEM 5: The LA Times reported, "FBI Director Christopher A. Wray called the Jan. 6 attack on the U.S. Capitol an act of domestic terrorism and defended the bureau's handling of intelligence in the days before a pro-Trump mob stormed past police and threatened the lives of lawmakers."
This clown is too afraid to prosecute Democrats rioted in city after city in 2020. Now that's how actual terrorism works.
ITEM 6: The New York Post reported, "A mom who thought her toddler loved meeting a mall Santa discovered he was signaling for help after looking at a snap of his encounter.
"Kerry Spencer had taught her kids to baby sign before they could speak so they could communicate while they were infants.
"But she never expected 1-year-old son, Samuel, to use his skill to send out an SOS while sitting on Santa's lap.
"Terrified, the toddler resorted to using his baby version of ASL to sign 'Help' to his mom while the photographer at the Provo Town Center Mall in Provo, Utah, snapped a picture."
The family posts the picture.
Every year.
For the rest of his life.
ITEM 7: AP reported, "Ohio Gov. Mike DeWine signed a bill Wednesday imposing criminal penalties on doctors who fail to give medical care in the extremely rare circumstance when a baby is born alive following an abortion attempt."
DeWine for de win.
ITEM 8: Breitbart reported, "The UK government is considering electronically tagging channel migrants in order to prevent them from availing of black market work.
"Plans to electronically tag migrants who illegally cross the English Channel are being considered by the UK government in the hopes that the measure would prevent those who illegally land in the country from disappearing into black market jobs.
"Under the proposal, migrants deemed old enough to work would be tagged and would be subject to restrictions regarding their movements while their asylum applications are processed, according to a report by The Sun."
Tempting.
But the devil tempts us to do evil things all the time.
ITEM 9: Patrick Howley reported, "Karena Feng, a female victim of the Pelosi family's mob-style targeting and intimidation tactics, announced on The Campaign Show with Patrick Howley on Patriots Soapbox that she is running for U.S. Congress in California's Ninth District as part of her campaign to reform the broken Child Protective Services (CPS) system, which vindictively seizes children from parents and extorts them for visitation. Feng is also running for office because she believes it might help get her own children back from the clutches of the state. Feng has become a pillar in the community of California parents fighting for changes in the CPS system, and she has some sharp words for her opponent, Democrat incumbent Congressman Jerry McNerney. Feng says that McNerney has not tackled the CPS child welfare crisis, and she will. Feng says that she has formally launched her candidacy. Feng says that there are aspects of both Democrat and Republican policies that she agrees with and disagrees with.
"In the interview with journalist Patrick Howley, Karena Feng describes how Nancy Pelosi's son Paul Pelosi Junior targeted her to seize her property, which once housed her father's beloved San Francisco healing spa but now is a San Francisco drug den with Pelosi Junior as the listed point of contact. Pelosi Junior got Karena Feng's children taken away by CPS using a false story, as text messages prove."
We shall see if the mainstream media notices her allegations.
ITEM 10: AP reported, "The U.S. will lift travel restrictions on eight southern African countries that it imposed to try to blunt the spread of the covid omicron variant, the White House announced Friday.
"The variant, which was first detected by scientists in South Africa, has since spread around the world. The World Health Organization and leaders in southern Africa criticized the travel ban as ineffective and unfairly damaging to local economies.
"The Nov. 29 ban barred nearly all non-U.S. citizens who had recently been in South Africa, Botswana, Eswatini, Namibia, Lesotho, Malawi, Mozambique and Zimbabwe. The restrictions will be lifted on New Year's Eve."
Apparently the virus has an expiration date of December 31.
ITEM 11: Good luck getting a plane, though.
AP also reported, "Airlines cancel flights due to covid staffing shortages."
May Santa drop by the airport and visit the stranded passengers.
ITEM 12: The Daily Mail reported, "A parent told President Joe Biden 'Let's Go Brandon!' during the NORAD Santa Tracker event with First Lady Jill Biden at the White House complex on Friday.
"The first couple hosted kids and their parents in the South Court Auditorium and talked to people virtually.
"A dad named Jared beaming in from Oregon said 'Merry Christmas' and 'Let's Go Brandon' - code on the right for 'f**k Joe Biden' - after his kids told the president what they wanted from Santa Claus.
"Reporters in the room said that Biden seemed unfazed. 'Let's Go Brandon, I agree,' the president said in response."
Meanwhile, Jared in Oregon can expect a Christmas Night visit from the IRS, FBI, and OSHA.
ITEM 13: NBC complained that someone called Biden Brandon.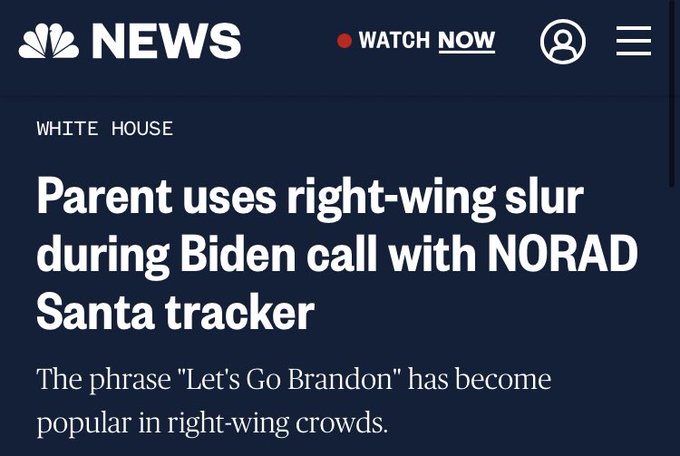 NBC never complained when someone called Trump Hitler.
In fact, many MSNBC hosts may have called him that.
ITEM 14: Richard Moorhead reported, "The New York Supreme Court has ordered the New York Times to destroy attorney-client memos illegally obtained from Project Veritas, in a ruling on Christmas Eve with potential legal ramifications for the FBI.
"It's believed the memos in question, believed to be obtained in FBI searches of James O'Keefe's mobile phone, were illegally leaked to the New York Times in an attempt to sully Project Veritas' reputation."
A Republican House should investigate Biden using the FBI to attack journalists who were exposing the corruption and duplicity of NYT Inc.
While we are at it, a Republican House needs to haul in Obama and Biden and ask them about their use of the FBI to spy on Trump.
The January 6 Inquisition opened this door. Slam it on the fingers of Obama, Biden and the FBI.
ITEM 15: Fox reported, "Intel is latest US company to apologize to China while pushing social justice at home."
They are not pushing social justice.
They are pushing communism.
They truly believe their money will protect them from the onslaught. They'll go first, bless their hearts.
ITEM 16: The Political Insider reported, "CIA Claims Briefing Trump Was A Challenge, Relationship Worsened After They Presented Steele Dossier."
Of course.
The story cited former CIA officer John Helgerson, who said, "Trump was like Nixon, suspicious and insecure about the intelligence process, but unlike Nixon in the way he reacted.
"Rather than shut the [intelligence community] out, Trump engaged with it, but attacked it publicly."
It's not paranoia if the CIA and FBI really are after you. Neither Nixon nor Trump were paranoid.
ITEM 17: 30 years ago today, the Soviet Union collapsed under the weight of it evil.
Perhaps Red China will follow suit next year.
ITEM 18: Democrat Matt Putorti is running against Republican Congresswoman Elise Stefanik,
He tweeted, "While Elise Stefanik is focused on starting culture wars, I'm focused on helping everyday New Yorkians."
She tweeted back, "Merry Christmas New YorkERS! Sending you peace, love, and joy this holiday season."
Well, at least he got the state right.
FINALLY, I have something far better than a fleet of Bentleys. I am spending the day with my best girl of 44 years.
Merry Christmas, readers. As Tiny Tim said, "God bless us, every one!"