ITEM 1: 80 years ago today, Japan attacked Pearl Harbor. It awoke a sleeping giant. Within 4 years, the USA had liberated Europe and Asia, and destroyed the Italian, German, and Japanese empires.
The USA would go on to outlast and destroy the Soviet empire.
And now the USA is destroying a fifth empire.
Its own.
ITEM 2: In World War II we had Marshall, MacArthur, Ike, Bradley, and Patton.
And those were just the generals.
Today, we have a clown show.
Jacob Palmieri reported, "Former National Guard Official Accuses Generals Of Lying To Congress About January 6th – 'Absolute And Unmitigated Liars.'"
Why would anyone enlist with these Milleys we have as generals?
ITEM 3: The Hill reported, "IRS data proves Trump tax cuts benefited middle, working-class Americans most."
The story said, "A careful analysis of the IRS tax data, one that includes the effects of tax credits and other reforms to the tax code, shows that filers with an adjusted gross income (AGI) of $15,000 to $50,000 enjoyed an average tax cut of 16% to 26% in 2018, the first year Republicans' Tax Cuts and Jobs Act went into effect and the most recent year for which data is available."
The story also said, "By comparison, no income group with an AGI of at least $500,000 received an average tax cut exceeding 9%, and the average tax cut for brackets starting at $1 million was less than 6%."
Now you know why billionaires backed Biden. They are jealous that Trump helped the poor and the middle class more.
Billionaires are getting back. Inflation benefits them the most while hurting the poor and the middle class.
ITEM 4: The New York Post reported, "A homeless man charged with beating a guy last year was dumped back on the street thanks to so-called bail reform, only to allegedly pummel two women in Upper West Side attacks Thursday — and be freed again.
"Darrell Johnson, 23, left one of his random female victims so brutally beaten that she suffered a disfiguring laceration to her face, law-enforcement sources told The Post on Monday.
"Last year, Johnson — who has more than a dozen arrests on his rap sheet dating to 2014, according to sources — was hit with assault and harassment charges in the man's beatdown.
"He allegedly punched his victim 'about the face with a closed fist multiple times' in a Harlem building, according to a court complaint.
"Johnson then allegedly 'used his feet to kick and stomp' the man in the Aug. 3, 2020, attack.
"But a Manhattan judge had to release him without bail because none of the charges were eligible for the restriction under revamped state laws. Before the laws were changed, judges could use their discretion on setting bail."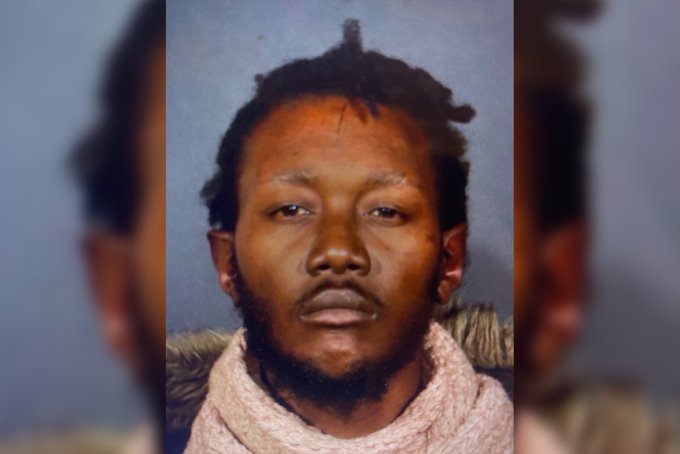 Biden's "That 70s Show" administration has hostages in two countries, a Fall of Saigon in Kabul, gasoline hikes, inflation, and now high crime is back in Democrat-run cities.
This is the life Democrats want for you.
Resist.
Carry a gun. If they won't give you a concealed weapons permit, open-carry a rifle.
ITEM 5: Breaking 911 reported, "Hawaii Governor David Ige on Monday signed an emergency declaration for the entire State of Hawaii as heavy rains from a Kona Low weather system are anticipated to continue to cause flooding and damage to public and private property.
"The state has been under a rare blizzard warning and snow has fallen in parts of the islands. A Kona Low weather system is affecting the islands and could bring significant amounts of rain, along with flash floods, damaging winds and landslides to parts of the State."
Hawaii will have a rough go.
I have one question. If the flash floods force you to flee your home, will you be arrested if you don't have your mask on?
Life is tough. It's even tougher if your governor is stupid.
ITEM 6: Axios reported, "The nation's leading school board advocacy group is facing a critical loss of funding and membership after sending a letter comparing parent protests and threats to domestic terrorism.
"Why it matters: The National School Boards Association has since apologized, but the fallout could be seven figures in annual funding. At least 17 state affiliates have severed ties with the group — and some are even considering establishing a competitor.
"The 17 state affiliates accounted for more than 40% of annual dues paid to NSBA by its state association members in 2019, according to Axios' analysis of documents detailing those contributions."
States are not the only members. Local school districts pony up $5.3 million a year in dues, making dues overall almost $8 million a year. Plus the group makes money off conferences and seminars.
This is a tax-paid lobby to get more tax money from Congress.
NASB also is a front group for Democrats.
In October, the Washington Examiner reported, "The Biden administration gave a prominent government role to the author of a controversial letter calling on the Department of Justice to investigate protesting parents as terrorists.
"Secretary of Education Miguel Cardona appointed National School Board Association president Viola Garcia to the National Assessment Governing Board mere days after she released the letter, for which the group later apologized."
It is time to tell your state and local school boards to drop out.
ITEM 7: The Daily Mail reported, "What about Hunter? Ex-White House ethics official calls out Biden admin for releasing report highlighting money laundering in the art industry - while president's son's paintings sell for up to $500K to mystery buyers."
Balls the size of mountains.
ITEM 8: AP reported, "Actor Jussie Smollett denied Monday that he staged an anti-gay, racist attack on himself, testifying at his trial that 'there was no hoax' and that he was the victim of a hate crime in his downtown Chicago neighborhood.
"Smollett, who faces charges that he lied to Chicago police about the January 2019 attack, sought to refute damaging testimony from two brothers last week. They said Smollett, who is gay and Black, orchestrated the hoax to get publicity, giving them $100 for supplies and instructing them to place a noose around his neck and yell homophobic slurs. They also said Smollett gave them a $3,500 check to carry it out.
"Smollett appeared calm throughout several hours of testimony, saying he wrote the $3,500 check to Abimbola Osundairo for nutrition and training advice. Asked by his defense attorney if he gave Osundairo payment for some kind of hoax, Smollett replied: 'Never.'"
His attorney never should have let him take the stand.
ITEM 9: NBC reported, "Colorado sheriff's office slammed for post of Santa getting concealed handgun permit.
"In the wake of the Michigan school shooting, Twitter users condemned the post from the El Paso County Sheriff's Office. The agency apologized for the image, calling it insensitive."
I never liked the presidential pardons of turkeys at Thanksgiving because it makes a mockery of that constitutional power.
But I figured why spoil someone else's fun?
I guess other people don't follow that live-and-let-live rule anymore.
ITEM 10: Politico reported, "Democrats fall flat with 'Latinx' language. 'Why are we using a word that is preferred by only 2%, but offends as many as 40% of those voters we want to win?' said one pollster."
The answer is simple. Latinx is an LGBT word. LGBT raises lots of money for Democrats. Money means more than winning elections.
ITEM 11: The Hill tweeted, "Sen. Chris Murphy: 'We have the votes in the House and the Senate for universal background checks bill. [...] It's the rules of the Senate that prevent us from passing it. [...] If we don't change the rules of the Senate, then we're ultimately gonna need 60 votes.'"
What is he talking about?
We have had universal background checks since 1968. They do cover gun shows because you have to be federally licensed to sell guns, and if you are federally licensed, you have to do a background check.
ITEM 12: This does not help his case.
Watch Alec Baldwin charge toward a reporter with an umbrella.

pic.twitter.com/IqQvwMnipu

— Benny (@bennyjohnson) December 7, 2021
His politics aside, the man is a loon. I'll let the courts sort out his killing of Halyna Hutchins, but in the meantime, he should be medicated for our protection.
A suggestion, not a mandate.
ITEM 13: Kurt Schlichter pointed out the obvious: Overturning Roe won't end abortion. Instead, it will return the issue to the states.
He wrote, "But even if your state is enlightened enough to ban baby-killing, there's a blue state nearby you can get a bus ticket to if you really, really have your heart set on it. The fact is that the repeal rule isn't going to be that big a deal after the initial rending of tacky garments and wailing and gnashing of teeth. Pretty soon, everyone's state is going to settle what it's going to do; then it's going to be done."
That's true.
In other words, we will turn the clock back to 1973
He does not see the issue as being a plus for Democrats. I do not see it as a plus for anyone but babies, which is all that really matters.
ITEM 14: The Washington Post reported, "A black family's successful fight to reclaim a picturesque stretch of Southern California shoreline has ignited a national movement, with activists eyeing white-owned properties around the country they say rightfully belong to African Americans. A landmark law signed by California Gov. Gavin Newsom (D) on Sept. 30 provided for a seaside park in Manhattan Beach to be returned to the Bruce family, which owned the land before the city used eminent domain to seize it in 1924."
Liberals also say the land was stolen from Indians. The Bruce family ought to return it to the Indians, right?
ITEM 15: CNN reported, "DOJ sues Texas, saying GOP-approved redistricting maps discriminate against Latinos and Blacks."
Fine.
Do away with districting and have 38 at-large seats Good luck getting even one Democrat to win a statewide race in Texas.
ITEM 16: The Hill reported, "More voters would back former President Trump than President Biden in a hypothetical match-up if the 2024 election were held today, according to a new Harvard CAPS-Harris Poll survey released exclusively to The Hill.
"48% of voters in the survey said they would back Trump, compared with 45% for Biden. Another 8% were unsure."
If the pollsters were honest, the numbers would have been the same on Election Day 2020.
FINALLY, after a long off-season, I have some curling news.
This one is a doozy.
Sports Illustrated reported, "A Dutch sex toy company's attempt to reach fans of the wholesome sport of curling led some broadcasters to cancel their livestream of a tournament that will determine the final spots in the Beijing Olympics.
"Local organizers of the Olympic Qualification Event in the Netherlands said they were told that on-ice ads with the EasyToys name and nonexplicit logo were too much for the U.S. audience. Dutch media reported that the livestream was also canceled in Japan."
We finally have a wholesome, family-friendly sport and the money men have to ruin it.
Those vibrator peddlers are really a buzz kill.