A cousin by marriage of Hayley Orrantia (she plays the daughter on "The Goldbergs") asked me to review her new movie, "Christmas Is Cancelled." I get a lot of review requests but I am not a very good reviewer. But the barrel roll in the trailer did make me laugh. I look forward to reviews by readers.
I'm retired, remember?
ITEM 1
:
The Hill reported
, "Sen. Joe Manchin (D-W.Va.) announced on Fox News Sunday that he will not vote for President Biden's mammoth climate and social spending bill, essentially killing the White House's top legislative priority."
Manchin: I cannot vote to continue with this piece of legislation, I just can't. I tried everything humanly possible, I can't get there.

Bret Baier: You're done. This is a no.

Manchin: This is a no on this legislation. I have tried everything I know to do.
This proposal is strictly socialist. It recreates the welfare state while destroying industry with wild green nonsense.
We shall see how this works out, but his resolve on this matter is looking more genuine by the hour. If he holds out one more year, erect a statue.
ITEM 2: Bernie said Manchin is going to have a lot of explaining to do to the people of West Virginia.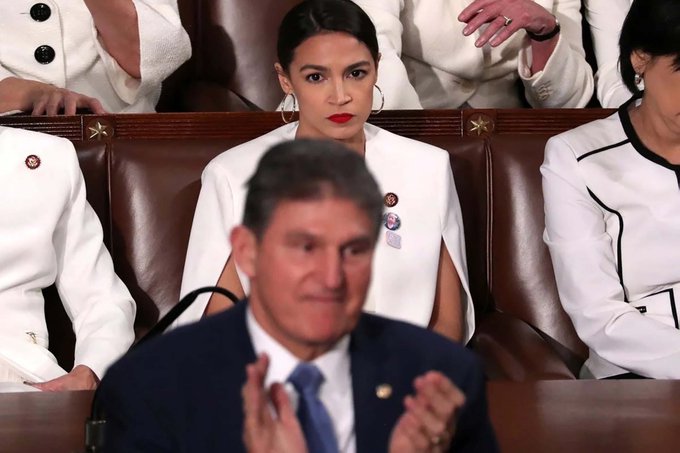 Ed Morrissey tweeted, "That would be the state that had zero counties for Biden in 2020 and has no Democrats in constitutional state offices, right?"
Democrats ruled West Virginia for 84 years. Then Al Gore came along. And John Kerry. And Obama. And Hillary. And Biden.
ITEM 3: Kamala Harris went on Charlamagne Tha God's Comedy Central show and got angry with the comic.
Him: I want to know who the real president of this country is — is it Joe Biden, or Joe Manchin?
Her: It's Joe Biden — and don't start talking like a Republican! It's Joe Biden. And I'm vice president, and my name is Kamala Harris.
For a person who laughs all the time, she has no sense of humor.
Was this a set-up? If so, the staff putting Her Humorlessness on Comedy Central was inspired. Look for Christmas Eve layoffs on Friday.
ITEM 4: Fox reported, "White House clarifies Harris' statement that the admin 'didn't see' delta, omicron variants coming."
Biden said he'd bring the nation together. A year later, he cannot bring his own administration together.
It does not help that he picked a vice president who does not work well with others.
ITEM 5: President Trump said AT&T wants Zucker out at CNN.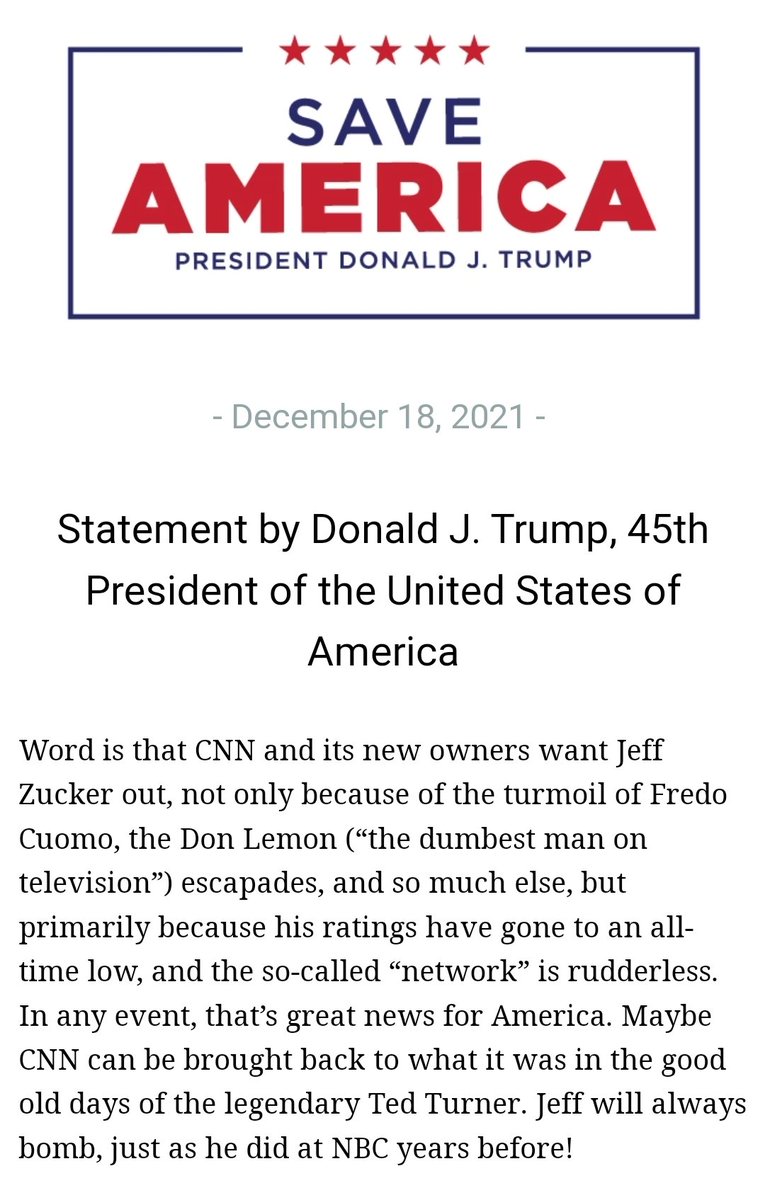 CNN has to abandon its blatant bias in favor of the ethos that built it: subdued bias.
ITEM 6: Via Breitbart, "Ron DeSantis announced on Friday. 'Florida added over 50,000 new jobs in the month of November, a much faster rate than the nation, which added 210,000 jobs in November.'"
Florida is growing 6 times faster than the rest of the USA.
President DeSantis would have added 1,260,000 jobs in November -- a million more than Democrats added.
ITEM 7: BBC reported, "A man who targeted the Jewish community by wearing T-shirts supporting proscribed Palestinian groups has been banned from NW11 in north London.
"Feras Al Jayoosi, 34, from Swindon in Wiltshire, was spotted on 8 and 9 June wearing the T-shirts in Golders Green, which has a large Jewish population."
If wearing a T-shirt gets you jailtime, then why aren't half the liberals in England and the world in jail for wearing Chairman Mao T-shirts?
He actually killed 100 million people.
ITEM 8: The Military Times reported, "The Navy is launching a maternity uniform pilot program in 2022 for expecting sailors, providing them with maternity uniforms at no cost."
Free uniforms. There's an incentive to get pregnant. Uniforms were expensive back in the day.
ITEM 9: Media-ite reported, "Sarah Palin Proudly Tells Raucous Turning Point Rally Crowd She Will Get Vaccinated 'Over My Dead Body.'"
The story failed to note that Palin recovered from covid and now has natural immunity from it.
Meanwhile, Democrat Senators Warren and Booker (Pocahontas and Spartacus) were vaccinated and caught covid anyway.
People are tired of the subject. Vaccines were meant for people vulnerable to the illness, mainly the old and infirm. Enough already.
ITEM 10: CTV reported, "A new study that tested live SARS-CoV-2 against blood samples in a laboratory setting is suggesting that those who survive a breakthrough infection may have some sort of 'super immunity' against variants.
"The study, which was published Thursday in the Journal of the American Medical Association, focused on how those with breakthrough infections had a subsequent strong immune response against the Delta variant, which researchers believe is an indication that there will be a strong response against other variants as well."
Palin knows her stuff.
Media-ite does not.
ITEM 11: So I am reading all the over-reactions to Manchin saying no to another $5 trillion of socialism (he has 10 months to change his mind) and I am stunned by how mainstream violence has become on the left. I thought Antifa was a fringe group. No, the thugs in black beating innocents and burning down businesses now are centrists in the Democrat Party.
The Atlantic sent a reporter to Brooklyn's Park Slope Food Coop, which it described as "one of America's bluest bulwarks," to get a reaction to Manchin just saying no.
Bill Gross said of Biden, "I wish he could twist the arms of Manchin and Sinema—or break them, maybe."
Gross is no unemployable young thug.
He's a 76-year-old retired psychiatrist.
Democrats have become a violent people, encouraged by a media that calls Democrat riots mostly peaceful protests.
ITEM 12: Breitbart reported, "South Dakota Gov. Kristi Noem (R) has advanced a bill in the state legislature that would codify her executive orders limiting transgender athletes to competing only in categories that correspond to their birth gender."
The bill carries the Seal of Disapproval from the ACLU.
ITEM 13: News AKMI reported, "A civil rights complaint was filed with the U.S. Department of Education against an Illinois high school after it advertised an allegedly racially-segregated 'students of color field trip opportunity.'
"Parents Defending Education (PDE) filed the complaint Friday against Downers Grove South High School in Downers Grove, Illinois, claiming the school 'discriminated on the basis of race, color or national origin in programs or activities that receive federal financial assistance.'
"At issue is a flier advertising a filed trip in which ostensibly only 'students of color' can participate. The field trip was for those students interested in becoming a teacher, which involved a 'luncheon [to] discuss the importance of considering education as a career as a person of color.'"
Besides the obvious racism of the trip, I ask why am I, as a federal taxpayer, paying for a school field trip in Illinois?
ITEM 14: The Post Millennial reported, "Terryous Jorelle Baker, 27, and Elizabeth Chavez, 24, have both been arrested when a car the male suspect was allegedly driving crashed into a crowd at a Winter Garden parade in Florida, on the outskirts of Orlando, last Sunday.
"Baker has been charged with multiple counts in connection with the incident. Police also arrested Chavez, a passenger in Baker's car, on an outstanding warrant."
The War on Christmas is now physical.
ITEM 15: The Washington Post reported, "D.C. third-graders were made to reenact episodes from the Holocaust. A school staffer member made students pretend to kill each other in mass graves during library class."
I liked it better when third-graders dressed up as Pilgrims and Indians for the Thanksgiving play.
ITEM 16: The Daily Mail reported, "Desperate New York City restaurant owners have been forced to get creative to tackle the city's rodent infestation after rat sightings soared by 40% in 2021 compared to 2019.
"Restauranteurs have blamed lack of regular trash collection and street-cleaning services during the pandemic era staff shortages for the increase in critters."
The cutbacks are designed to turn NYC into a shithole. Upper Manhattanites believe they are immune from the damage this does.
Boy, are they in for a shock.
ITEM 17: The New York Post reported, "NYC COVID inspector booted from bar for failing to show own proof of vaccination."
I would rather they kicked her out for being a covid inspector (also known as someone's unemployable relative).
FINALLY, the New York Post also reported, "A 29-year-old Texas mom is pregnant with her ninth baby, she announced Saturday.
"In a nine-minute video posted Saturday on her YouTube channel, Yalancia Rosario said in a gender reveal video she and her husband Michael Rosario, 36, are expecting a boy, adding another son to eight other male children."
How's the song go?
Keep your sunny side up, up.
Hide the side that gets blue.
If you have nine sons in a row
Baseball teams make money, you know.