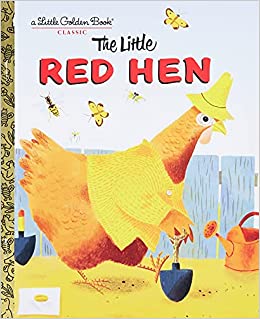 Someday some lefty will read The Little Red Hen and get it cancelled because it promotes industry over sloth and private ownership over community property.
ITEM 1
:
CNN reported
, "After taking a long weekend for the Christmas holiday, jurors in Ghislaine Maxwell's federal sex trafficking trial resumed deliberations Monday in New York but still have not reached a verdict."
The story also said, "Jurors deliberated for about an hour last Monday and then all of Tuesday and Wednesday. In that time, they asked the court to provide the transcripts of testimony from Jane, Kate, Carolyn and Annie Farmer -- the four women whose claims form the core of the case against Maxwell.
"The jury has also requested transcripts of testimony from four other witnesses: Juan Alessi, Maxwell's house manager; Matt, Jane's former boyfriend; Gregory Parkinson, the former Palm Beach Police crime scene manager who was present at the 2005 search of Epstein's house in Palm Beach, Florida; and David Rogers, a pilot for Epstein and Maxwell.
"On Monday morning, the jury asked for a definition of enticement, which is part of two of the charges. The judge wrote that the word meant to 'attract, induce or lure using hope or desire.'"
Deliberations resume today at 9 AM Eastern. I like a jury that takes the time to get it right.
ITEM 2: Reuters reported, "Chinese citizens lashed out online against billionaire founder Elon Musk's space ambitions on Monday after China complained that its space station was forced to take evasive action to avoid collision with satellites launched by Musk's Starlink program.
"The satellites from Starlink Internet Services, a division of Musk's SpaceX aerospace company, had two close encounters with the Chinese space station on July 1 and Oct. 21, according to a document submitted by China earlier this month to the U.N.'s space agency."
I grew up watching the Space Race: America vs. communism.
Version 2.0 pits one capitalist against a million communists who control a billion Chinese.
My money is on Musk.
He needs to build a spaceship that looks like the Deathmobile from Animal House.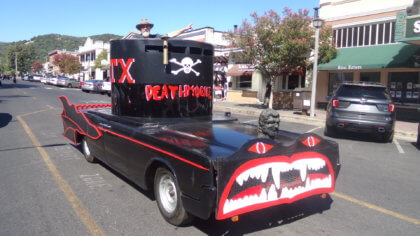 FCX.
The C stands for Chairman.
ITEM 3: The Post Millennial reported, "Speaking to governors today about covid, President Joe Biden claimed that 'there is no federal solution' to delivering more wide-spread testing. It was last year that Biden vowed to 'shut down the virus.'"
No federal solution?
So what is up with all the vax mandates?
Biden is passing the blame for his failures onto the states.
Trump got it right. He got the vaccine. He let governors handle the virus. Florida and Texas succeeded. New Jersey and New York killed thousands needlessly in the first month.
Nice to see Biden admit Trump's way was the best way.
ITEM 4: The Center Square reported, "New Jersey will pay roughly $53 million to the families of 119 veterans who died from covid-19 while in the care of state veterans' homes during the pandemic's early days.
"The settlements average $445,000 per family. A member of the administration of Gov. Phil Murphy, a Democrat, said the state opted to make the settlements for various reasons, including that it "will hopefully allow them to move forward without years of protracted and uncertain litigation."
"The administration did not issue a formal announcement about the settlement and payouts. A Murphy spokesperson declined the opportunity to provide an on-the-record statement to The Center Square.
"On March 31, 2020, the New Jersey Department of Health issued a directive barring nursing homes from turning away patients who tested positive for covid-19, a mandate that was subsequently rescinded. The order mirrored one issued in New York.
"Of New Jersey's more than 26,000 confirmed covid-19 deaths, more than 8,000 were reported in long-term care facilities in the state. According to state numbers, New Jersey's three state-operated veterans' homes – in Menlo Park, Paramus and Vineland – have reported more than 150 covid-19 deaths."
Governor Murphy should stand trial for manslaughter.
ITEM 5: Buzz Feed reported, "The CDC is shortening the length of isolation time recommended for people with covid-19, cutting it from 10 days to five, the organization announced Monday."
They don't know what they are doing. Why don't they just admit it?
ITEM 6: Life News reported, "Abortion Activist Amanda Marcotte: 'Merry Christmas' is Conservative Code for 'F— You.'"
Sad woman. She used to have a sense of humor.
By the way, Sarah Weddington, the lawyer who won Roe v. Wade, died. She aborted her only child in Mexico 6 years before Roe.
ITEM 7: The Daily Beast reported, "A small-town South Dakota newspaper published a Christmas ad this past week that included a sign reading 'Let's Go Brandon,' or what is widely understood as conservative code for 'Fuck Joe Biden.'"
The Daily Beast is shocked that the Winner Advocate published a euphemism for Fuck Joe Biden while actually posting Fuck You Biden.
It's called being Intentionally Stupid.
TOURISM TIP: The Highway to Heaven, also known as Interstate 80 in Wyoming.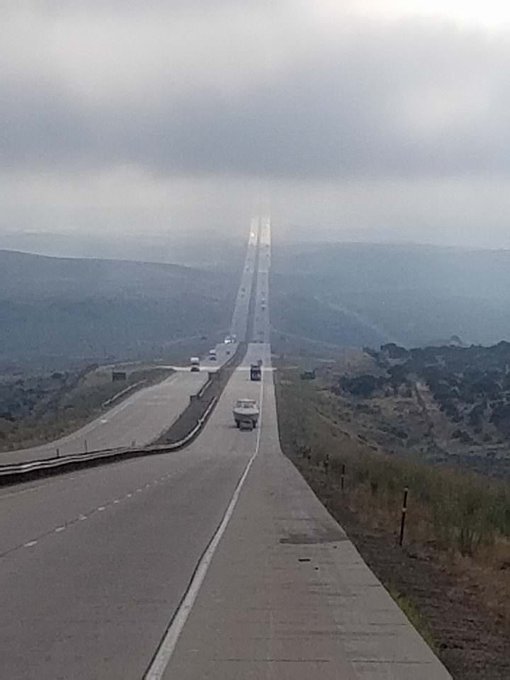 ITEM 8: Outkick reported, "Patricia Cornwall, a former actress and Raiders cheerleader who appeared in Playboy videos during the 1990s, is the woman who caused chaos on a December 23 Delta flight from Tampa to Atlanta where she went berserk on a man for not wearing his mask. Cornwall, who was taken into custody by the FBI over the weekend for slapping and spitting on the man, appeared Monday in the Northern District of Georgia court where she was hit with an official criminal complaint by the U.S. government.
"Cornwall, 51, is charged with violating Title 18 of U.S. Code for specifically assaulting, beating, or wounding a passenger during a domestic flight."
Cornwall was not wearing a mask.
From Playboy Bunny to Karen in Cellblock 6 in less than 30 years.
ITEM 9: Speaking of cellblocks, Breitbart reported, "Female inmates in California prisons are seeking relief after a new California law allows biological men to be housed at women's detention centers in the state based on their 'gender identity.'"
The Law of Man cannot overcome the Laws of God.
Two sexes. Male and female. The Lord does not make mistakes.
ITEM 10: Fox reported, "An Arizona mom is raising awareness after her son was killed in October, allegedly by a man who was out on bond with the help of an organization called The Bail Project.
"Dylan McGinnis, 24. was allegedly shot and killed on Oct. 1 by Travis Lang, who was previously being held in jail for possession of cocaine in addition to three other felony charges, including breaking and entering, resisting arrest and burglary, according to Fox 59.
"Lang is now being charged with murder."
I wonder if donors could be held liable.
ITEM 11: The Daily Mail reported, "An Indiana mother rebuked woke bail funds after a cocaine and burglary suspect was freed and 'murdered her son.'
"Nikki Sterling -- the mother of Dylan McGinnis, 24, who was shot and killed on October 1 -- is lashing out against The Bail Project after the organization helped get the suspected 'killer' Travis Lang, 23, out of jail on cocaine possession and burglary charges in January.
"The grieving mother was 'shocked' to find out that the organization supported 'violent offenders to get out [of jail]' by bailing inmates out. It is one of a number that have been heavily promoted on social media since Black Lives Matter protests in the wake of George Floyd's murder, and raises cash to bail those who cannot afford to make bail themselves."
British version of the story.
ITEM 12: American Wire reported, "When the White House Chief of Staff is sending out end of year tweets saying 'well, it wasn't all bad.'"
Let's see, there was covid -- no, that was bad.
Well, there was Afghanistan -- no, that was bad.
OK, there was Build Back America -- what? It didn't pass? Are you sure?
Um, there was inflation-- no, that was bad.
Well, at least the president didn't say Let's Go Brandon...
Oh.
Nevermind.
ITEM 13: Newsweek reported, "Rep. Lauren Boebert said Kyle Rittenhouse has bigger intentions than becoming a congressional intern following offers by multiple GOP representatives in the aftermath of the Kenosha murder trial."
I should hope so. He's only 18.
ITEM 14: 100% Fed Up reported, "A newly released video from January 6 shows a woman at the U.S. Capitol being struck by police nearly 40 times in the span of about 4 minutes. This video was previously under government seal until recently when a federal judge ordered its release after the woman in question was charged with several felonies in relation to the January 6 protests.
"In the video, a 39-year-old woman from Minnesota, Victoria White, is seen being beaten by a police baton, receiving several punches, being grabbed and shaken by the hair, and being sprayed with pepper spray. The surveillance video comes from just inside the Capitol's west tunnel entrance."
The whole insurrection was a set-up by the FBI and Pelosi's Palace Guard.
ITEM 15: The Conservatives Brief reported, "30% Of Biden Voters Say He Should Step Aside, Not Run In 2024."
Wait a second.
They buried the real story. Pollsters actually found people willing to admit they voted for him.
ITEM 16: the Washington Post reported, "5 GOP-led states extend unemployment aid to workers who lose jobs over vaccine mandates: Critics say the rule changes in Arkansas, Florida, Iowa, Kansas and Tennessee are incentivizing people to skip shots, and undermining the White House's pandemic response."
Unemployment is an insurance program for losing one's job. Of course being fired for being unvaccinated is covered.
The vax mandates are illegal, unconstitutional, and totally ineffective because vaccinated people can get and transmit covid.
FINALLY, Biden's it's-up-to-the-states plea on covid is his surrender to covid. Unlike his surrender to Afghanistan, he won't be giving covid guns, ammo, Humvees, helicopters and other aircraft.
I saw it coming a month ago. On November 24, I wrote:
Campaigning for president, Biden blamed Trump for covid and called his response to covid criminal.
The New York Times reported today, "Despite vaccines, the U.S. has lost more lives to covid this year than last."
A month before the election, Biden politicized the virus, blaming Trump on CNN. Biden said, "He waved the white flag. He walked away. He didn't do a damn thing – think about it! And it's almost criminal."
Trump started Operation Warp Speed. NBC scoffed that it would take a miracle to get a vaccine by the year's end. President Trump delivered two.
The plan was to vaccinate the old and the infirm. There would be no mandates for healthy people. This is how we do flu shots.
Biden even promised no mandates.
And yet here we are.
NPR never mentioned a vax mandate in its pre-election report, "Coronavirus Is A Key Campaign Issue: What's Joe Biden's Plan?"
Instead it outlined six points.
Set consistent, evidence-based guidance to stop outbreaks
Seriously ramp up testing
Establish a U.S. public health jobs corps
Help people get health insurance
Create a caregiving workforce
Bolster resources for vaccine distribution and PPE production
Deaths this year now outstrip last year's because his plan was political, not medical, in nature. Just because some bureaucrat has an MD does not mean his advice is medical.
The purpose of the vax mandate is not to protect anyone, but rather to create a class of scapegoats for Biden's failure called the unvaccinated.
Never mind that the areas where covid is growing are in the places that are most vaccinated. Biden is blaming the unvaccinated.
Meanwhile, Pfizer and Moderna are cashing in as a shot meant only for the old and infirm is now being expanded to use on infants. This is a disastrous and likely malpractice, but when the government grants you indemnity from litigation, you have a license to make money.
No one should approve any of these vaccines for anyone under 18. And certainly no one should vaccinate a kid without parental permission.
The combination of bad medicine and unconstitutionality of these mandates has people rebelling and Darth Fauci and the rest are demonizing the rebels.
Politics aside, this ain't working. The virus is spreading relentlessly because that is what viruses do. Healthy people develop natural immunity without a vaccine.
The least vaccinated continent -- Africa -- has the smallest covid death rate.
Covid deaths are up under Biden. His mandates are not working. He needs to try something new. For the first time in his life, Biden needs to tell the truth: "Covid is here. It's weird. Get used to it."