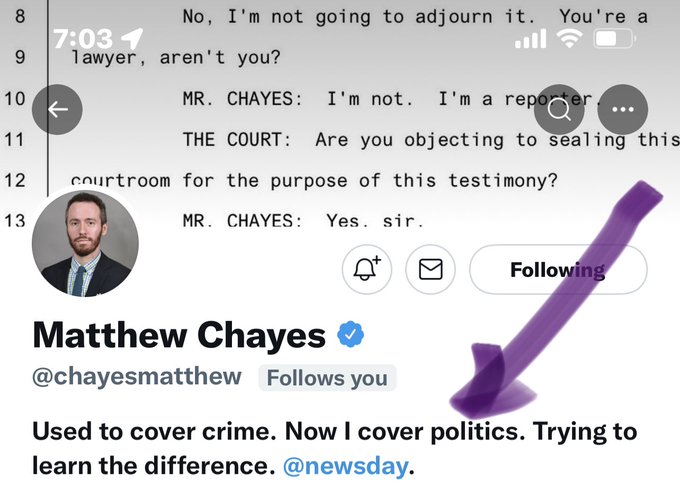 ITEM 1: The New York Times reported, "Saule Omarova, a Cornell Law School professor whom critics painted as a communist after President Biden picked her for a key banking regulator job, is withdrawing from consideration for the post."
Critics also portrayed her as a woman, a native of Russia, and a pretty lousy dresser.
She withdrew because she did not have the votes. She did not have the votes because not every Democrat is suicidal.
ITEM 2: The Underground reported, "Applicants for the incoming class of 2021 at City University of New York (CUNY) School of Law were asked to select their gender from a drop down menu containing an astonishing thirteen genders, none of which are man or woman."
My advice to straight white males is to lie your ass off if you want to get in. Make them think they are getting RuPaul because this is all for show. Law schools don't care if they are diverse. They just want it to appear they are diverse.
If Warren could lie her way into Harvard as a law professor, why shouldn't you lie you way in as a student? She paid no penalty. Why should you?
ITEM 3: PBS reported, "A federal judge on Tuesday blocked President Joe Biden's administration from enforcing a covid 19 vaccine mandate for employees of federal contractors, the latest in a string of victories for Republican-led states pushing back against Biden's pandemic policies.
"U.S. District Court Judge R. Stan Baker, in Augusta, Georgia, issued a stay to bar enforcement of the mandate nationwide.
"The order came in response to a lawsuit from several contractors and seven states — Alabama, Georgia, Idaho, Kansas, South Carolina, Utah and West Virginia. It applies across the U.S. because one of those challenging the order is the trade group Associated Builders and Contractors Inc., whose members do business nationwide."
Trump judge.
These mandates are blatantly unconstitutional. Biden's plan is to have them struck down and then blame that for covid deaths rising.
ITEM 4: The Daily Beast reported, "A New York Supreme Court judge on Tuesday paused Mayor Bill de Blasio's mandate that all New York City workers, including members of the NYPD and FDNY, be vaccinated against covid 19. Judge Frank Nervo issued a temporary restraining order blocking de Blasio's order, issued in October, and giving the mayor's office until Dec. 13 to reply."
Cancer kills twice as many people as this virus does. And yet we still let people smoke because the government collects billions of dollars in tobacco taxes each year. This mandate is not about public health. If the government were concerned about our health, it would have banned cigarettes 50 years ago.
ITEM 5: Axios reported, "Newspapers all over the country have been quietly filing antitrust lawsuits against Google and Facebook for the past year, alleging the two firms monopolized the digital ad market for revenue that would otherwise go to local news.
"Why it matters: What started as a small-town effort to take a stand against Big Tech has turned into a national movement, with over 200 newspapers involved across dozens of states.
"'The intellectual framework for this developed over the last 3-4 years,' said Doug Reynolds, managing partner of HD Media, a holding company that owns several West Virginia newspapers, including the Charleston Gazette-Mail.
"Reynolds, along with a group of lawyers, filed the first newspaper lawsuit of this kind in January in West Virginia."
Newspapers had their chance to get in the game early on. I was there. They blew it. They went online without understanding what was online. They actually sued people who linked to them!
The real problem for small newspapers are the New York Times and the Washington Post. Given the choice between subscribing to them or the local paper, many people are going with NYT or WaPo.
ITEM 6: Outkick reported, "Everybody's favorite CNN anchor Don Lemon doesn't just report the liberal news, he apparently also spends time working as a tipster — at least for friends of his who commit crimes. Jussie Smollett told a court room on Monday that Lemon texted him to say that the Chicago Police Department didn't believe his account of what happened during his 2019 attack, per Fox News' Matt Finn."
Smollett also said he is the gay Cary Grant.
He's not even the gay Hugh Grant.
ITEM 7: CNN reported, "Former White House chief of staff Mark Meadows will no longer cooperate with the House select committee investigating January 6 insurrection, according to a letter from his attorney to the panel, which was obtained by CNN on Tuesday.
"'We agreed to provide thousands of pages of responsive documents and Mr. Meadows was willing to appear voluntarily, not under compulsion of the Select Committee's subpoena to him, for a deposition to answer questions about non-privileged matters. Now actions by the Select Committee have made such an appearance untenable,' the letter from George J. Terwilliger II stated."
The January 6 Committee is looking more like a demolition derby.
ITEM 8: Mel Brooks wrote his autobiography at age 95.
Part I.
His joking aside, I liked this from his interview with NPR: "When I'm asked what was the happiest time of your life? Was it marrying Anne Bancroft? What was it winning the Academy Award? Was it writing your first sketch for Broadway, for New Faces? I cut them off and I say I was the happiest — and to this day, probably the happiest in my life — from 5 years old to 9. Those four years were blessed with running, Johnny-on-the-pony, kick the can ... playing with my gang in the streets and just being free and and careless and reckless and just a happy, happy child."
He grew up poor during the Depression.
By the way, he fought in the Battle of the Bulge.
Those events (and marrying Anne Bancroft) taught him to appreciate life.
ITEM 9: Ars Technica reported, "The Information published a lengthy report detailing Apple CEO Tim Cook's efforts to establish strong relationships between Apple and Chinese government officials and agencies.
"Citing both interviews and direct access to internal Apple documents about repeated visits by Cook to China in the mid-2010s, the report describes a $275 billion deal whereby Apple committed to investing heavily in technology infrastructure and training in the country."
If Apple wants to continue doing business in this country, make it commit to investing twice that amount here.
Otherwise, call Apple what it is: a communist front.
And then ban it.
We are in a trade war. Fight back or cease to exist as a people.
ITEM 10: The New York Post reported, "Controversial 'suicide pod' that 'kills peacefully' gets go-ahead in Switzerland."
Switzerland ended the death penalty in 1942. So if you murder someone, you won't be executed. Get a little depressed, and into the suicide pod you go.
The Swiss also legalized abortion in 2002.
I liked the world better when we executed murderers instead of babies and people with mental health issues.
ITEM 11: The Washington Examiner reported, "Embattled Wyoming Rep. Liz Cheney, who's reelection campaign is under fire from former President Donald Trump, widely trails her top challenger in a new 2022 survey.
"In the SoCo Strategies poll conducted to gauge the impact of Trump endorsements, Cheney is 18-points behind Trump-backed Harriet Hageman."
She is not embattled.
She picked the fight.
Trump voters are finishing it for her.
ITEM 12: Joe Manchin said, "We had people at that time saying inflation would be transitory. We had 17 Nobel laureates saying it's going to be no problem. Well, 17 Nobel laureates were wrong."
Fact check: Paul Krugman has a Nobel in economics.
He has never been right.
ITEM 13: A homeowner on Coolidge Street in St. Anthony, Minnesota, said he received an anonymous letter demanding his Christmas lights be removed because 1. not everyone celebrates Christmas, 2. not everyone can afford Christmas lights, and 3. theirs is "a community welcoming of all people."
Just not Christians.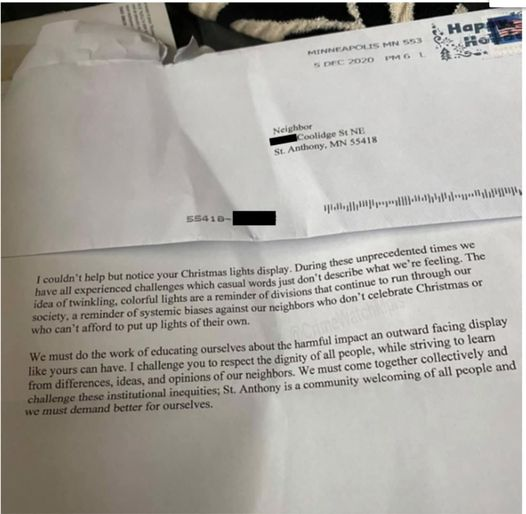 The town's name is St. Anthony.
Maybe they will change it to GeorgeFloydgrad.
ITEM 14: Deliberately left blank.
ITEM 15: The New York Post reported, "A Mississippi man who was executed for shooting dead his estranged wife admitted just before he died to also killing his sister-in-law, authorities revealed on Monday.
"David Neal Cox, 50, told his attorneys he killed his sister-in-law Felicia Cox in 2007 and provided details on where her remains could be found before he was executed on Nov. 17 over the 2010 slaying of his wife.
"District Attorney John Weddle said at a news conference on Monday that Cox had been a longtime suspect in his sister-in-law's disappearance.
"Weddle would not disclose the exact location Cox provided but said investigators were preparing to search in Pontotoc County where Felicia was last seen."
That should provide a grieving family with some closure.
FINALLY, yesterday I closed with curling news that the Olympic Qualification Event in the Netherlands got in dutch with TV networks because it was sponsored by a maker of sex toys.
Today, sad news from the accordion world.
The Korea Times reported, "Renowned accordionist Shim Sung-rak dies at 85."
The story said, "He has been known as one of Korea's leading accordionists, laying the foundation for the development of the country's popular music industry and taking part in many popular music recordings and soundtracks.
"Born in Kyoto, Japan, in 1936 when Korea was under Japanese occupation, Shim participated in about 7,000 songs on 1,000 albums as an accordionist and electronic organist. He had worked with famous singers, including Patti Kim, Cho Yong-pil and Na Hoon-a, to name a few. He also participated in the soundtracks of famous films, such as 'One Fine Spring Day' (2001).
"He was known as a self-taught musician who first encountered the accordion in 1953 while working as a part-timer in an instrument shop in Busan. Shim started his career as an accordion player for a singing contest on the state-run broadcaster KBS. He is known to have lost his little finger when he was young.
"In the early 1970s, he taught Kim Jong-pil, then prime minister of the country, how to play the electronic organ and played the instrument ever since at banquets held by presidents Park Chung-hee, Chun Doo-hwan and Roh Tae-woo."
I do not know how this little corner of the Internet became an occasional repository of news of curling and accordions, but I like this development because it is a reminder that there are other worlds within our world where people laugh and find joys in a life separate from ours. Readers send me tips, and I explore them.