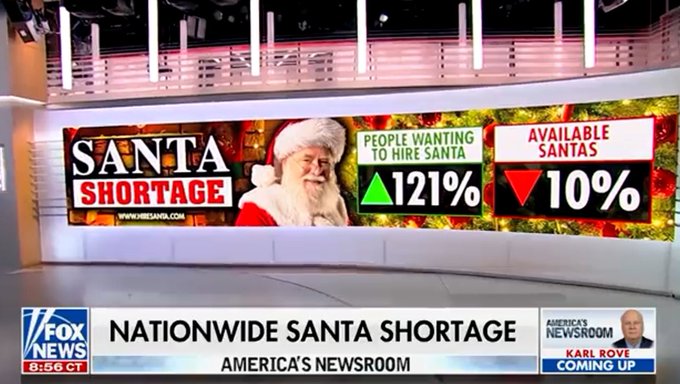 Oh sure, now you want us fat old white men with beards.
ITEM 1
:
The Lafayette Daily Advertiser reported
, "A Louisiana U.S. district judge blocked a federal covid 19 vaccine mandate for health care workers Tuesday, issuing a nationwide injunction in another setback to President Joe Biden's effort to require wide segments of the population to be vaccinated.
"Louisiana Western District U.S. Judge Terry Doughty's decision follows an identical ruling Monday from Missouri U.S. District Judge Matthew Schelp, but Schelp's decision only covered 10 states.
"Doughty ruled on the lawsuit led by Republican Louisiana Attorney General Jeff Landry and joined by 13 other states, but Doughty added a nationwide injunction in his ruling.
"In his decision, Doughty wrote the Biden Administration doesn't have the authority to bypass Congress in issuing such a mandate."
Trump judge.
ITEM 2: The New York Post reported, "With just four weeks left in office, Mayor Bill de Blasio is opening the country's first supervised shooting galleries in Upper Manhattan — amid a spike in overdose deaths and disturbing scenes of junkies shooting up on public sidewalks."
The argument is the War on Drugs failed because people still use drugs.
Under that argument, Chicago should open an actual shooting gallery as the War on Murder has failed because people still kill one another.
DeBlasio calls his shooting gallery an Overdose Prevention Center, Chicago could call its a Murder Conviction Prevention Center.
Democrat DeBlasio is doing all this last-minute stuff at the behest of the new Democrat mayor who can blame DeBlasio.
ITEM 3: WTOP reported, "For the second straight year, enrollment in Virginia public schools has dropped, with 46,000 fewer students enrolled since the start of the covid-19 pandemic.
"According to data from the Virginia Department of Education, the largest school district in the commonwealth, Fairfax County, saw the largest enrollment dip — more than 10,000 students, or a 5.4% difference between fall 2019 and fall 2021.
"The second-largest school district, Prince William County, had 2,135 fewer students enroll, or 2.3%. The third-largest district, Loudoun County, enrolled 2,422 fewer students this year, or 2.9%."
These are liberal DC suburbs.
People are voting with their feet against CRT, masks, and a boy in a skirt raping girls in the girls' room.
ITEM 4: Drudge's Banner headline, "EPSTEIN PILOT SAYS TRUMP FLEW ON 'LOLITA EXPRESS.'"
Zero Hedge's headline, "Epstein's Pilot Names Names, Recalls Shuttling Clinton, Trump, Spacey And Prince Andrew."
The pilot also named John Glenn and Mitch McConnell.
Zero Hedge said, "Trump and Epstein were known to have associated with each other in the 90s as New York City playboys and successful entrepreneurs. As the Daily Mail reports, 'It was previously reported that Trump had flown on Epstein's plane from Palm Beach, where both had homes, to Newark, in 1997. Epstein is also said to have flown on one of Trump's private planes.'
"Trump is said to have severed his relationship with Epstein and banned him from Mar-a-Lago after the pedophile was reportedly trying to recruit a towel attendant in the early 2000s - prior to his conviction for soliciting child prostitution."
Friends until Trump discovered the awkward truth.
But liberals will ignore the truth, and believe what liberals want to believe.
ITEM 5: The Washington Examiner reported, "More than 6 million illegal immigrants in the United States would be granted amnesty and allowed to obtain government benefits by House Democrats' Build Back Better Act, according to a review by the Congressional Budget Office.
"The CBO concluded in November that approximately 6.5 million noncitizens who live in the U.S. largely as a result of illegally crossing the southern border before January 2011 would be granted parole and immediately go from being unlawfully present to lawfully present. The proposal would be the largest-ever amnesty, double the size of the one that went through during the Reagan administration in 1986. The term amnesty refers to being pardoned, in this case for the federal offense of illegally entering the country between ports of entry and residing in the U.S. without permission."
Kick them out.
And by that, I mean Biden, Harris, and every other Democrat in Washington.
ITEM 6: Summit News reported, "University of Oxford Professor Jim Naismith asserts that despite England dropping its mask mandate in July and Scotland keeping its rules in force, official data shows this 'has made no meaningful difference' to infection rates.
"Naismith goes on to argue that new face mask mandates imposed in England today are "unlikely to have much of an impact" in fighting off the spread of the Omicron variant.
"Despite flatlining case numbers and declining deaths, partly achieved because England chose to lift lockdown restrictions in the summer unlike many European countries, mask mandates are once again back in force."
Well, "has made no meaningful difference" applies to just about every government aid program nowadays.
ITEM 7: We Are The Mighty reported, "The Royal Navy's stealth sub can stay submerged for 25 years."
Maybe the Brits can take Kamala and AOC on a little sea cruise.
ITEM 8: Breitbart reported, "Actor-comedian Dave Chappelle won another small battle with his woke detractors after his former high school announced it would rename its theater after him despite the backlash.
"Washington D.C.'s Duke Ellington School of the Arts announced that it is going through with naming one of its theaters after Chapelle, one of its most famous alums."
This whole Cancel Chappelle sounds phony to me.
When did Netflix stop being PC?
ITEM 9: Via Press California, Forbes magazine reported, "'Yes, the vaccine changes your DNA. A tiny bit. That's a good thing.'"
Forbes has gone from being a capitalist tool to being a deep-state stooge.
ITEM 10: The New American reported, "The 'Arctic is screaming,' a U.S. government warming-alarmist scientist famously stated in 2010. It turns out this may be true, but what it's saying is, 'I'm freezing!'
"In fact, in yet another refutation of the man-caused global-warming (AGW) narrative — and contrary to alarmist predictions — Arctic ice is poised to be its thickest in a generation."
Folks, we may be headed for an ice age.
ITEM 11: The Daily Mail reported, "Chris Cuomo's colleagues in the liberal media have turned on him in the wake of bombshell records revealing how he conspired with his brother's team to undermine sexual harassment accusers, and are now among those calling for him to be fired."
The story also said, "Journalists and some politicians are now calling for Cuomo to be fired immediately, calling his actions 'deeply unethical'. CNN's hosts and reporters are pussyfooting around it, only saying Cuomo was 'more intimately involved than previously known.'"
Three things are fictional: Santa Claus, the Tooth Fairy, and Ethics in Journalism.
But CNN suspended him, making him the first TV news guy to lose his job for something other than sexual harassment.
The real reason he's gone? He no longer has a brovernor.
CHYRONS OF THE DAY: Tucker Carlson may never top "Creepy Porn Lawyer" but...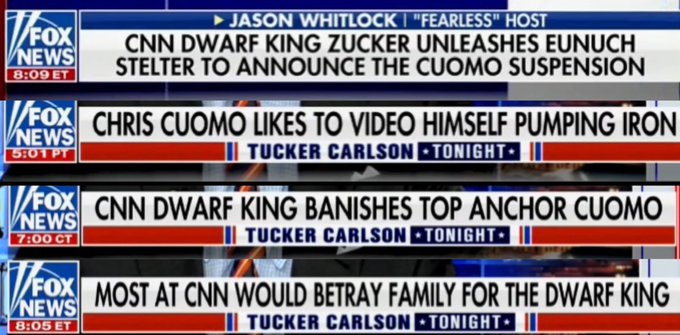 ...he keeps coming close.
ITEM 12: AP reported, "A 14-year-old Philadelphia boy waiting for a bus to take him home from school was shot 18 times and killed Monday afternoon, police said.
"Samir Jefferson was waiting at a bus stop shortly before 3:30 p.m. Monday in a North Philadelphia neighborhood when two unknown shooters fired at least 36 shots, a Philadelphia police spokesperson said in an emailed incident report.
"Police said Jefferson was shot 18 times throughout his body. The boy died at a local hospital a short time later."
Killadelphia.
Well, he was outside during a dangerous time: In broad daylight.
ITEM 13: The Washington Post reported, "Lara Logan draws outrage for comparing Fauci to Nazi doctor Josef Mengele on Fox News."
Where was the outrage when people called President Trump Hitler?
ITEM 14: The Wall Street Journal reported, "Alumni Withhold Donations, Demand Colleges Enforce Free Speech. Some baby boomers push back against what they see as liberal indoctrination at their schools."
Money talks. Shit gets tenure.
ITEM 15: CNBC reported, "Cyber Monday online sales drop 1.4% from last year to $10.7 billion, falling for the first time ever."
CNBC also reported, "Black Friday shopping in stores drops 28% from pre-pandemic levels as shoppers spread spending throughout the season."
Red may be the new black for retailers this year.
ITEM 16: AP reported, "Oklahoma's Pardon and Parole Board voted 4-1 on Tuesday to reject clemency for a man convicted of killing two Del City hotel workers in 2001, with two members noting the particularly heinous nature of the killings.
"The vote paves the way for the state to execute 45-year-old Donald Grant on Jan. 27 unless a court intervenes.
"Grant admitted killing Brenda McElyea and Felicia Suzette Smith, both employees of the LaQuinta Inn in Del City, so that there would be no witnesses to his robbery of the hotel. Both women were shot and stabbed, and court records show Grant also repeatedly bludgeoned McElyea as she begged Grant to spare her life."
Execution is more humane than life in prison. Perhaps the pandemic panic brought that point home.
ITEM 17: AP also reported, "Dr. Mehmet Oz, the celebrity heart surgeon best known as the host of TV's Dr. Oz Show after rocketing to fame on Oprah Winfrey's show, is planning to run for Pennsylvania's open U.S. Senate seat as a Republican, according to three people familiar with his plans.
"Should Oz run, he would bring his unrivaled name recognition and wealth to a wide-open race that is expected to be among the nation's most competitive and could determine control of the Senate in next year's election."
I have the campaign slogan.
Send Oz to Oz.
ITEM 18: Instapundit reported, "Fifteen states, led by West Virginia Treasurer Riley Moore, are prepared to yank an estimated $600 billion in funds from financial institutions contemplating defunding the oil and gas industry in the U.S, according to The Federalist.
"The 15 states include in addition to West Virginia, Arizona, Arkansas, Idaho, Louisiana, Missouri, Nebraska, North Dakota, South Carolina, South Dakota, Utah, Wyoming, Alabama, Texas and Kentucky. Hmmm, wonder why Oklahoma — where Harold Hamm, the guy who invented hydraulic fracking, grew up — is not on that list?"
Nice to see West Virginia lead instead of follow.
FINALLY, reader comments yesterday made me reconsider donating to the Salvation Army after its apology. I have some time before Christmas. OK, what are the alternatives to helping the neediest cases?