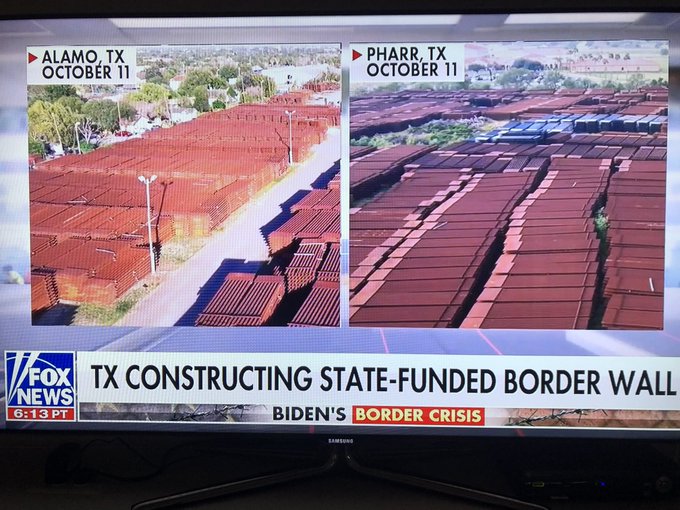 On September 29, 2006, Joe Biden and 79 other senators voted to build a wall along the Mexican border. President George Walker Bush signed it into law a few days later, as the House had already passed it.
Biden and the rest never thought they would actually build a wall but a decade later, we elected Donald Trump president specifically to build the wall.
Paul Ryan who also voted for the wall refused to give America one thin dime to build the very wall he voted for
.
Only his departure as House speaker and the installation of Nancy Pelosi as speaker freed up money to start building it. Trump bought wall sections and replaced most of the ineffectual fencing at key points along the border.
Biden's installation as president brought a halt to all things Trump.
We promptly lost the war on terrorism, saw inflation skyrocket, suffered a rise in covid deaths, and had our border overrun by terrorists, gangsters, and other people,
Governor Greg Abbott of Texas is collecting donations to wall off Texas. As of Monday, he raised $54,423,681.
Construction began today, but not with the leftover wall sections the feds have.
Biden refuses to sell the steel sections to Texas.
Abbott tweeted, "Texas has officially started building its own border wall.
"Biden allows open border policies and refuses to enforce laws passed by Congress to secure the border and enforce immigration laws.
"Texas is stepping up to do the federal government's job."
Bill Melugin of FoxLA tweeted, "Texas has officially started building its own border wall. The first wall panels have gone up in Starr County in the RGV. State land, state money. This particular contractor was building Trump's wall until Biden cancelled them. Now they build for Abbott."
But, Griff Jenkins of Fox tweeted, "As Abbott starts building a Texas Wall where the Trump wall left off, the Feds won't allow them to use leftover panels."
Biden gifted the Taliban with $90 billion in cash and equipment when he surrendered Afghanistan, but Biden won't sell Texas surplus wall sections to build a wall Biden voted for.
Maybe if Abbott bought a painting from Hunter and gave him a few pounds of cocaine Texas has seized, Biden will support the wall again.