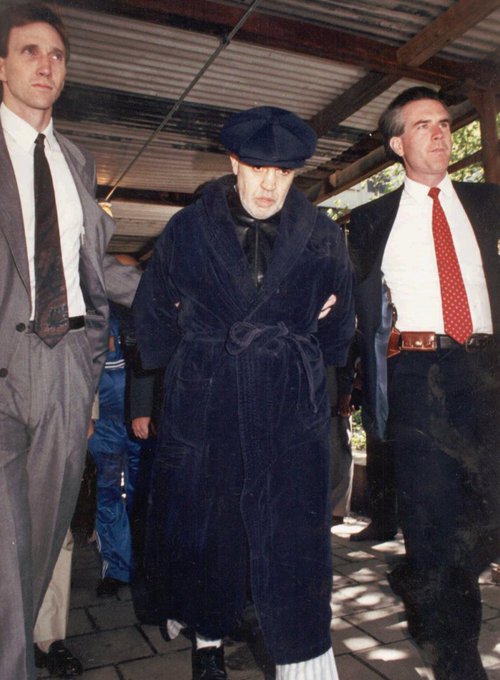 Don't fall for the presidential dementia act.
Biden may be slow on the uptake, suffering the mental damage of an aneurysm and subsequent brain surgery, and a stutterer, but he ain't demented.
He is evil. And like Mafia Don Vincente "The Chin" Gigante, he is faking dementia to avoid prison.
In the 1990s, The Chin roamed the streets of Greenwich Village in a bathrobe and slippers muttering to himself. All the while, he was running the Genovese family.
The tabloid press dubbed him The Oddfather.
The Chin became the top mafioso of New York after the feds nailed John Gotti in 1992. Gigante was the sole survivor, the last guy standing in the ring. Given his roots as a boxer in the later 1940s, that makes sense. He was a good boxer (21 wins in 25 bouts, 13 by KO) but being a Mafia enforcer paid better.
The feds went after him, but a judge deemed him mentally incompetent and unfit to stand trial in 1990.
But eventually, his act failed and in 2003 -- at age 75 -- he admitted it was all a ruse.
He died in prison 2 years later.
Biden won't die in prison. The Deep State protects him because he keeps its secrets and serves it well.
President Trump didn't. You saw what they did to oust him. Tony Fauci's covid 19 and a summer of mostly peaceful riots did President Trump and the country in.
Biden is a con man, which is short for confidence man, an older term for men who hoodwink people in order to steal.
First they gain your confidence by telling you what you want to hear. In this case, we want to hear that Biden is old and decrepit. He plays into that by whispering, and by alluding to people giving him orders. He also is odd and quirky.
But he is large and in charge at the White House. Everyone told him not to abandon Afghanistan, but by golly he did, just to show them who is boss.
Ciara Sutherland of WNCT wrote, "Could President Biden falling asleep be due to other health issues?"
He fell asleep during a COP26 lecture in Scotland. Well, I slept through a few classes 50 years ago. Also jetlag affects people of all ages.
But she persisted.
She wrote, "Although, Biden's goal is to raise national awareness of Alzheimer's disease it seems as though he may be raising awareness of his own underlying health issues."
I am sorry, but I cannot square a mentally incapacitated old man with winning the White House without campaigning. Biden's strategy of presenting himself as The AntiTrump and stuffing the ballot box with mailed-in ballots worked. Whether someone else came up with it or not, Biden pulled it off.
He is now 10-0 in races against Republicans, including knocking off an incumbent senator in his first race.
The Chin played mental illness to avoid prison for decades. Why wouldn't another crook like Biden make it work?