The jury acquitted Kyle Rittenhouse of all charges of shooting three rioters in Kenosha, Wisconsin. His was clearly an act of self-defense. A cowardly prosecutor and a Stalinist media failed to railroad the teenager.
The media is beside itself.
CNN reported
, "The events of that night, almost all captured on video, were hardly in dispute, but the 12-person jury sided with the now 18-year-old teen who said that he was defending himself."
Oh?
Hardly in dispute?
A still photo used in the trial showed a rioter attacking Rittenhouse.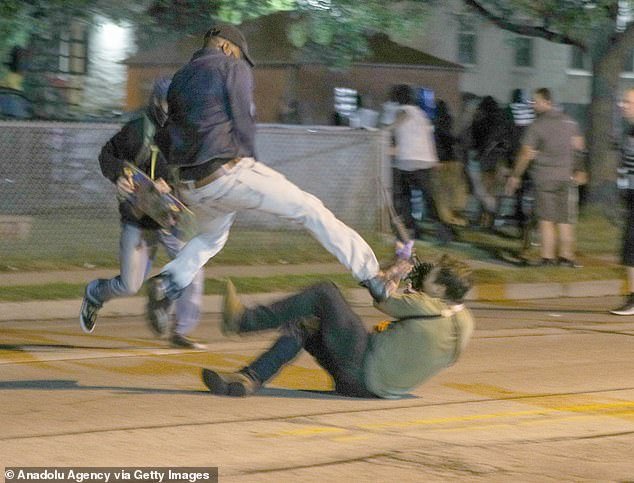 The media would have preferred Rittenhouse to be stomped to death. The man stomping him was not shot -- nor charged even though he has been identified.
The Post Millennial tweeted, "After the Rittenhouse verdict, MSNBC cuts to Jacob Blake's uncle speaking. Except it's not Jacob Blake's uncle at all. This entire trial has been HUGE embarrassment for MSNBC."
Well, "they" all look the same to racists.
A cop stopped Jacob Blake's attempted abduction of children (including his own) with seven bullets. This was the excuse used for the riots. The media promoted the uncle as an oracle for racial justice. Never mind that Rittenhouse is white as were the three men he shot.
MSNBC tweeted, "The jury's decision in the Kyle Rittenhouse trial was a dangerous endorsement of a violent vision."
NBC reported, "Kyle Rittenhouse found not guilty on all counts.
"The nearly all-white jury deliberated homicide charges against the Illinois teen in the shooting deaths of two men at a 2020 protest in Kenosha, Wisconsin."
USA Today reported, "The Rittenhouse case garnered national attention from the beginning, a reflection of the country's division over race, guns and politics."
The county is 88% white. The defendant is white. The men he shot were white. But the media has to follow Biden's "white supremacists" narrative or their corporate bosses will be angry.
CNBC reported, "Blake's shooting itself came three months after the Minneapolis police killing of George Floyd, another black man, ignited protests nationwide and demands for reform of police departments.
"Those, in turn, led to a backlash among conservatives, including then-President Donald Trump, who condemned protestors."
Protestors? They were rioters. The night the men attacked Rittenhouse, other rioters burned down a used car lot destroying $2.5 million worth of vehicles.
AP went total SJW, writing, "Kyle Rittenhouse was acquitted of all charges Friday after pleading self-defense in the deadly Kenosha shootings that became a flashpoint in the debate over guns, vigilantism and racial injustice in the U.S."
Since when is defending yourself vigilantism?
One of his assailants had a gun.
The media did not play the shooting of Blake, the riots, or this trial straight. Lies sell in America. Expect more because these liars have learned nothing from this ordeal.