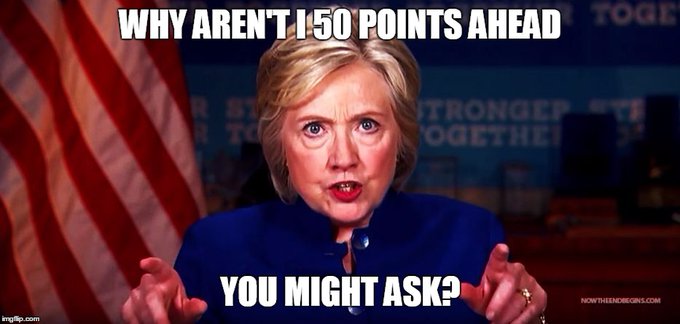 Hillary went on Rachel Maddow's show to drum up support for Biden. He must be real desperate for support if he needs her to prop him up.
She made the why-aren't-I-50-points-ahead argument for Biden, even though everything he has done -- from immigration to Afghanistan to the economy -- has turned into dog doo.
Maddow brought up the January 6 protest in the Capitol, in which a few hundred Trump supporters and FBI plants entered a public building. The protest took the camera off the 100,000 people gathered at the National Mall for Trump's March on Washington.
Hillary's reply was long.
She began, "Well, I think it points us in the direction that we go when our better angels are leading us, and that is understanding, human nature being what it is, we do need boundaries. We need guardrails. We need to have an understanding amongst this great pluralistic country of ours that if we're all going to get ahead we all had better be much more sensitive to, understanding and empathetic toward each other, and that particularly applies to people of color, minority groups of all kinds, because we truly rise or fall together."
Guardrails?
Says who?
The Constitution places guardrails on the government -- not on the people. We have a Capitol Police force of 2,200 protecting 535 members of Congress. That's monarchal. It also is hypocritical in that half those members want to defund the local police.
She said, "we've had leaders who have risen to those occasions, who have certainly done their best, both to inspire us and create the right environment for us to, you know, look past our differences and find our common humanity, our common ground, and we've had laws passed that try to create those structures, those guardrails, those prohibitions against mistreatment of each other."
Again with the guardrails.
We already have laws that protect us from crime. Democrats in city after city ignore them. They let roving mobs of rioters burn and sack small businesses in town after town. We saw in Kenosha that violent felons attacked a 17-year-old. Fortunately he had a rifle and was able to fend off the zombie-like attack.
Then she said, "I think we're really on the precipice, Rachel, of seeing people, particularly in the Republican Party, but not only there, who truly just want power, power to impose their views, power to exploit financial advantage, power to implement a religious point of view. We see all of that converging."
Translation: Republicans are now doing what Democrats have done all along.
She said, "You know, democracy is messy. You know, a lot of people got, oh, I think kind of frustrated looking at the messy process of legislation, and they — they didn't really appreciate that within a year, the Biden administration has passed two major pieces of legislation through both the House and the Senate. They passed another major piece through the House that will soon be in the Senate.
"By any measure, those are extraordinary accomplishments, and they really will help many millions of Americans with health care and prescription drug prices as well as climate change and so much else.
"But because of the way we are getting our information today and because of the lack of gatekeepers and people who have a historic perspective, who can help us understand what we are seeing, there is a real vulnerability in the electorate to the kind of demagoguery and disinformation that, unfortunately, the other side is really good at exploiting."
Now we know why Biden is not 50 points ahead. It is the lack of gatekeepers! We need guardrails!
Never mind the inflation, the invasion along our southern border, or the surrender of Afghanistan along with $90 billion in equipment and cash. He should be 50 points ahead because of Bidencare and climate change.
Hillary missed the whole point, which is why she was a monumental failure as a presidential nominee.
Biden's failures all stem from one source: his obdurant obsession with undoing everything President Trump accomplished.
The actual President Clinton would have been savvy enough to keep Trump's policies and take credit for their success. And a compliant corporate media would have gladly credited him.