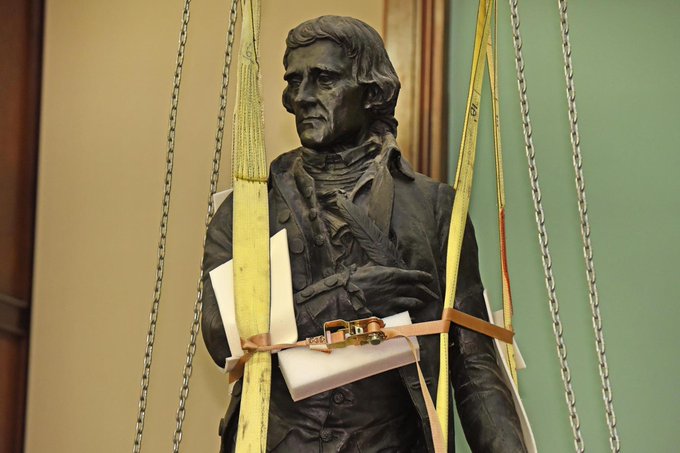 ITEM 1: The New York Post reported, "Art handlers packed up an 884-pound statue of Thomas Jefferson in a wooden crate Monday after a mayoral commission voted to banish the likeness of the nation's third president from City Hall where its resided for nearly two centuries — because he owned slaves.
"About a dozen workers with Marshall Fine Arts spent several hours carefully removing the painted plaster monument from its pedestal inside the City Council chambers and surrounding it with sections of foam and wooden boards.
"They then lowered the massive structure down the stairs leading to the building's first-floor rotunda with a pulley system and ushered the Founding Father out the back door."
New Yorkers no longer believe all men are created equal.
Neither does a news media that capitalizes black but not white.
ITEM 2: Pocahontas Warren announced she "sent a letter to Jonathan Kanter, Assistant Attorney General of the Antitrust Division, calling on the Department of Justice to investigate major poultry companies' anticompetitive practices that have lined the pockets of executives and shareholders while raising prices for families at the grocery store ahead of Thanksgiving. The price of turkey has increased by 24% over the past year, far outpacing other Thanksgiving foods, while poultry prices soared to all-time highs this year. Poultry is one of the most heavily concentrated industries with the dominant "Big Four" poultry companies — JBS Foods, Tyson, Perdue, and Sanderson — holding a combined 54% of the market. In her letter, Senator Warren called out big poultry companies' corporate greed and urged the DOJ to investigate schemes to eliminate small competitors while raising prices for consumers, cutting pay for American farmers, and reporting massive profits."
Washington wants to blame others for its inflationary policies.
If you can't beat them, join them. I now will blame the cat for all my typos.
ITEM 3: National Geographic reported, "for many Native Americans, the holiday invokes a legacy of racism, violence, genocide, and mistreatment. In the 1970s, right around the bicentennial of the U.S., Native people began to gather on the holiday to hold a day of mourning instead—a tradition known as Unthanksgiving Day."
But Warren — the first American Indian to teach law at Harvard — celebrates Thanksgiving!
Doesn't that make her an Uncle Tomtom?
OK, Aunt Tomtom.
ITEM 4: AP reported, "An Iowa law that prohibits Medicaid coverage for sex reassignment surgeries for transgender residents violates state law and the state constitution, a judge ruled in a decision made public Monday.
"Judge William Kelly ordered the Iowa Department of Human Services to provide coverage for sex reassignment surgeries when ordered to treat gender dysphoria, a psychological distress that results from an incongruence between one's sex assigned at birth and one's gender identity. It often begins in childhood, and some people may not experience it until after puberty or much later, according to the American Psychiatric Association."
The Lord does not make mistakes.
Judges do.
ITEM 5: Sean Davis tweeted, "Twitter Suspended Me For Saying Kyle Rittenhouse Did Nothing Wrong—After His Acquittal."
Repeal Section 230, which shields the online oligarchs from accountability.
ITEM 6: Life News reported, "Texas can keep saving unborn babies from abortions for the time being.
"Abortion activists had hoped that Monday would be the day when the U.S. Supreme Court would issue a ruling about the Texas heartbeat law. At 10 a.m., however, the court published only one opinion for the day, an unrelated case about water rights, according to SCOTUS Blog.
"That means the life-saving Texas law will remain in effect."
To those seeking to repeal the ban I say, time plus no answer equals no.
ITEM 7: AP reported, "Kevin Spacey and his production companies must pay the studio behind 'House of Cards' more than $30 million because of losses brought on by his firing for sexual misconduct, according to an arbitration decision made final Monday.
"A document filed in Los Angeles Superior Court requesting a judge's approval of the ruling says that the arbitrators found that Spacey violated his contract's demands for professional behavior by 'engaging certain conduct in connection with several crew members in each of the five seasons that he starred in and executive produced House of Cards.'"
So they fire him and then collect $30 million for the money they lost by firing him.
ITEM 8: Christian Toto reported, "J.K. Rowling Stands Tall After Doxxing, Endless Death Threats.
"'Harry Potter' author stares down new, deadly strain of Cancel Culture."
Sorry. The British Buttinsky trashed Trump. Not my team, not my player, not my care.
ITEM 9: Just the News reported, "More than a dozen families of the 17 victims in the Parkland, Fla., 2018 school shooting have settled with the Department of Justice in a lawsuit they filed after the FBI had failed to act on tips regarding the shooter.
"'The parties hereby advise the Court that they have reached an agreement to settle all of the claims at issue' after three years of litigation, CNN reported.
"The amount of the settlement has yet to be finalized."
The FBI was too busy spying on Obama's political enemies (it did not stop with Trump) and setting up traps to bother with doing its real job.
Abolish the FBI.
ITEM 10: The Milwaukee Journal-Sentinel cataloged the crimes of Darrell Brooks Jr., 39, the man charged with five murders after driving a speeding red SUV into the Waukesha Christmas Parade.
The paper said, "He has been charged with crimes 10 times since 1999, when Brooks pleaded guilty at 17 years old to a felony charge of inflicting substantial bodily harm against another person, according to court records. He also has been cited for traffic and disorderly conduct offenses.
"A decade ago, during a traffic stop, a Milwaukee police officer jumped inside Brooks' car, fearing he was about to be run over. The officer had pulled him over for not wearing a seat belt. As Brooks began to drive away while the officer was talking to him, the officer got inside the car and wrestled for control of the steering wheel.
"Eventually, the officer was able to stop the car and removed the keys. Brooks ran away from the car, court records say, and he was arrested hiding in a children's playhouse in the same block. He later pleaded guilty to a misdemeanor charge in that case.
"More recently, Brooks was charged in July 2020 with two felony counts of second-degree recklessly endangering safety and possession of a firearm by a felon. He was accused of getting into a fight with a relative and then firing a gun at the relative and a friend, according to court records."
He sounds nice.
ITEM 11: CNN blamed the SUV.
It tweeted, "5 people have died and more than 40 are injured after an SUV ploughed through a holiday parade in Waukesha, Wisconsin, according to city officials."
Those darned SUVs. We should license drivers and make them register their SUVs....
ITEM 12: Sean Davis followed up on the departure of Never Trumpers Steve Hayes and Jonah Goldberg from Fox.
Davis tweeted, "LOL. They didn't quit because of Tucker. They didn't even really quit. Fox planned on getting rid of them because the audience hated them for being dishonest left-wing grifters who were wrong about everything."
Hayes and Goldberg are the founders of the Never Right.
Meanwhile, Media-ite reported, "Bret Baier and Chris Wallace Reportedly Protested to Fox News Leadership About Tucker Carlson's Patriot Purge."
Two more Never Righters.
ITEM 13: The New York Post reported, "The Knicks and their fans won't be seeing LeBron James at Madison Square Garden on Tuesday.
"The Lakers star was suspended one game for his role in a bloody altercation with the Pistons' Isaiah Stewart during the third quarter of the teams' game on Sunday, the league announced Monday. Stewart was suspended two games."
The bloody altercation was LBJ punching Stewart in the face. The message is clear: start the fight and you get half the suspension your victim gets.
Hahaha.
The NBA is a farce that sold out to Red China.
ITEM 14: Newsday reported, "Mount Sinai closes Long Beach ER due to shortage of vaccinated nurses, officials say."
We have to get everyone vaccinated even if that means firing the unvaccinated because we do not want the hospitals to shut down.
ITEM 15: The Reload reported, "Support for gun control has fallen again.
"That's according to a new poll from Quinnipiac, which found 49% of adults oppose new gun laws, compared to 46% of those who say they support further restrictions. The findings mark the first time since 2015 that fewer than 50% of voters expressed support for new restrictions to Quinnipiac pollsters.
"The findings are just the latest evidence of a broad shift against gun control among the American people. Last week's poll from Gallup showed a similar drop in public support for stricter gun laws, and a recent Morning Consult poll found voters now trust Republicans more than Democrats on the issue of gun policy."
Gun ownership is rising, too.
That is good news.
ITEM 16: Zero Hedge reported, "The Australian army has begun forcibly removing residents in the Northern Territories to the Howard Springs quarantine camp located in Darwin, after nine new Covid-19 cases were identified in the community of Binjari. The move comes after hard lockdowns were instituted in the communities of both Binjari and nearby Rockhole on Saturday night."
9 cases.
Not deaths, cases.
Quarantine camp. Maybe the entrance has a sign with an encouraging message, "Arbeit macht frei."
ITEM 17: KXAN reported, "Samsung Electronics Co. is set to announce plans to build a $17 billion chipmaking plant in Taylor, Texas, the Wall Street Journal reported Monday.
"Samsung previously indicated in its application filings that it wanted to start construction in January."
1,800 jobs.
Go for it!