Dirt called. Where's the 78?
ITEM 1
: Speaking of older than dirt, Democrat Patrick Leahy won't seek a ninth term in the Senate.
American voters talk a good game about term limits, but keep re-electing the likes of Biden, Byrd, and Kennedy.
Quit watering the swamp!
ITEM 2
: Comcast's NBC has a strange definition of diversity.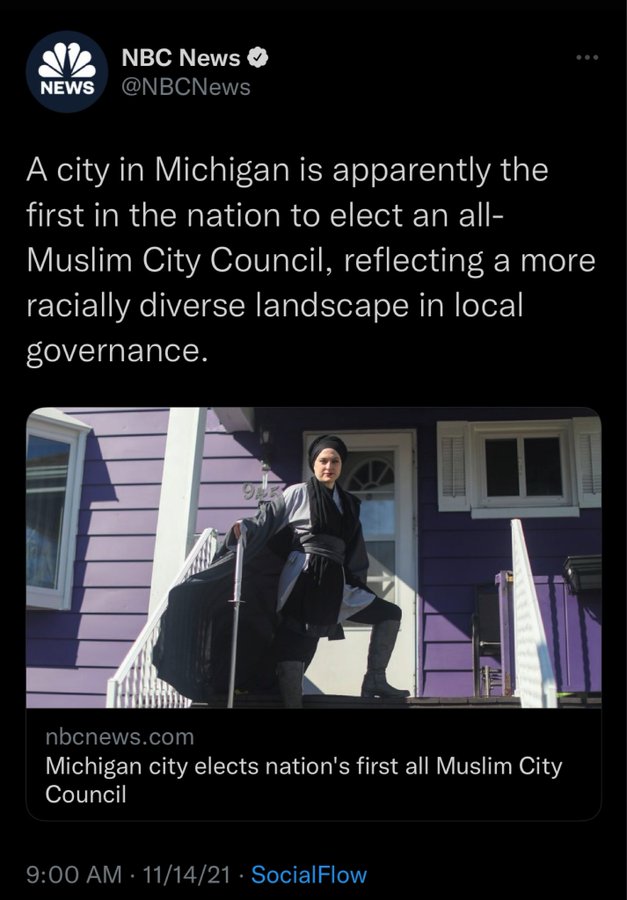 How is this diverse if everyone is Muslim?
Oh wait. To our corporate communist overlords, diversity means no whites.
ITEM 3: AP reported, "A judge denied mistrial requests Monday at the trial of three white men charged with murdering Ahmaud Arbery after defense attorneys claimed jurors were tainted by weeping from the gallery where the slain black man's parents sat with the Rev. Jesse Jackson.
"The morning's testimony was largely disrupted by arguments outside the jury's presence over Jackson's appearance. The judge said he found one defense lawyer's complaints last week about black pastors to be reprehensible and no group would be excluded from his courtroom.
"Father and son Greg and Travis McMichael armed themselves and pursued the 25-year-old in a pickup truck after spotting him running in their neighborhood on Feb. 23, 2020. Their neighbor William 'Roddie' Bryan joined the chase and took cellphone video of Travis McMichael shooting Arbery three times with a shotgun.
"Tensions flared in the courtroom Monday morning soon after Jackson sat in the back row of the courtroom between Arbery's parents. Defense attorney Kevin Gough asked the judge to make the civil rights leader leave to avoid unfairly influencing the jury."
Like gasoline over troubled water.
He will burn you down.
I remember when Citizen's Arrest was a joke on "The Andy Griffith Show." We ain't in Mayberry, Opie.
ITEM 4: Just the News reported, "The ACLU has weighed in on the recent FBI raid of Project Veritas founder James O'Keefe home in connection with the diary of Ashley Biden, daughter of President Joe Biden.
"'Unless the government had good reason to believe that Project Veritas employees were directly involved in the criminal theft of the diary, it should not have subjected them to invasive searches and seizures,' wrote senior American Civil Liberties Union staff attorney Brian Hauss.
"Project Veritas, an undercover journalism group, came into possession of the diary when Biden was running for president in 2020 but purportedly tried to return it to law enforcement because its authenticity couldn't not be proved. O'Keefe has said he believed at the time the diary was not illegally obtained."
My hunch is the FBI gave it to Project Veritas in an entrapment as the FBI did in Abscam, DeLorean, Russiagate, January 6, et cetera, et cetera.
Remember the words of Marion Barry: "Bitch set me up."
ITEM 5: France's AFP reported, "China kept silent Monday over growing concern for tennis star Peng Shuai, who has not been heard from since accusing a powerful politician of sexual assault -- the first time the #MeToo movement has struck at the top echelons of the ruling Communist Party."
The first and the last time.
America's Maoist feminists want you to believe Handmaid's Tale was about Trump. No, toots, totalitarians are the ones who treat women like toilet paper.
ITEM 6: Fox reported, "After saying she couldn't comment specifically on the murder trial of 18-year-old Kyle Rittenhouse, White House press secretary Jen Psaki declared Monday that President Biden disavows 'vigilantes patrolling our communities with assault weapons.'"
Notice they do not denounce rioters who are tearing up our communities.
During the campaign, Biden called Rittenhouse a white supremacist.
For shooting three white people.
ITEM 7: What do you call a man who points a rifle at the audience in a courtroom with his finger on the trigger.
ANSWER: Kenosha Assistant District Attorney Thomas Binger.
Hey, SNL, hire Binger to play the lead when you finally get around to mocking Alec Baldwin.
ITEM 8: AP reported, "The Wyoming Republican Party will no longer recognize Liz Cheney as a member of the GOP in its second formal rebuke for her criticism of former President Donald Trump.
"The 31-29 vote Saturday in Buffalo, Wyoming, by the state party central committee followed votes by local GOP officials in about one-third of Wyoming's 23 counties to no longer recognize Cheney as a Republican.
"In February, the Wyoming GOP central committee voted overwhelmingly to censure Cheney, Wyoming's lone U.S. representative, for voting to impeach Trump for his role in the Jan. 6 riot at the U.S. Capitol."
The vote came after a debate between Cheney and Daffy Duck.
Trump Season.
RINO Theathon.
Trump Season.
RINO Theathon.
Trump Season.
Thrump Theathon.
RINO Season.
Bam!
ITEM 9: Politico reported, "GOP support for bipartisan infrastructure bill plummets."
Just 22% of Republicans support the RINO-approved bill.
Maybe if the infrastructure bill included finishing the wall next year, Republicans might support it.
Might.
ITEM 10: The Hill reported, "The Supreme Court on Wednesday wrestled with where to draw the line between a town's right to restrict garish billboard ads and constitutional free speech protections."
Towns have no such rights.
Towns are dutybound to protect free speech.
Justice Thomas said in the hearing, "[If the sign read] 'Our hamburgers are great, but if you want great barbecue, go to Franklin's' … that sign would not be acceptable under this ordinance, right? But if I were at Franklin's, I could say 'Eat at Franklins'?
"I don't understand how that's not content-based if I could say 'Eat at Franklin's' if I'm at Franklin's, but I can't say it if I'm at McDonald's or some other place."
The town in this case is Austin, Texas. Small wonder it is a weird ordinance.
ITEM 11: The Committee for a Responsible Budget announced, "We estimate the House Build Back Better Act includes roughly $2.4 trillion of spending and tax cuts along with roughly $2.2 trillion of offsets. However, the bill relies on a number of sunsets and expirations to keep the official cost down. If the plan's temporary policies were made permanent, we find the cost would increase by as much as $2.5 trillion. As a result, the gross cost of the bill would more than double from $2.4 trillion to $4.9 trillion.
"The Build Back Better Act relies on a number of arbitrary sunsets and expirations to lower the official cost of the bill. These include extending the American Rescue Plan's Child Tax Credit (CTC) increase and Earned Income Tax Credit (EITC) expansion for a year, setting universal pre-K and child care subsidies to expire after six years, making the Affordable Care Act (ACA) expansions available through 2025, delaying the requirement that businesses amortize research and experimentation (R&E) costs until 2026, and setting several other provisions – from targeted tax credits to school lunch programs – to expire prematurely.
"Excluding changes to the state and local tax (SALT) deduction, we estimate the Build Back Better Act would cost $2.1 trillion as written. We estimate making all of these temporary policies permanent would cost roughly $2.2 trillion, more than doubling the gross cost of the bill to $4.3 trillion through 2031."
Biden is building back better:
Inflation.
Corruption.
Big government.
He does not suffer dementia. He is just pure evil.
ITEM 12: CNN reported, "The U.S. strongly condemned a Russian anti-satellite test on Monday that forced crew members on the International Space Station to scramble into their spacecraft for safety, calling it a reckless and dangerous act and saying that it won't tolerate behavior that puts international interests at risk."
What are we going to do? Hold our breath till we turn blue?
Biden is an embarrassment.
ITEM 13: Ars Technica reported, "The mayor of a small city in Maryland today was arrested and charged with 50 counts of distributing revenge porn on Reddit, the Maryland state prosecutor's office announced.
"Cambridge Mayor Andrew Bradshaw, 32, 'created multiple accounts on the public Internet forum 'Reddit,' employing public usernames consisting of permutations of the name and birthdate of a person, identified as Victim-1, who had a past romantic relationship with Mr. Bradshaw,' the announcement said. Bradshaw allegedly 'posted nude photographs of Victim-1, captioned with racial slurs and sexually explicit language, on those Reddit accounts and various Subreddit forums that were related to sexual activity, humiliation, degradation, race, and other topics.
"Each of the 50 counts carries a maximum penalty of two years in prison and a fine of $5,000. Police had executed a search and seizure warrant at the mayor's office in City Hall on August 4."
If true, he has a lot of problems. Maybe a few years in prison will give him time to think about what he did.
Plus it will keep him off the Internet.
ITEM 14: Just the News reported, "A teacher who has sued a Missouri school district over the use of critical race theory training materials says she fears school districts are trying to drive a wedge between parents and their children and make educators afraid to dole out discipline.
"Brooke Henderson is trying to force the Springfield, Mo., school district to drop training materials she was subjected to last year that instructed teachers that they might be engaged in oppressive or white supremacist behavior simply by insisting on using English in the classroom, uttering that "all lives matter" or calling police on a black suspect. Just the News obtained the training materials for a story it wrote this week.
"Henderson told the John Solomon Reports podcast in an interview Monday that she became concerned that the training materials were designed to influence teachers to portray adults as oppressors, undercutting parents' authority with their children."
Henderson is singing our song:
Hey, teacher!
Leave those kids alone.
ITEM 15: Josh Kraushaar tweeted, "The Times of London allows you to subscribe online but requires you to call international long distance to cancel."
Or you can save money by flying to London to cancel in person.
Oh.
Have you ever noticed how many publications that oppose Trump's wall have a paywall?

FINALLY, I had to look up what an Angry Pirate is. Don't bother, It is stupid.
But this throwback clip is hilarious.
The best part is when the DJ says, "Why you laughing? She is outraged!"