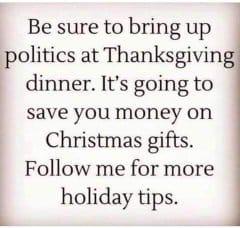 Happy Thanksgiving. The Lord has blessed me in so many ways. I am grateful for our grandson, our children, our son-in-law and our daughter-in-law, and for my many, many readers. I won the lottery when I was born in America, and I hit the jackpot when I married Lou Ann.
Still want a Bentley. That mean old wife won't let me buy one.
ITEM 1: Via Paul Bedard, Rasmussen announced, "Only 69% of those who say they voted for Biden last year would vote for him again if the election were held today. And 8% of Biden's 2020 voters would switch to Trump, who would get 83% support from those who voted for him last year."
I don't recall any Trump supporters saying they regretted the vote a year later.
Nearly a third of Biden voters do.
Overall, the poll said for 2024 it's Trump 45%, Biden 32%.
ITEM 2: Faith Karimi of CNN wrote, "Why some US cities are facing a spree of 'smash-and-grab' crimes."
She blamed police. ("Such cases aren't always a priority for law enforcement.")
She blamed the courts. ("Thieves may face few consequences.")
She blamed Santa Claus. ("The holidays provide more opportunities for theft.")
She blamed ecommerce. ("There are numerous places to sell stolen items.")
She did not blame the looters. In fact, loot, looting, and looters were not used in her story.
ITEM 3: TMZ reported, "Arizona Cardinals' defensive end J.J. Watt is stepping up in a major way by offering to pay for the funeral expenses of all the victims of the Waukesha Christmas parade tragedy.
"Watt was devastated after learning of the deadly incident calling it horrific and expressing concern for those who had been injured and killed.
"The incident hits close to home for Watt, especially since he's a Wisconsin native and Badger alum. He also went to high school in nearby Pewaukee, just a few miles from Waukesha."
He is a good man.
The story reminded us, "In 2018, he also offered to cover the funeral costs of the people who died in the Santa Fe High School shooting, and he raised $37 million in an effort to help rebuild Houston and the Gulf region after they had been ravaged by Hurricane Harvey."
Hall of Fame talent, Hall of Fame heart.
ITEM 4: I got nothing.
ITEM 5: AP reported, "Hours after being tapped as Sweden's first female prime minister, Magdalena Andersson resigned Wednesday after suffering a budget defeat in parliament and her coalition partner the Greens left the two-party minority government."
A one-day wonder.
Kim Kardashian's second marriage lasted longer.
ITEM 6: Robby Starbuck reported, "A pilot at Southwest tells me the company just approved their vaccine exemption and all the exemptions from other pilots they know on the same day. Automakers also just agreed with unions to not require the jab. We're winning. Biden's medical segregation policy is falling apart."
The mandate is not only unconstitutional, it is ineffective in stopping a virus.
ITEM 7: The Epoch Times reported, "A Missouri judge on Tuesday ruled that local COVID-19 orders violated the Missouri Constitution, ordering local health officials to rescind them.
"Judge Daniel Green of Cole County wrote that the Department of Health and Senior Services unconstitutionally gave too much power to individual local health officials and directors. As a result, he ruled, those orders must be lifted, meaning that local health orders must be rescinded."
MMF.
Make Missouri Florida.
ITEM 8: AP reported, "A former Kansas police detective, who last year sued a sheriff's deputy for running over him in a rural field, has been fatally shot by a police officer in Kansas City after disarming another officer and pointing the service weapon at both of them, police said Tuesday.
"Lionel Womack was killed during the encounter Monday after police received 911 calls about a man standing in a road pointing at the sky and trying to jump in front of traffic."
Suicide by cop.
Sad.
ITEM 9: Time magazine reported, "A jury on Wednesday found three white men guilty of murder, aggravated assault and false imprisonment in the shooting death of Ahmaud Arbery, an unarmed Black jogger who was chased down by the defendants as he jogged through their neighborhood.
"Travis McMichael, 35, his father Gregory McMichael, 65, and their neighbor William Roddy Bryan Jr., 55, were convicted of nearly all the charges they faced. The younger McMichael was found guilty of malice murder, the most serious of the charges each man faced; Gregory McMichael and Bryan were acquitted of that charge but convicted of felony murder. All three men were found guilty of aggravated assault, false imprisonment and criminal intent to commit a felony.
"As the first of many guilty verdicts was read out in the courtroom, someone in the spectator section let out a loud Whoop!
"The jury had deliberated for just two days before reaching a verdict. All three men face possible death sentences or life imprisonment with or without the possibility of parole."
Execute, execute, execute.
And by year's end.
ITEM 10: CNBC reported, "Fed members ready to raise interest rates if inflation continues to run high, meeting minutes show."
But that will hurt the stock market. Oh noes! Think of the billionaires who will be downgraded to multi-millionaires.
ITEM 11: The Epoch Times reported, "Sen. Joe Manchin (D-W.Va.) is asking President Joe Biden to restart construction of the Keystone XL pipeline as gas prices continue to skyrocket across the country."
When Manchin loses the Senate race in 2024, President DeSantis should appoint him energy secretary. Manchin knows his stuff on energy, and his gubernatorial experience should serve him well in running a federal agency.
ITEM 12: AP reported, "A university professor in Virginia announced Wednesday they will resign in the wake of threats made over their recently published book, which includes interviews of more than 40 adults who are sexually attracted to minors.
"The book argues that destigmatizing that attraction would allow more people to seek help and develop coping strategies against committing crimes and ultimately prevent child sexual abuse.
"'That research was mischaracterized by some in the media and online, partly on the basis of my trans identity,' Old Dominion University professor Allyn Walker said in a statement."
I have one question for Professor Nambla: Who hurt you when you were a child?
ITEM 13: Axios reported, "President Biden will start turning asylum seekers back to Mexico as soon as next week under a reinstated Trump-era Remain in Mexico program — but will offer them the option to receive the covid-19 vaccine, Axios has learned.
"Why it matters: Under court orders, the president will officially undo a key immigration promise, which will force asylum-seekers to wait months in Mexico ahead of their immigration court hearings in the U.S. — as long as Mexico accepts them."
Trump got Mexican cooperation by telling them they either did it or he would slap a tariff on them.
They said "si senor" before the phone call ended.
ITEM 14: Newsweek reported that BLM leaders distanced themselves from Kyle Rittenhouse after he said he supports BLM.
The group has not distanced itself from longtime supporter Darrell E. Brooks Jr., who plowed into a Christmas parade. He killed 6 people and injured scores of others. He's a violent career criminal and sex offender.
To Rittenhouse, I ask, what do you expect from a racist terrorist group? "Welcome, sonny"? "Make yourself at home"? "Marry my daughter"? You've got to remember that these are just simple looters. These are people of the streets. The common clay of urban America. You know. Morons.
ITEM 15: Just the News reported, "Representative Marjorie Taylor Greene (R-Ga.) introduced a bill on Tuesday to award the Congressional Gold Medal to Kyle Rittenhouse, saying that he "protected the community of Kenosha, Wisconsin, during a Black Lives Matter (BLM) riot on August 25, 2020."
"The medal is the highest honor that Congress can bestow upon a person or institution.
"The bill has no cosponsors."
Ah, the things you can do when they don't give you a committee assignment.
ITEM 16: Axios reported, "Five Democratic senators have told the White House they won't support Saule Omarova to head the Office of the Comptroller of the Currency, effectively killing her nomination for the powerful bank-regulator position."
She's a 1989 graduate of Moscow State University.
Why are we importing a Soviet communist when we have so many domestic ones to chose from?
ITEM 17: Newsweek reported, "As The Salvation Army launches its Red Kettle Campaign this holiday season, some of its long-time donors are withdrawing their support from the 156-year old charitable organization citing its newly embraced 'woke' ideology as the reason.
"Of great concern to loyal supporters and faithful Salvationists is the initiative dubbed 'Let's Talk About Racism.' In a nutshell, its curriculum outlines the Christian church's alleged racial collusion and provides action steps to analyze and combat racism through an 'anti-racist' lens while incorporating Critical Race Theory."
Sigh.
Sooner or later covid-CRT contaminates everything good in the world, doesn't it?
ITEM 18: The New York Post reported, "The man accused of randomly shooting a 13-year-old boy in the Bronx had posted bail in a gun case just months earlier — while also being out on parole for a weapons conviction, according to officials and records.
"Hubert Wiggs' prior arrests were revealed after the chilling Tuesday attack, which NYPD Assistant Chief Kenneth Lehr said 'should not have happened.'"
Democrats want a rapid increase in violent crime because every thing they do increases crime.
ITEM 19: Time reported, "JPMorgan Chase chief Jamie Dimon knew as soon as the words came out of his mouth that the joke about China could land him in hot water.
"'I was just in Hong Kong, I made a joke that the Communist Party is celebrating its 100th year. So is JPMorgan. And I'll make you a bet we last longer,' he said on Tuesday at a Boston event. Then he added: 'I can't say that in China. They probably are listening anyway.'
"Dimon, no stranger to brashness, also knew the bank would have to engineer a hasty retreat. Soon, members of the firm's government-relations team and China offices were corralled to discuss the remarks and decide whether to acknowledge them or let them lie. Some 18 hours later, when it became clear that the comments attracted global attention, Dimon issued a statement of regret."
Well, that certainly makes clear who runs JPMorganChase.
And it ain't Dimon.
FINALLY, a reader wrote, "You mentioned you put the top down sometime in pics and drove around. Got me to thinking ...damn, I'd like rag top. But I already have 3 cars ( I know don't ask) and no real room to park another but not if it's on water. So me and my buddy Capt Jack went and bought 'Rag Top' a 1980-ish Precision 21. Nothing cheaper than a 40 year old sailboat."
I love it!
T
I say T-O
T-O-P
T-O-P-P
Top
T-O-P-P
Top Top Top Top
R
I say R-A
R-A-G
R-A-G-G
Rag
R-A-G-G T-O-P-P
Rag Top