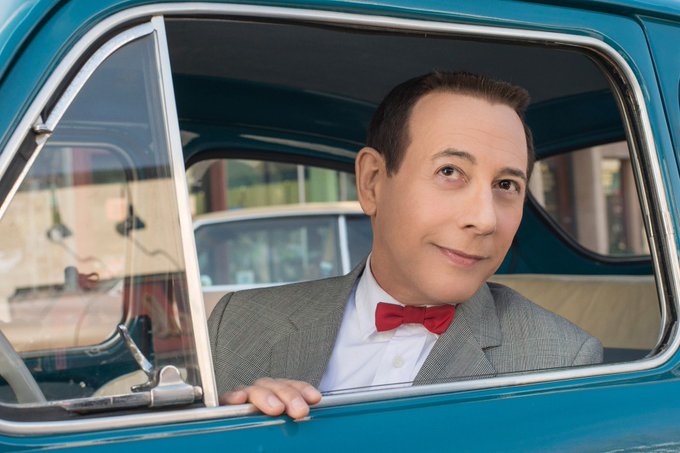 ITEM 1: The New York Post reported, "The creator of 'Pee-wee's Playhouse' and star of 'Pee-wee's Big Adventure' will soon embark on a new big adventure, as host of his very own radio show on Los Angeles station KCRW-FM (89.9)."
FM?
Put him on AM because we need some static. This century is the pits.
ITEM 2: The Daily Wire reported, "Chinese dissident Ai Weiwei, a famed artist and activist, warned Americans during an interview that aired late last week that they are already under the control of an authoritarian state, they just don't realize it yet.
"Weiwei said that the situation in China has become 'more extreme, in terms of censorship, in terms of their tolerance to dissidents.' He later added that he was not hopeful for China's future given the direction that China is going.
"Later, when asked about authoritarianism in the U.S., Weiwei said 'certainly, in the United States, with today's condition, you can easily have an authoritarian.'
"'In many ways, you're already in the authoritarian state,' he said. 'You just don't know it.'
"When asked how so, he responded, 'Many things happening today in U.S. can be compared to Cultural Revolution in China.'"
Duh.
We put Maoists in charge of our universities and elected a Maoist president in 2008. What do you expect from that? Liberty? Peace? Prosperity?
ITEM 3: The Washington Free Beacon reported, "Ferguson Police Say They Have No Idea What Cori Bush Is Talking About. 'Squad' member said 'white supremacists' shot at Ferguson protesters."
It never happened.
But Democrats lie with impunity.
ITEM 4: WGN reported, "California Democratic Rep. Jackie Speier announced that she will not seek reelection in 2022, adding to a Democratic exodus that is expected to grow as members expect Republicans to win control of the House next year."
She survived the Jonestown ambush. She was shot 5 times. Politics aside, that's one tough cookie.
May she have a long, healthy retirement in a place other than California, which she will have represented for 14 years.
ITEM 5: France's AFP reported, "Abu Dhabi's national oil company announced Tuesday a $6 billion investment in crude oil drilling as it ramps up production capacity.
"The announcement comes a day after the United Arab Emirates (UAE) said a recent UN climate summit in Glasgow was a success but that the world needs to keep investing billions in oil and gas."
The success is getting Western countries to fall for the lie and switch to windmills and solar while everyone else makes economic progress by using coal, oil, and methane,
ITEM 6: Nellie Andreeva of Deadline reported, "Original 9-1-1 cast member Rockmond Dunbar is leaving the hit Fox drama series after more than four seasons. His character, Michael Grant, was abruptly written off in Monday night's episode, leaving fans of the first-responders drama stunned. According to sources, Dunbar's departure stems from the new Covid protocols on the show, produced by Disney TV Studios' 20th Television, which require all actors to be vaccinated.
"I hear Dunbar requested a medical exemption and later sought a religious exemption. Both were reviewed by Disney and were rejected, sources said. According to insiders, Dunbar is not believed to be anti-vaxxer but declined to comply with the Covid vaccine mandate based on the grounds he presented, which led to his exit from 9-1-1."
He should sue for wrongful termination because by the time it reaches a jury, we will have a court ruling that mandates are unconstitutional.
ITEM 7: The Washington Post, which conspired with Democrats in the Russian Collusion lie, said, "With Trump sidelined, the GOP has learned to enforce loyalty to Trumpism all by itself."
Name a Democrat who ever voted to impeach a Democrat president.
I will give you a hint. The answer is none.
ITEM 8: CNN reported, "In the search for workers in this tight labor market, companies have courted new hires with the promise of higher wages, sign-on bonuses, ample vacation time, and childcare.
"The latest: No vaccine required.
"That three-word phrase is popping up across online job listings (sometimes emphatically in all caps and accompanied by exclamation marks) as businesses seek to turn the federal government's proposed vaccine decree on its head and attract employees -- notably those from a talent pool that's been turned off by or turned away from employers that require a Covid-19 vaccination."
No vax? No problem. I got mine. You do you.
ITEM 9: The New York Post celebrated its 220th birthday on Tuesday.
It was founded by Alexander Hamilton in 1801 to support his wife and 8 kids.
ITEM 10: Post Millennial reported, "The mysterious Jump Kick Man talked about during the Kyle Rittenhouse trial, the man that was labeled as the one that stomped Rittenhouse's head when he fell to the ground, has been identified as a Kenosha man with an extensive criminal history spanning decades.
"Jump Kick Man was given the name during the second incident on August 25, 2020 that led to Rittenhouse fatally shooting Anthony Huber and wounding Gaige Grosskreutz. While running from a crowd of people, Rittenhouse tripped and fell. During this moment, Jump Kick Man allegedly ran up and stomped on the then 17-year-old's head."
Oh?
The story said, "The Dan O'Donnell Show has revealed that Jump Kick Man is a 40-year-old black male from Kenosha, Wisconsin. His name has been withheld 'as he has not been criminally charged in connection with the Rittenhouse case,' according to the radio show host."
Hmm.
The three white Democrat thugs who attacked Rittenhouse, who then shot them, all had criminal records, too.
Mainstream media knows this.
Mainstream media ignores this.
ITEM 11: Barron's reported, "The German city of Munich on Tuesday cancelled its upcoming Christmas market, which usually draws some three million visitors annually, citing Bavaria's "dramatic" coronavirus resurgence.
"'The dramatic situation in our hospitals and the exponentially increasing infection figures leave me no other choice: unfortunately, the Munich Christmas market cannot take place this year,' Mayor Dieter Reiter said in a statement. Many German Christmas markets were called off in 2020 because of the pandemic, but Munich is the first major one to do so this year."
Between the Muslims and the Faucists in charge, look for the burgermeisters to out-and-out ban Christmas next year.
ITEM 12: The Goldwater Institute announced, "Two Virginia moms who were silenced by the Fairfax County school district won a resounding victory in court Tuesday morning when a judge upheld their First Amendment rights and struck down the district's unconstitutional attempts to shut down their speech."
The announcement also said, "Fairfax County mothers Debra Tisler and Callie Oettinger wanted to know how their school district was spending taxpayer dollars, especially given that the county has been in national news about its recent legal troubles. Debra filed a Freedom of Information Act request to find out how much the district was paying for its legal bills, and after the Board turned over 1,300 pages of documents, Callie posted some of them on her website specialeducationaction.com, after deleting any potentially confidential information.
"Incredibly, the simple act of publishing public information online provoked a backlash from the school district, which sued Debra and Callie, demanding that they destroy the documents, remove them from their website, and replace them with heavily censored substitute documents. The reason: The district realized that the documents were embarrassing to school officials who have spent outrageous amounts of taxpayer money for legal representation and have been careless with private student information in the past."
The Goldwater Institute stepped in and won the case for them.
That should encourage others to push back.
ITEM 13: The Tribune reported, "In a demonstration meant to honor U.S. military veterans, students in Paso Robles High School's Conservative Club waved flags on campus for several hours — including one that said F--- Biden.
"Although most of the flags displayed by students on Nov. 10, the day before Veterans Day, were traditional star-spangled American flags, others included the one with the profanity-laced slogan, at least one Trump 2020 flag and a Gadsden flag featuring a rattlesnake and the words 'Don't Tread on Me' on a bright yellow background.
"Some community members expressed outrage that the students were allowed to display a flag with profanity on it for so long. The demonstration lasted for about four hours."
The profanity did not offend them. The flags did.
Jim Lynett, head of the local teachers union, a veteran, said, "These people do not speak for me, and when you disrespect our president and fly the flags we saw on January 6, you demonstrate your disdain for the rule of law and democracy."
One of those flags was the American flag. If that flag offends you leave.
The country.
ITEM 14: AP reported, "Biden touts infrastructure bill at snowy, rusty bridge in NH."
The federal government spent its way into $28 trillion in debt on top of collecting more than $3 trillion a year in taxes.
And still, bridges are rusting?
For shame, America. For shame.
Stop the welfare checks, the tax subsidies for electric cars, and all the other pork barrels thrown to their donor owners and fix the damned roads, bridges, dams, and sewers. We do not need an infrastructure bill that haphazardly fixes some of the stuff depending on which senator holds out his vote the longest. We need leadership.
ITEM 15: Nicholas Sandmann wrote, "The corrupt liberal media came for me, just like they came for Kyle Rittenhouse, and if he decides to sue I say go for it and hold the media accountable."
Amen.
ITEM 16: It is beginning to look a lot like FJB-mas.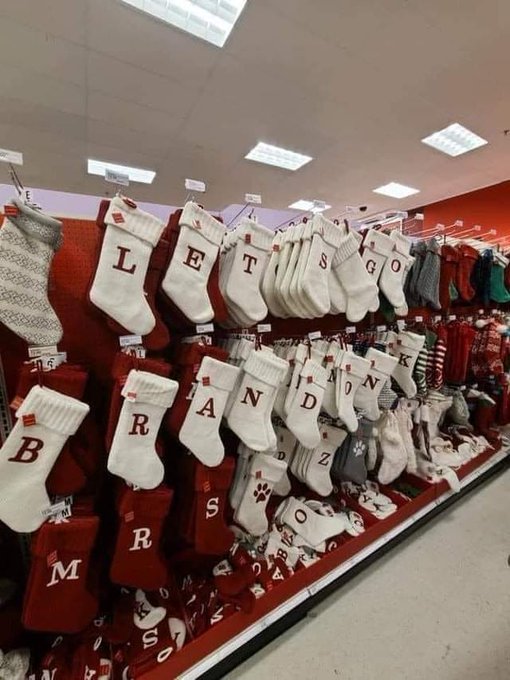 FINALLY, readers occasionally ask how to send me aid. I appreciate the offer but I decline because there are worthy charities. The Salvation Army is my favorite.
Those offers are really, really flattering.
But if you want to help me, send a few bucks to Kane at Citizen Free Press because he has been very supportive of this blog and the conservative cause. He does not take ads, preferring instead to hold annual fund-raising drives.
'Tis the season.
You can do it online, or you can send a check to:
Citizen Free Press
PO Box 568
Ellettsville, IN 47429
Tell him Surber sent you.