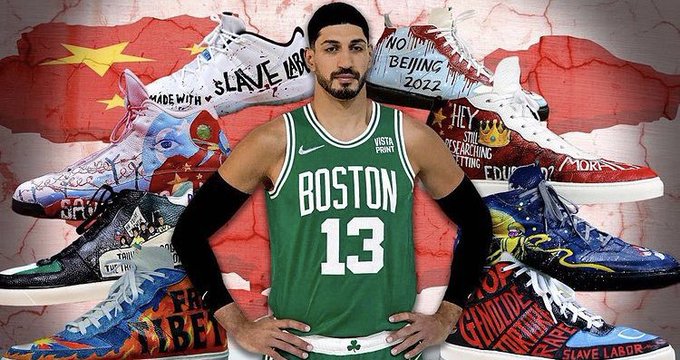 Benny Johnson tweeted, "Enes Kanter of the Boston Celtics is legally changing his name to Enes Kanter Freedom when becomes a U.S. citizen."
He's the modern
World B. Free
.
The Turkish-born player who has called out Red China and LeBron James on the use of Uyghur slaves becomes an American today. Can we send LeBron to Turkey as a thank-you gift?
ITEM 1: Happy Hanukkah, which began on Sunday.
The New York Times reported, "What's that reindeer doing with menorah antlers? Retailers want inclusive holiday merchandise, but hit a few snags."
The story said, "There was a 'Matzo Matzo Man' T-shirt from the company Tipsy Elves (matzo is eaten on Passover); a 'Challah at ya girl' sweater on TeePublic's site (challah is made on Shabbat); a Hanukkah tea towel from Disney embroidered with Sabbath candles."
Emma Herman, 31, a dietitian in Miami, posted on Tik-Tok: "I'm convinced that whoever is in the design department at Bed Bath & Beyond has both never met a Jew and doesn't like Google that much."
This is not new.
14 years ago, Balducci's in New York gave the world the Chanukah Ham.
ITEM 2: The New York Post reported, "The Biden family offered their services to a huge, Chinese-government-linked energy consortium to expand its business around the world. How do we know? Because of hundreds of emails documenting the deal found on Hunter Biden's laptop, left in a Delaware repair shop in April 2019. In her new book, 'Laptop from Hell,' New York Post columnist Miranda Devine tells the tale."
For 5 years, we have had all these books about Trump, who actually lost a billion dollars in net worth as president, but the Bob Woodward crowd is silent about the bribing of Biden through his iniquitous son.
If you want to know why we rushed out of Afghanistan and left behind $90 billion in cash and equipment, ask Chairman Xi because he made the call. He has Biden and Milley in his pocket.
ITEM 3: The Barent Observer reported, "Deep freeze sweeps across Arctic Europe, sends power prices soaring
"Exceptional cold is affecting northern Scandinavia and Russia's Kola Peninsula with temperatures below -30°."
Sweden hit a 41-year low temperature in November.
Meanwhile, it's springtime for Antarctica, not Germany. Today's forecast calls for a high at Amundsen-Scott South Pole Station of -16°.
If we get much more of this global warming, we will freeze to death.
ITEM 4: The Daily Beast reported, "Ava White, 12, was out with her friends on Thursday night during the annual switch-on of the Christmas tree lights in Liverpool city center. According to police, Ava and her friends got into an argument with some boys after the light show had ended. The girl was then assaulted—reportedly by stabbing—and she died of her wounds at a nearby hospital.
"Merseyside Police confirmed in a statement that four teen boys—one aged 13, two aged 14 and one aged 15—have been arrested on suspicion of murder. None of the suspects has been publicly identified."
The War on Christmas no longer is a metaphor.
ITEM 5: WND reported, "A Texas woman has won a round in her fight to force the city of McKinney, Texas, to be held accountable for the destruction of her home.
"The Institute for Justice explained a federal judge ruled recently the lawsuit by Vicki Baker over the destruction of her residence by the city's SWAT team can move forward."
Obama judge Amos L. Mazzant III dismissed the city's motion to dismiss the case.
In July 2020, police chased a fugitive to her home where he hid. They called SWAT, who demolished her home and left her dog deaf and blind from the grenades they threw.
You destroy it, you bought it.
ITEM 6: Mayor-elect Eric Adams wants to bring back stop-and-frisk.
He wrote, "As American courts have affirmed over many years, stop, question and frisk is a perfectly legal, appropriate and constitutional tool, when used smartly, as opposed to indiscriminately against hundreds of thousands of young Black and Brown men, as it was for years in New York City. Not only that, but it is a necessary tool, whereby police approach someone who fits a witness description or otherwise appears to be carrying an illegal weapon.
"The question was never whether stop, question and frisk should be allowed; it was how it should be done. Those who claimed it should be outlawed entirely reduced a nuanced issue to an either-or argument, and unwisely answered it with a blanket ban."
Bring it back because it worked.
While New Yorkers are at it, bring back Rudy Giuliani. As a federal prosecutor, he broke up the mafia. As mayor, he made the city livable again. He would make a great consultant for Mayor Adams.
ITEM 7: The Realtor reported, "Rumors recently swirled on social media that U.S. House Speaker Nancy Pelosi had picked up a swanky estate in Jupiter, FL.
"But the Bay Area-based Democrat has not traded in her haute San Francisco mansion for a posh property in South Florida, Realtor.com® can confirm."
The story said, "The $25 million mansion in question is pending sale, which means the property has found a buyer. It's just not Pelosi."
OK, she is not moving to Jupiter, Florida. Can we move her to just plain Jupiter instead?
ITEM 8: The Times of India reported, "The travel bans imposed on South Africa by a growing number of countries due to the new potentially highly-transmissible variant of Covid-19 in this country is draconian and misdirected, Health Minister Joe Phaahla has said."
He said, "We feel that it's a wrong approach. It is misdirected and it goes against the norms as advised by the WHO."
The response to OMG Omicron is based on politics, not medicine. As I wrote on Saturday, "Omicron moves Waukesha off the front page."
ITEM 9: Reuters reported, "A South African doctor who was one of the first to suspect a different coronavirus strain among patients said on Sunday that symptoms of the Omicron variant were so far mild and could be treated at home.
"Dr. Angelique Coetzee, a private practitioner and chair of South African Medical Association, told Reuters that on Nov. 18 she noticed seven patients at her clinic who had symptoms different from the dominant Delta variant, albeit very mild."
Instead of getting worse, covid is getting tamer.
But the technocratic tyrants are getting worse. Overthrow the bums.
ITEM 10: The Washington Post tried to rip Clarence Thomas ahead of the reconsideration of Roe v. Wade.
But the story pointed out the power of appointment.
The story said, "Thomas's influence has grown outside the courtroom as well. His former clerks - there are more than 125 of his kids, as Thomas calls them -- held many high-ranking positions in the Trump administration, including for a time the role of the administration's top lawyer at the Supreme Court. Ten have lifetime appointments in the federal judiciary.
"One of those former clerks, recently hired Mississippi Solicitor General Scott Stewart, will be arguing the case for the state's law, which prohibits almost all abortions after 15 weeks, months earlier than the court's current abortion precedents allow."
Hate McConnell all you want, but compare Brett Kavanaugh to Merrick Garland.
30 years from now, Kavanaugh will have 125 kids, too, who will help reshape the nation and restore our constitutional republic.
ITEM 11: Law Enforcement Today reported, "Washington Post article finds most of 'hate speech' detected on Facebook is anti-white and anti-male."
90% of the hate speech of Facebook is against whites or men.
The WaPo headline read, "Facebook's race-blind policies around hate speech came at the expense of new users, documents show."
That is a weird angle to take, But WaPo does not want readers to know that 50 years of affirmative action and promoting women has made hating white people and men acceptable and common.
Tell me, when was the last time they tore down a statue of a woman or a non-white?
ITEM 12: Sean Hollister reported, "Why a toaster from 1949 is still smarter than any sold today."
He said, "When you stick a piece of bread into this toaster, it pushes down a series of cleverly designed levers that have just enough tension to lower and raise two slices all by themselves — and it's got a mechanical thermostat inside that stops your bread toasting when it's toasted and ready, NOT after some arbitrary amount of time."
New and improved does not mean better.
ITEM 13: New-in-24 reported, "An AFP photo caused a stir this Saturday at the end of Eric Zemmour's eventful visit to Marseille. On leaving a restaurant where the polemicist had just had lunch, a passer-by gave him the middle finger. The polemicist responded with the same gesture by affirming and very deep, under the amused gaze of his advisor Sarah Knafo, noted an AFP photographer."
Zemmour is running for president.
He is the French Nelson Rockeller.
And their Trump.
The Spectator interviewed Zemmour. He said, "Immigration is war. They want to invade our European countries. That's all. It's nothing else. It's war."
ITEM 14: CNN tweeted, "Waukesha will hold a moment of silence today, marking one week since a car drove through a city Christmas parade, killing six people and injuring scores of others."
Thus CNN broke its weeklong silence for a moment of discussing Waukesha.
And it lied.
A car did not drive through the parade. An SUV did. It was driven by Darrell E. Brooks Jr., a violent criminal black nationalist whom Democrats released on $1,000 bail after he tried to run over his girlfriend. He killed 6 people.
CNN mentioned him in the ninth paragraph on a nine-paragraph story.
ITEM 15: Just the News reported, "32% of Iowans in a new poll said they are mostly doubtful or very doubtful that votes across the country in the 2022 general election will be counted as voters intended.
"The remainder in the November Des Moines Register/Mediacom poll were very confident (26%), mostly confident (37%) or not sure (6%) votes would be counted properly. Selzer & Co. conducted the poll of 810 randomly selected Iowan adults between Nov. 7 and Nov. 10."
The seeds of doubt were sown not when Trump raised the issue but when the media, the courts, and Congress all refused to consider his complaint.
FINALLY, I get spam comments. I police them but I do not spend 24/7 monitoring them, so I guarantee you will run into them eventually.
Consider spam comments a small price to pay to post comments instantly without having to wait for me to approve them.