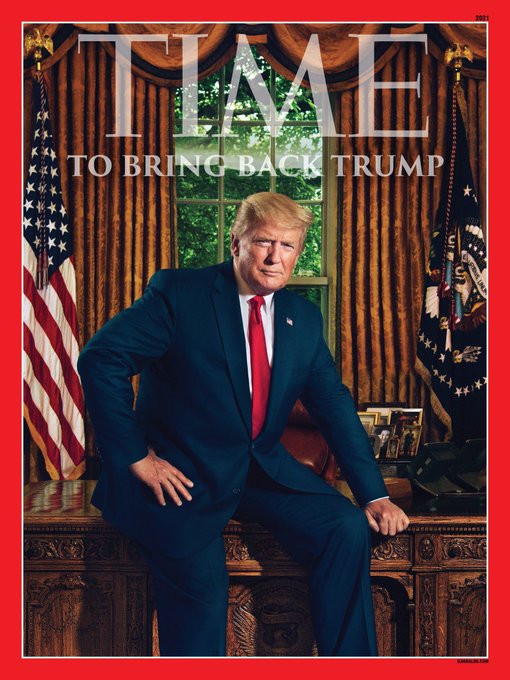 ITEM 1: Buck season began today. Go hunters, go.
Andrew Koenig tweeted, "Except that because of inflation, they're now calling it 'Buck-29 season.'"
ITEM 2
:
Hamas-Shielding AP reported
, "Hamas 'guardian' law keeps Gaza woman from studying abroad."
The story said, "Afaf al-Najar had found a way out of Gaza. The 19-year-old won a scholarship to study communications in Turkey, secured all the necessary travel documents and even paid $500 to skip the long lines at the Rafah crossing with Egypt.
"But when she arrived at the border on Sept. 21 she was turned back — not by Israel or Egypt, which have imposed a 14-year blockade on the Gaza Strip — but because of a male guardianship law enacted by the Islamic militant group Hamas, which rules the territory."
The story also reported, "in February, an Islamic court run by Hamas issued a notice saying that unaccompanied women must get permission from a male guardian — a husband, relative, or even a son — to travel outside the territory."
AP's bureau in Gaza City was in a Hamas owned building which also housed its military intelligence. Last summer, Israeli agents called AP, and gave them an hour to leave before blowing the building to smithereens.
Maybe that explains why AP is finally running a story that points out how tyrannical Hamas really is.
ITEM 3: CNN reported, "Police reported 'some fatalities' after more than 20 people, including children, were struck by a vehicle that ran through a crowd at a Wisconsin holiday parade, Police Chief Daniel P. Thompson said in a press conference.
"Authorities are working with the Waukesha County Medical Examiner's Office to confirm the identities of the deceased, Thompson said. No further information regarding the fatalities will be released while police notify their loved ones."
Video shows it was premeditated.
The story also said, "Authorities reported 11 adults and 12 minors were transported to area hospitals by ambulances and officers after a red SUV drove through the Waukesha Christmas Parade, Thompson said.
"A police officer who has been with the department for more than six years discharged his weapon at the suspect's vehicle to try and stop it, according to Thompson."
Sad Sunday. Pray for the families. Don't leap to conclusions. Keep updated at Citizen Free Press.
ITEM 4: New York Post reported, "A patriotic Upper West Side synagogue whose leaders fought alongside George Washington has been celebrating Thanksgiving since the first president proclaimed it a national holiday in 1789.
"As a modern and secular holiday, Thanksgiving celebrations are rare in Jewish houses of worship — but that is not the case at Shearith Israel, America's first Jewish congregation.
"On Thanksgiving day, the temple will feature a special holiday-themed liturgy, followed by an address by Rabbi Meir Soloveichik and readings from a Torah adorned with Liberty Bells. An English prayer wishing good health and fortune on the president, vice president, governor, and other elected officials has been recited for two centuries. There's no turkey at the morning gathering, but ample hot chocolate for parade watchers.
"The congregation was organized in 1654 by Sephardic Jews fleeing the inquisition in Portuguese-ruled Brazil, and the members of the synagogue at 2 West 70th St. take pride in being not just the oldest Jewish congregation in the United States but eyewitnesses to American history."
Many Jews consider turkey to be kosher. Apparently, they don't. Whatever. A nice ham is a good substitute.
Oh.
Nevermind.
ITEM 5: The Daily Mail reported, "Violence broke out in Vienna as 10,000 protesters -- many from far-right groups -- took to the streets to demonstrate against a new Covid-19 lockdown and mandatory vaccinations.
"Demonstrations against virus restrictions also took place in Switzerland, Croatia, Italy, Northern Ireland, the Netherlands and North Macedonia on Saturday, a day after Dutch police opened fire on protesters and seven people were injured in rioting that erupted in Rotterdam.
"Protesters rallied against coronavirus restrictions and mandatory Covid-19 passes needed in many European countries to enter restaurants, Christmas markets or sports events, as well as mandatory vaccinations.
"In Italy, 3,000 turned out in the capital's Circus Maximus, a field where in ancient times Romans staged popular entertainment, to protest against 'Green Pass' certificates required at workplaces, restaurants, cinemas, theaters, sports venues and gyms, as well as for long-distance train, bus or ferry travel within Italy.
"In Northern Ireland, several hundred people opposed to vaccine passports protested outside the city hall in Belfast, where the city's Christmas market opened Saturday -- a market where proof of vaccination or a negative Covid-19 test was required."
The rise against the fascism of globalism is encouraging.
ITEM 6: The Epoch Times reported, "A leaked audio recording revealed California teachers mocking parents over concerns about homosexual and transgender indoctrination at school, said a source who attended a recent teachers union conference in Palm Springs.
"The recording, obtained by The Epoch Times, captured two seventh-grade teachers, Kelly Baraki and Lori Caldeira from Buena Vista Middle School in Salinas, Calif., telling other teachers how to recruit students into LGBTQ clubs, also known as Gay-Straight Alliance clubs, at school."
They are not teachers.
They are groomers.
Satan is spelled LGBTQ.
ITEM 7: Zero Hedge reported, "Friday marked World Toilet Day, which was created to bring awareness to the lack of sanitation, water and hygiene facilities in many parts of the world.
"In 2020, 494 million people, or 6.3% of the world population, were still practicing open defecation, the most severe level of lack of sanitation service. Additionally, as Statista's Katharina Buchholz points out, 22 percent around the world did not have access to at least basic sanitation, defined as a private toilet connected to sewage piping, a septic or composting tank or a pit. 46% -- almost half of the world population -- did not live with safely-managed sanitation, meaning that their sewage was not treated properly, posing severe health risks to them as it enables pathogens to re-enter water supplies.
"As recently as the year 2000, 1.3 billion people were still defecating outdoors, with grave health consequences. The UN has been working to eradicated the practice and has made some progress. In 2017, the number of those without access to any bathroom had sunk to 673 million and finally to 494 million in 2020."
In the 20th century, life expectancy doubled worldwide. Clean water and indoor plumbing were the unsung heroes of this miracle.
Make every man a king by giving every man a throne.
ITEM 8: Western Journal reported, "Female inmates in California have filed suit against the state for housing men in women's prisons
"The Women's Liberation Front lawsuit claims that SB132, the Transgender Respect, Agency, and Dignity Act, is a violation of the rights of women, according to the Daily Signal.
"'There is no application of S.B. 132 that avoids violating the constitutional rights of the individual Plaintiffs, and the other incarcerated women on whose behalf Plaintiff Woman II Woman advocates,' the lawsuit said.
"The lawsuit claimed that housing women with biological males can be considered cruel and unusual punishment, which is banned by the Eighth Amendment, and is also a violation of their 14th Amendment equal protection rights.
"Because of the law, women in California prisons face 'substantially increased risk of sexual harassment, sexual assault, rape, and physical violence,' as well as sexually transmitted diseases and fear of attacks."
Even convicted felons have rights.
I really hate prison rape jokes.
Satan is spelled LGBTQ.
ITEM 9: The Daily Beast reported, "Less than two weeks before her trial, Ghislaine Maxwell is fighting for documents from the settlement fund for victims of sex-trafficker Jeffrey Epstein.
"It's unclear which specific records the British socialite and accused procurer of underage girls is seeking, but Jordana Feldman, the administrator of the Epstein Victims' Compensation Program, opposes her request.
"On Friday, Feldman's lawyer filed a letter in Manhattan federal court stating she 'intends to move to quash defendant Maxwell's subpoena directed to her.' A representative for Feldman declined to comment, and her attorney didn't return messages.
"The legal scuffle comes as Maxwell battles for certain evidence—including Epstein's address book of high-flying contacts and a box containing a sex toy—to be barred from her six-week trial, which is scheduled to begin on Nov. 29.
"The victims' fund, which closed in August, functioned as an independent and voluntary alternative to litigation and resulted in nearly $125 million paid out to more than 135 victims of Epstein. As part of the program, applicants provided documentation and were interviewed by Feldman and other administrators. If they received and accepted a settlement offer, the women were required to waive the right to sue Epstein's estate and 'related entities and/or individuals,' including Maxwell."
I have two questions about this trial.
Will the media cover the trial?
If so, how will they spin it?
ITEM 10: Yahoo reported, "Hundreds protest Rittenhouse acquittal across USA."
Hundreds out of 328 million.
None in Kenosha where Democrat rioters and violent criminals did millions in damage in 2020.
ITEM 11: KSTP reported, "Minneapolis protesters speak out about Rittenhouse verdict, supporters also weigh in."
Paragraph 20 said, "Brandon Lesko, of Los Angeles — a Rittenhouse supporter — disagrees."
Mike Hunt bows to his successor.
ITEM 12: Maria Shriver tweeted, "I'm trying to take a beat to digest the Rittenhouse verdict. My son just asked me how it's possible that he didn't get charged for anything. How is that possible? I don't have an answer for him."
Her sons are 24 and 28.
Stacy McCain tweeted, "Mary Jo Kopechne could not be reached for comment."
ITEM 13: The Lid reported, "9-Year-Old Journee Nelson proved that it isn't always Mama Bear that comes to the rescue. One criminal found out that cubs can pack a surprising punch.
"On November 2, Danielle Mobley and her 9-year old daughter, Journee Nelson, ran errands in West Palm Beach, Florida, when a robber tried to steal Mobley's purse. The pair were just returning to their vehicle in the parking lot of Sabor Tropical Supermarket when the attack occurred.
"Surveillance video shows the man lunging at Mobley, knocking her down, and trying to pull the purse away from her.
"Journee jumped out of the car and fought off the man by punching him in the face and continued to hit him until he ran off, hanging on to Danielle's handbag. As he ran, little Journee Nelson chased after him. 'She actually jumped up and chased him four houses down the block with me chasing her, calling her back,' her mom said during a news conference."
The story also said, "Two days later, 29-year old Demetrius Jackson, a violent career criminal, was captured and identified as the guy slugged by the 9-year-old. He was charged with robbery and battery."
Police in Florida praised Journee.
The prosecutor in Kenosha is filing charges against her.
ITEM 14: Defiant America reported, "A Little Girl Just Karate Blocked Creepy Joe As Biden Creeps on Her."
With video.
She looked to be 2 or 3.
ITEM 15: Mike Miller reported, "Boston Celtics Player Plays 'King James' While Wearing Shoes With Image of LeBron Bowing to Xi."
The player calling out Red China and its slave, LeBron, is Turkish-American center Enes Kanter.
I always separated LBJ's basketball play from his politics but his Stepin Fetchit act for Chairman Xi is too much. King James is just a jester.
ITEM 16: Peter A. Kloess, Doctoral Candidate, Integrative Biology, University of California, Berkeley, wrote, "Picture Antarctica today and what comes to mind? Large ice floes bobbing in the Southern Ocean? Maybe a remote outpost populated with scientists from around the world? Or perhaps colonies of penguins puttering amid vast open tracts of snow?
"Fossils from Seymour Island, just off the Antarctic Peninsula, are painting a very different picture of what Antarctica looked like 40 to 50 million years ago – a time when the ecosystem was lusher and more diverse. Fossils of frogs and plants such as ferns and conifers indicate Seymour Island was much warmer and less icy, while fossil remains from marsupials and distant relatives of armadillos and anteaters hint at the previous connections between Antarctica and other continents in the Southern Hemisphere.
"There were also birds. Penguins were present then, as they are now, but fossil relatives of ducks, falcons and albatrosses have also been found in Antarctica. My colleagues and I published an article in 2020 revealing new information about the fossil group that would have dwarfed all the other birds on Seymour Island: the pelagornithids, or bony-toothed birds."
The world was warmer.
Life flourished.
Instead of fighting global warming, we should encourage it and adapt to whatever changes it may bring.
ITEM 17: The New York Times reported that Cruise Ship Conservatives Jonah Goldberg and Stephen Hayes left Fox to protest a Tucker Carlson documentary on the January 6 protest inside the Capitol. Hayes is the one with the "There's Something About Mary" hair.
Odd, I thought Goldberg quit when they stopped stocking donuts in the green room.
The sanctimonious duo wrote, "Why We Are Leaving Fox News."
Hmm.
I may have to start watching Fox again.
ITEM 18: Fox reported, "ABC, CBS, NBC, CNN skip DOJ whistleblower revealing 'threat tag' targeting parents at school board meetings.
"MSNBC covered it once -- only for Nicolle Wallace to scoff at the GOP uproar."
Corporate Media is now Pravda for an unAmerican regime that spies on the political opposition, keeps dissidents jailed without charges, and holds mini-Kristallnacht riots in city after city.
Journalism is now synonymous with evil.
FINALLY, I keep hearing and reading that a not guilty verdict does not mean Kyle Rittenhouse was innocent.
Of course it does.
Our system holds that a man is innocent until proven guilty.
He was not proven guilty, therefore he remains innocent.