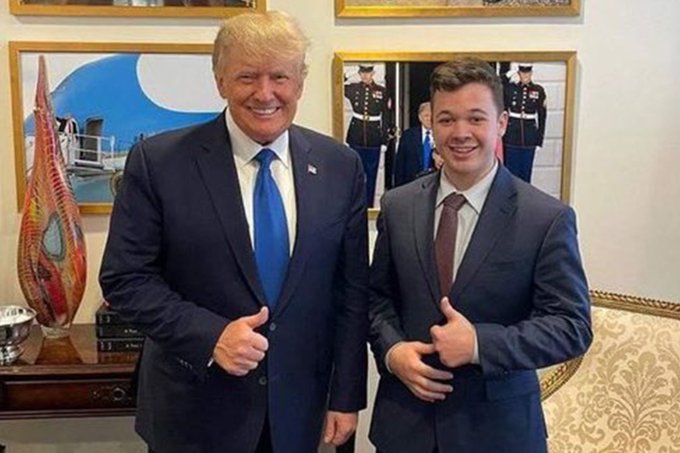 ITEM 1: Reuters reported, "A New York trial judge on Tuesday extended a ban keeping the New York Times from publishing some materials concerning the conservative activist group Project Veritas, a restriction the newspaper said violated decades of First Amendment protections.
"Justice Charles Wood of the Westchester County Supreme Court said his temporary ban imposed on Nov. 18 will run at least until Dec. 1, a deadline for Project Veritas to respond in writing to the Times' bid to end it.
"The judge granted the extension after a 1-3/4-hour hearing in White Plains, which was part of a defamation lawsuit that Project Veritas filed against the Times last year."
In this battle between real journalists and propagandists, I side with the real journalists -- Project Veritas.
ITEM 2: We saw the War on Christmas Sunday in Wisconsin.
But what about the War on Thanksgiving?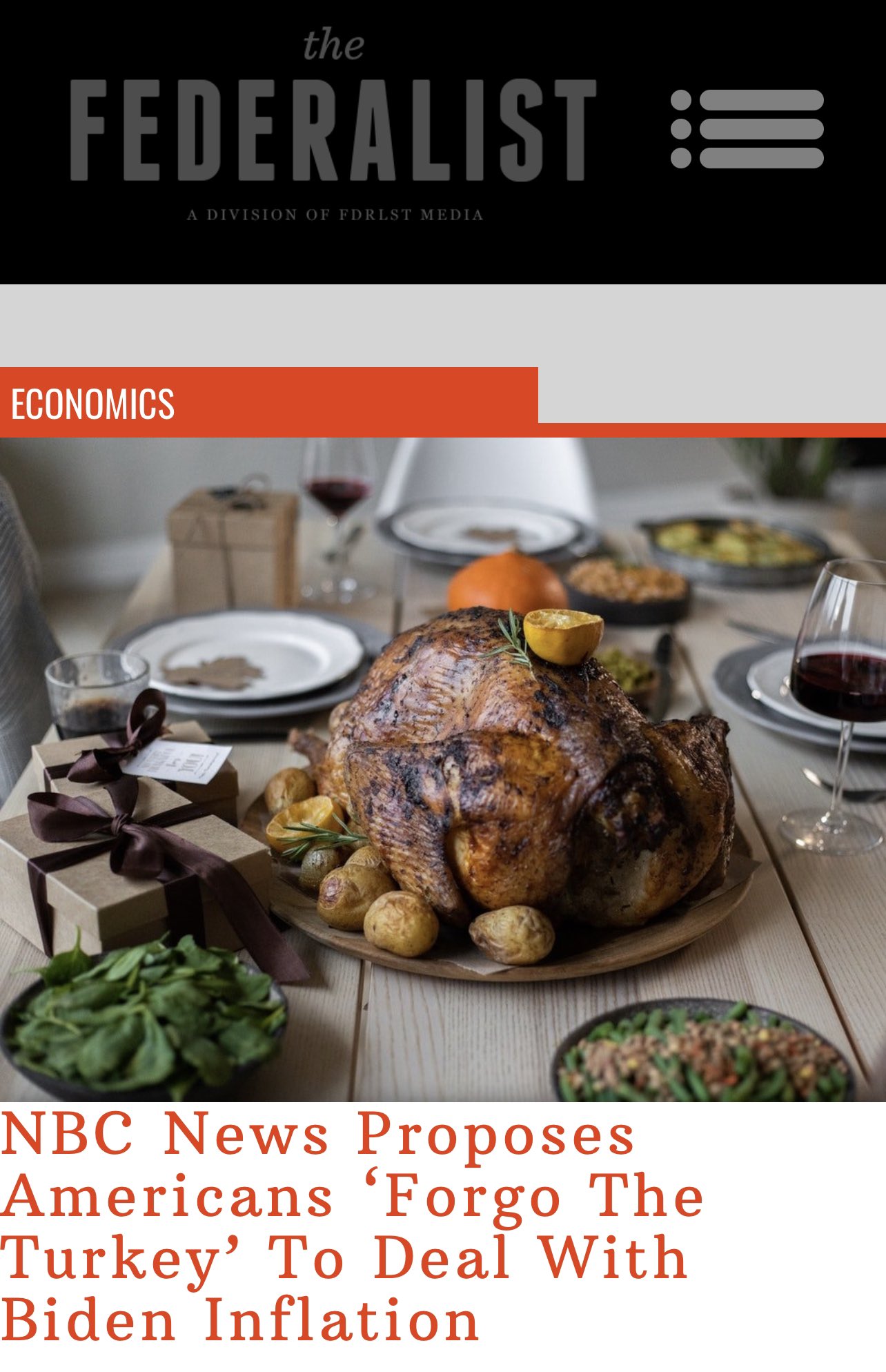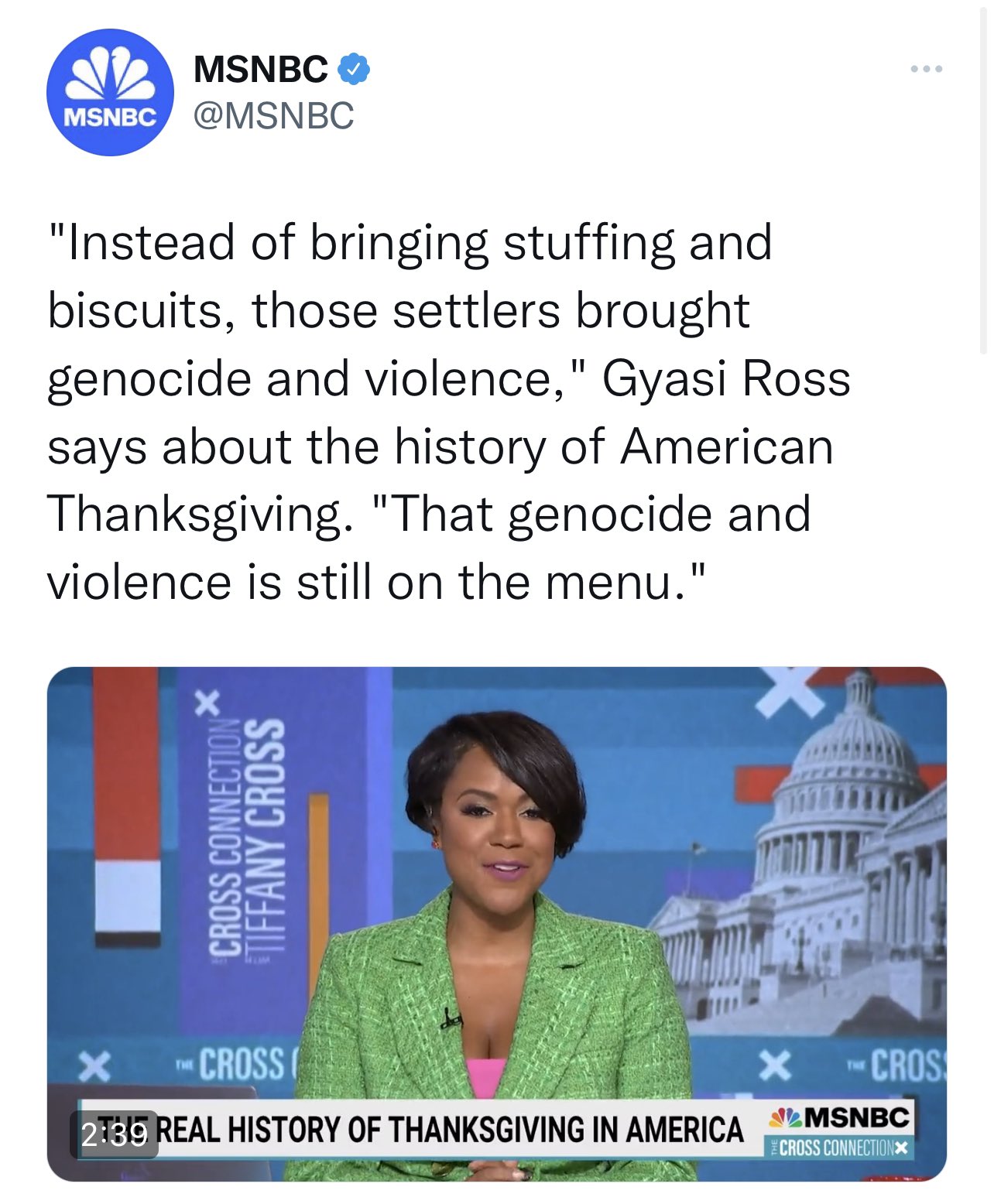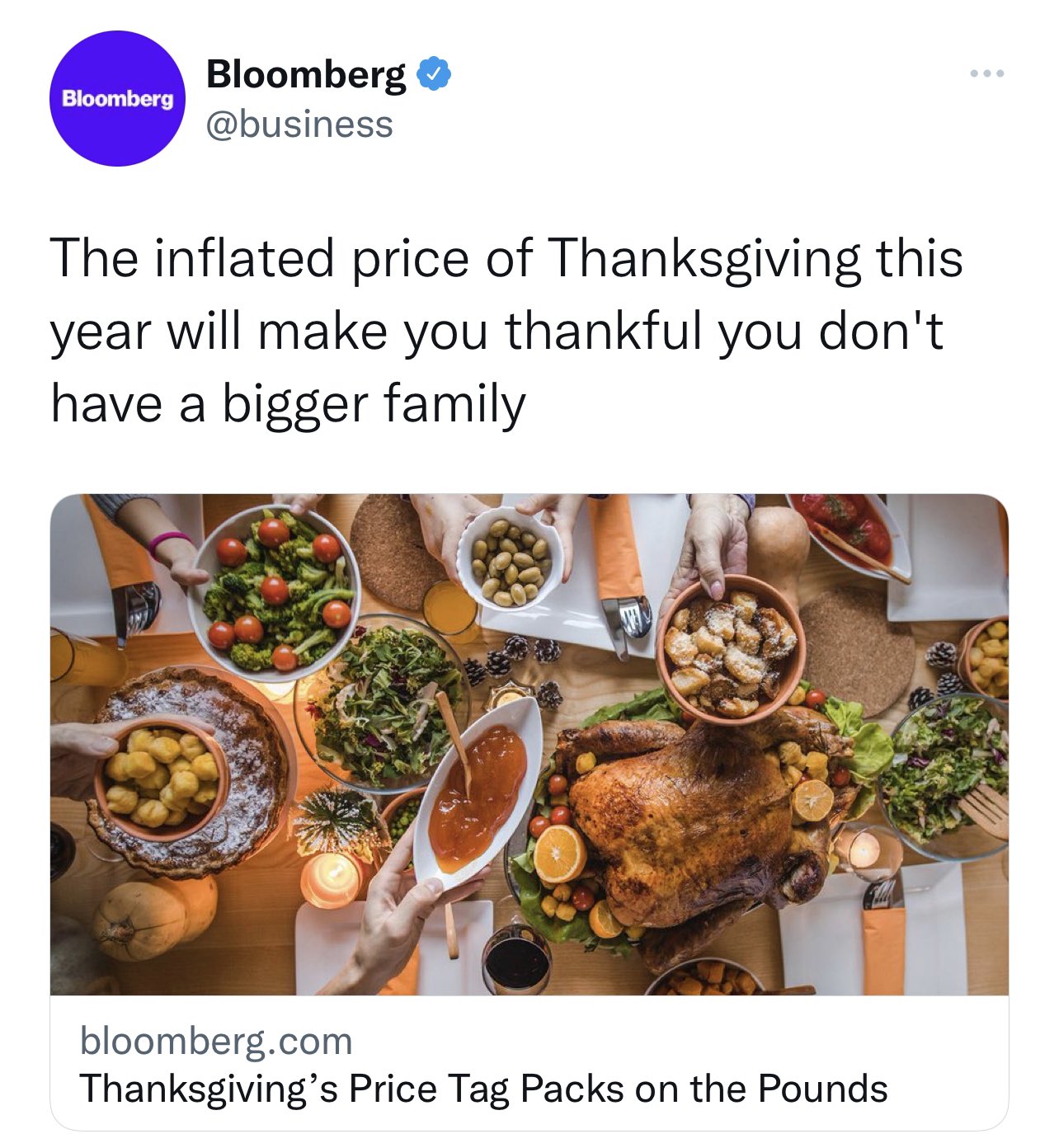 The media is the enemy of the people, and protector of the Deep State.
ITEM 3: The Daily Mail reported, "The suspect accused of plowing into a Christmas parade in Waukesha, Wisconsin and killing five on Sunday shared social media posts promoting violence towards white people.
"8-year-old Jackson Sparks was named by relatives as the sixth victim, having died in hospital from his injuries.
"A now-deleted Facebook account belonging to Darrell Brooks Jr., 39, showed the alleged killer had encouraged knocking 'white ppl [the f**k] out' and also appeared to support the controversial Black Hebrew Israelites.
"Brooks was charged on Tuesday with five counts of first-degree intentional homicide and is expected to face more charges.
"Police are yet to determine the motive behind the deadly rampage, however, records reveal Brooks is a career criminal with a rap sheet dating back to 1999 and had been bailed twice this year.
"Facebook posts also show the amateur rapper, who went by his stage name, MathBoi Fly, had shared a series of links and memes relating to race and white privilege in June 2020, when protests erupted over the death of George Floyd.
"Five of the six victims -- all white -- who died on Sunday were aged 52 to 82 and part of a Waukesha club known as the Dancing Grannies."
The London newspaper is not some super news organization run by Perry White, Lois Lane and Clark Kent. The American press knows the defendant is a racist career criminal.
But the American press would rather dox a granny who put a Trump sign in her yard than report on the true nature of the terrorist attack in Waukesha.
ITEM 4: The Telegraph reported, "Dozens of Ships Stuck in Arctic as Ice Freezes Early, Contradicting Global Warming Claims."
The story said, "Maritime traffic in the Northern Sea Route has been on the rise in recent years as rapidly warming winters reduce ice cover, and Russia invests in its Arctic ports in preparation for a further boom.
"But this year several segments of the Northern Sea Route froze up about a fortnight earlier than usual, catching many ships unawares.
"Alexei Likhachyov – director general of Russia's state-owned nuclear energy company Rosatom, which manages the country's nuclear-power fleet of ice-breakers – said on Monday that the ships included vessels sailing under the flags of Hong Kong and Marshall Islands.
"He blamed the Russian Met office for a forecast that failed to predict the early ice, in comments to local media."
But the UN assured me the Arctic would be ice free by 2020.
ITEM 5: That was then. This is eight months and 20 days later...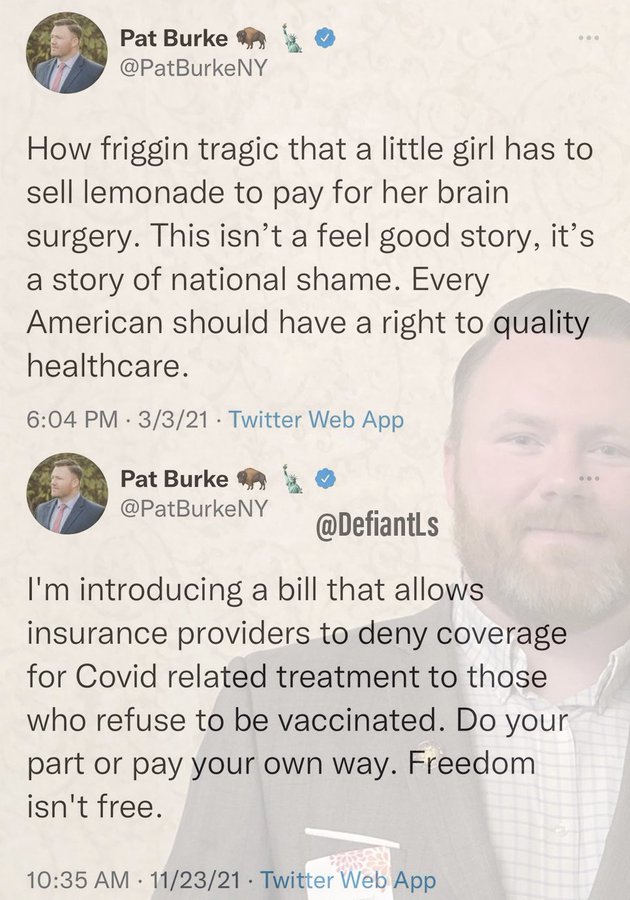 Do you know why Democrat politicians don't like bubblegum?
They cannot chew it and walk at the same time. Old joke, but I am an old man.
ITEM 6: Women's March tweeted, "We apologize deeply for the email that was sent today. $14.92 was our average donation amount this week. It was an oversight on our part to not make the connection to a year of colonization, conquest, and genocide for Indigenous people, especially before Thanksgiving."
In woke math, the numbers go: 1490, 1491, 1493, 1494...
ITEM 7: The New York Post reported, "President Biden seemed to snub Vice President Kamala Harris Tuesday as they helped prepare meals at a DC soup kitchen during their first public appearance together in more than a week.
"Biden made no attempt to demonstrate any fondness for his VP in front of the cameras after Harris allies slammed Biden to CNN last week for giving her tough jobs, such as handling the border crisis, and accused the West Wing of giving her less support than white members of the administration."
Racism in the Biden White House?
Well, he did suck up to James Eastland and other Dixiecrats as a young senator.
ITEM 8: Just the News reported, "Best Buy CEO Corie Barry said that the recent spike in mass store robberies is hurting her company's business and has been traumatic for employees.
"She told CNBC on Tuesday that she has been 'seeing more loosely organized groups come together and target our stores' which is scaring employees.
"Barry said the company has seen a significant increase in organized crime, as some people stealing from the stores bring a weapon like a gun or crowbar. Employees have been told to not confront thieves, and Barry said the safety of customers and employees are top priority, even if it means that criminals run off with thousands of dollars in merchandise."
Best Buy had best tell California bye-bye.
ITEM 9: But Lorenzo Boyd, PhD, Professor of Criminal Justice & Community Policing at the University of New Haven, and a retired veteran police officer, told Channel 7 in San Franciscio that we dare not call it looting.
Boyd said, "Looting is a term that we typically use when people of color or urban dwellers are doing something. We tend not to use that term for other people when they do the exact same thing."
So looting isn't a problem; calling it looting is because that hurts the feelings of the looters.
ITEM 10: Just the News reported, "The top military officers from the United States and Russia spoke over the phone on Tuesday to discuss "security-related issues of concern," defense officials from both countries said.
"The U.S. Chairman of the Joint Chiefs of Staff, Gen. Mark Milley, spoke with the Russian head of the General Staff, Gen. Valery Gerasimov, the officials confirmed.
"The phone call took place amid increasing Western concerns over a buildup of Russian forces near the border with Ukraine, and predictions from Kyiv that Moscow is preparing to invade the country early in the new year."
Last year, he called Red China.
This year, he called Russia.
And those are the calls he admits to.
America, your top general is an enemy agent.
ITEM 11: Zero Hedge reported, "A federal jury in Cleveland on Tuesday concluded that three retail pharmacy chains -- Walmart, CVS and Walgreens -- recklessly distributed massive amounts of opioids, according to AP, which adds that the verdict could 'set the tone' for future lawsuits brought by county governments that want to hold pharmacies accountable for their part in the opioid crisis.
"The verdict supports claims by northeast Ohio's Trumbull and Lake Counties, which claimed that the pharmacy chains failed to institute legally mandated monitoring to screen for potentially illegitimate opioid prescriptions. The counties are seeking billions of dollars in compensation to reimburse expenses related to dealing with addiction and overdoses in their communities."
Make them pay.
Of course, none of the money will be spent on actual opioid addicts. Instead it will go to lawyers and bureaucrats, with some of the money going to political consultants who will make PSA ads that say opioid addiction is a bad thing.
That's where the tobacco settlement money went.
ITEM 12: ABC reported, "Jury awards $26M in damages for Unite the Right violence.
"A jury has ordered 17 white nationalist leaders and organizations to pay $26 million in damages over violence that erupted during the deadly 2017 Unite the Right rally in Charlottesville."
Good.
Now sue Antifa and BLM for their riots.
ITEM 13: AP reported, "President Joe Biden will require essential, nonresident travelers crossing U.S. land borders, such as truck drivers, government and emergency response officials, to be fully vaccinated beginning on Jan. 22."
Illegal aliens will need vaccine passports?
Hahaha.
Biden doesn't even require them to have regular passports.
ITEM 14: International Business Times reported, "Former President Donald Trump could win against President Joe Biden in five key battleground states in the 2024 election, according to a recent poll.
"In a new survey conducted by GOP pollster Tony Frabizio, the former president led Biden in Arizona by a 51% to 43% margin; Georgia by 48% to 45%; Michigan by 53% to 41%; Pennsylvania by 51% to 45%; and Wisconsin by 52% to 42%, according to a poll memo obtained by Politico.
"During the 2020 election, Biden won all five states, earning him a total of 73 electoral votes and helping him get a decisive win against Trump."
Trump had more voters in 2020, but Biden had more ballots.
Learn to ballot harvest, Republicans. It is the survival of the cheatiest in this jungle.
ITEM 15: Venture Beat reported, "According to a new study by the human-centered automation company Hyperscience, 81% of people believe automation can lead to more meaningful work, despite common misperceptions around what automation is, how it's being used today, and how the U.S. workforce views it.
"In its 2021 Automation Pulse Report, Hyperscience found that there continues to be widespread misunderstanding of what automation is. Specifically, while 75% of respondents believe they know what automation is, 55% brought up popular misconceptions when asked to explain that understanding further. Responses included technology existing solely to replace people (17%), automation is a job killer (3%), and conflating AI with automation (10%)."
It is true.
Industrialization has for more than 200 years made life better, not worse, for workers. For example, threshers and the like freed farmhands. Machines take the drudgery out of work and free people to do more with their lives. 12-hour days became 8 hour days. 6-day workweeks became 4.
The downside is idle hands are the devil's workshop.
ITEM 16: Breitbart reported, "Comedian and actor Rob Schneider has targeted the Biden administration for mockery over its inability to get a handle on soaring inflation, including energy prices. 'Build back broker!' the Hollywood star joked.
He said, "consider never voting again for these a-holes who hate you!"
No problem-o for my readers and me.
ITEM 17: The New York Post reported, "Florida couple charged with having oral sex in cop car."
Florida Man crosses another item off his bucket list.
ITEM 18: The Emea Tribune reported, "Russian Region Cancels School As Temperatures Plunge Below Minus 50."
The story said, "The mercury fell to -38°C on Monday in Yakutsk, where classes are going on as usual."
They went to school when it was minus 38 degrees?
That is pretty hardcore.
ITEM 19: NJ.com reported, "Democrat Governor Murphy leaves N.J. to celebrate Thanksgiving with family in Florida."
Another Democrat leaves the covid restrictions he imposed to enjoy unrestricted Florida.
ITEM 20: Just the News reported, "The Democrat-led congressional committee investigating the Jan. 6 Capitol riots acknowledged Tuesday it made an error in a subpoena that falsely accused former New York Police Commissioner Bernard Kerik of attending a secret meeting in Washington to allegedly discuss overturning the November 2020 election results on behalf of then-President Donald Trump.
"The committee chaired by Rep. Bennie Thompson (D-Miss.) acknowledged the mistake in a communication to Kerik's lawyer just hours after Just the News reported that Kerik could not have attended the meeting in Washington on Jan. 5 as alleged in the subpoena because he was in New York City for a family emergency, according to his own phone and tollbooth records.
"In a footnote to a transmittal letter accompanying its subpoena, the committee had attributed the allegation to a book by famed Washington Post journalist Bob Woodward. The book, however, made no such claim and did not even mention Kerik by name a single time in 482 pages, Woodward told Just the News on Monday night.
"The subpoena also cited two Washington Post articles, which also did not claim Kerik attended such a meeting."
This is why we presume a man to be innocent until the government proves his guilt beyond a reasonable doubt.
FINALLY....
Have the race across state lines https://t.co/L1B3BT9wye

— Don Surber (@donsurber) November 24, 2021