ITEM 1: Shaadie Ali, interim executive director of the ACLU of Wisconsin, stated, "Despite Kyle Rittenhouse's conscious decision to take the lives of two people protesting the shooting of Jacob Blake by police, he was not held responsible for his actions, something that is not surprising. But Kyle Rittenhouse isn't the only one responsible for the deaths that night. The events in Kenosha stem from the deep roots of white supremacy in our society's institutions. They underscore that the police do not protect communities of color in the same way they do white people."
Translation: Everyone who disagrees with me is a white supremacist.
A jury trial is holding someone responsible.
By the way, via Citizen Free Press, Trump was right (scroll down past the Biden jackassery).
ITEM 2: Politico reported, "The College Democrats of America — the Democratic Party's national organization presiding over 500 chapters on campuses across the country — is in turmoil.
"The group's leaders are publicly firing off accusations of anti-Blackness, Islamaphobia and anti-Semitism at each other. Impeachment proceedings are now in the works against the organization's new vice president, Nourhan Mesbah, who is Muslim. College Democrats say that screenshots of tweets that their peers sent in adolescence spread rapidly through group texts, which already caused a student running for president of the group to withdraw their candidacy in September. And national advocacy groups for Muslim and Jewish Americans are now weighing in with criticism.
"The conflict has gotten so messy that the Democratic National Committee is considering disaffiliating with the national collegiate organization altogether and creating a partnership with the state groups underneath the national umbrella, according to a Democrat familiar with the discussions. The DNC declined to comment."
When you teach children that everyone who disagrees with them is a white supremacist, it is difficult to have a discussion.
Democrats should do like golf tournaments and have a daily leader board.
Transgenders > gay > feminists > Muslims > blacks > Hispanics > American Indians > women > white males > Asians > Jews.
ITEM 3: Just the News reported, "A Hollywood group that purports to fight workplace harassment, but advised now-disgraced ex-New York Gov. Andrew Cuomo as he was facing sexual harassment claims, announced it's 'going down to the studs to completely rebuild.'
"Time's Up is laying off 22 of its 25 remaining staff and restructuring, with only four board members remaining and its interim CEO among the departures, according to The Washington Post."
Going down to the studs?
Well, I would not call Cuomo a stud, but he did bring them down.
ITEM 4: Biden had a colonoscopy on Friday.
Doctors found his brain.
ALMOST AS GOOD AS THE BABYLON BEE:
Kyle Rittenhouse Sentenced To 45 Years Of CPAC Appearances https://t.co/gkPos3h7nI pic.twitter.com/OtHViwbyT1

— The Onion (@TheOnion) November 19, 2021
Almost.
ITEM 5: The New York Post reported, "A Manhattan junior high school plans to racially separate students while discussing identity and social justice topics next week, The Post has learned.
"The Lower Manhattan Community School will conduct the controversial exercises as part of its mission to 'undo the legacy of racism and oppression in this country that impacts our school community,' according to an email sent to parents.
"Kids in grades seven and eight will opt into one of five categories, Principal Shanna Douglas wrote in the message.
"Whites, Asians, and multi-racial students have their own categories, while African-American and Hispanic students are combined into one group, according to her email."
Democrats, segregating races since 1828.
ITEM 6: There are Democrat facts.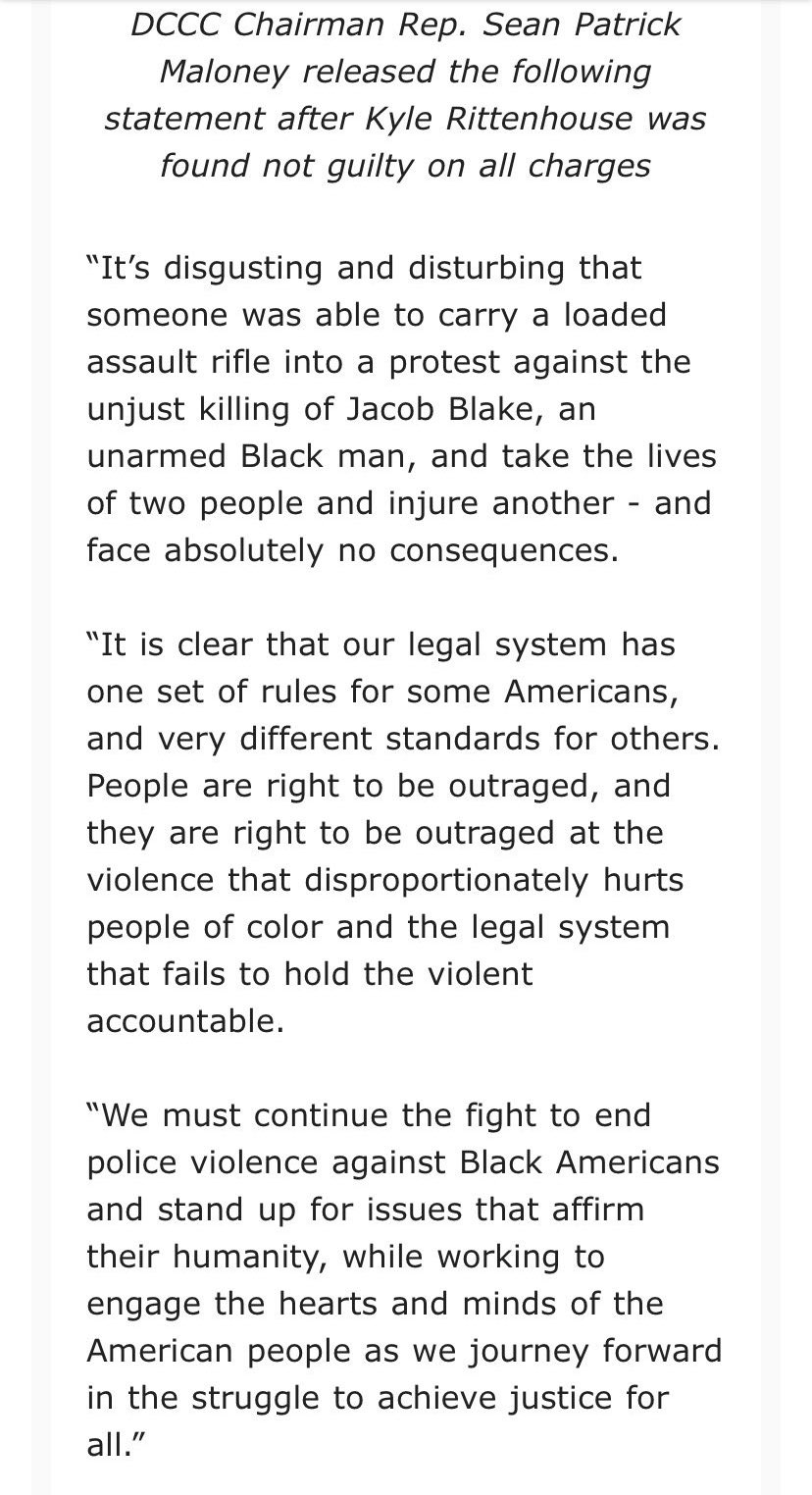 And there are real facts.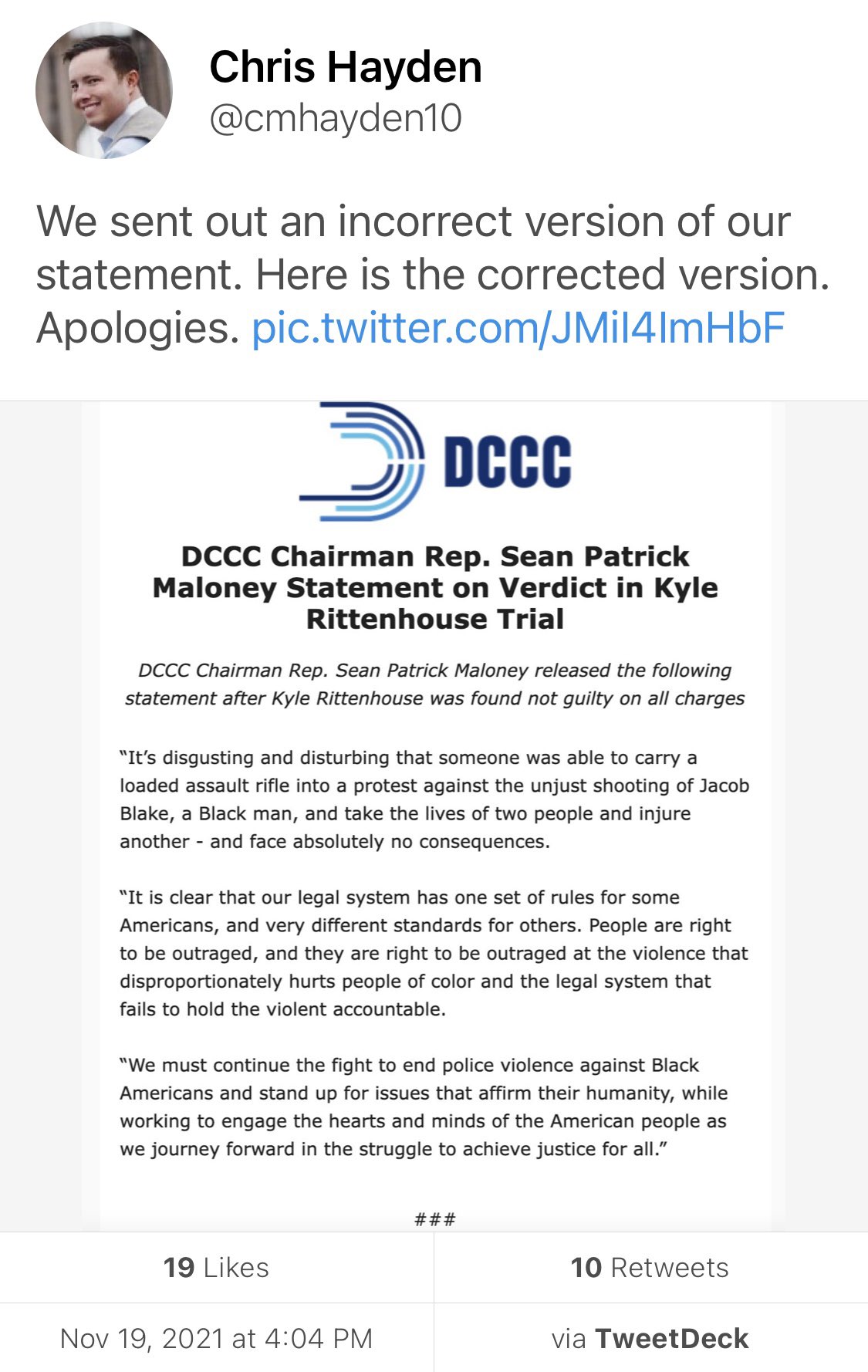 Jacob Blake lives! It's a miracle.
ITEM 7: The Washington Post reported, "By the time House Minority Leader Kevin McCarthy (R-Calif.) yielded the floor at 5:11 a.m. Friday, completing a speech that began some 8 ½ hours earlier, he had repeatedly taken aim at House Democrats and their $2.1 trillion social spending and climate change agenda."
The bill's price is the equivalent of spending $67,307,692.31 for every second he spoke.
ITEM 8: The Seattle Times reported, "Seattle got more than 1,300 federal housing vouchers. So far, only 10 people have used them."
The story said, "Local officials first spent weeks building up a labyrinthine system to route the vouchers to the people who need them the most."
Yes, the first thing we must do when trying to get emergency housing for people who cannot take care of themselves is to set up an overly complicated maze to get the aid.
ITEM 9: The Hill reported, "The Cook Political Report is shifting three hotly contested 2022 Senate races toward the GOP and into the toss-up column, a move that suggests a more favorable environment for Republicans.
"The Senate contests in Arizona, Georgia and Nevada once leaned toward Democrats. That changed on Friday, when the nonpartisan election handicapper reclassified them as toss-up races, meaning that they could go in either direction."
Republicans need to hold the 20 seats they now hold that are up next year, and flip one to gain control of the Senate. It won't be easy, but this is encouraging.
Primary Murkowski. If that fails, hold your nose and vote for her. RINO > Democrat.
ITEM 10: Malynda Hale (Singer l Activist l Mom l Vegan l Wife l Host of #WeNeedToTalk, Creator of Black Voices Heard, Owner of JMV Entertainment, Worship Leader at Harmony Toluca Lake) tweeted, "Please stop acting like you don't know what this is. He murdered two people. And will walk free. You've never in your life heard of a POC that killed two people and got to walk free."
O.
J.
ITEM 11: WPTV reported on Friday, "An Indian River County man on trial in connection with a deadly 2017 SWAT raid in Gifford was found not guilty of five of the six charges Friday.
"Andrew Coffee IV was charged with second-degree murder of his 21-year-old girlfriend and three counts of attempted murder of law enforcement after the raid led to an exchange of gunfire.
"He was also acquitted of shooting or throwing a deadly missile."
The defendant is black.
Paging Malynda Hale.
ITEM 12: The Epoch Times reported, "A former criminal justice professor was charged by a federal grand jury for allegedly starting four California wildfires in Northern California earlier in 2021.
"Gary Stephen Maynard, 47, faces up to 20 years in prison and a $250,000 fine for each count, said the U.S. Attorney's Office for the Eastern District of California a statement Thursday."
The story said he taught at several California colleges including "Sonoma State University, where he specialized in 'criminal justice, social science research methods, cults and deviant behavior,' according to an archived Sonoma State webpage. He also has master's degrees in political science, theater arts, and sociology as well as a Ph.D. in sociology."
What do you know?

The climate change communists were right. The fires were manmade.
ITEM 13: Zero Hedge reported, "Ford And GM Could Soon Be Getting Into The Semiconductor Production Business."
Plenty of space in Kanawha County, West Virginia, where Union Carbide and other chemical companies once built an industry.
ITEM 14: Julia Horowitz of CNN does a that-was-then, this-is-now.
Yo, AT&T, how about hiring someone who isn't a goofball for your cable channel?
ITEM 15: Three senators wrote a joint letter to the editor of the New York Times.
The Times has published four separate pieces analyzing the style and dress of our colleague Senator Kyrsten Sinema. We cannot imagine The Times printing similar pieces on the fashion choices of any of our male colleagues.
As Senator Sinema recently said about the commentary on her fashion: "I wear what I want because I like it. It's not a news story, and it's no one's business." We couldn't agree more.
Senator Sinema is a serious, hardworking member of the Senate who contributes a great deal to the policy deliberations before us. Your repeated focus on how she dresses, rather than what she says and does, is demeaning, sexist and inappropriate.
Susan Collins
Jeanne Shaheen
Lisa Murkowski
Washington
Sexists.
Liberals always are everything they falsely claim conservatives are.
Except patriotic.
That we own.
FINALLY, streaming services are all the rage these days.
Beware.
Disney and the rest will use their streaming services to promote the latest hare-brained lefty fad and to silence conservatives. It is what Corporate Media does best.