ITEM 1: His name is Charlie Taylor. He knows guns. He converts real guns into blank guns for movie making. He's so good and important to the film industry that the Canadian government lets him and his partner buy and possess whatever weapon they want, including rockets. Even Hollywood armorers do not have such freedom.
A reader sent me this 3-year-old video, and after watching it, I am convinced that Alec Baldwin ain't got a prayer in civil court. It was a tragedy, doubly so as it was preventable.
You put this guy Taylor on the stand and the jury will be adding zeroes to its award. He is so authentic, Wilford Brimley could have played him in a movie.
ITEM 2: Alec Baldwin in 2007 called his 11-year-old daughter a pig.
Alec Baldwin in 2013 called a photographer a "c—s—ing faggot."
Alec Baldwin in 2021 shot and killed a woman.
He calls it an accident. No apology. No responsibility whatsoever pic.twitter.com/EkXKbPnd2P

— Jack Posobiec 🇺🇸 (@JackPosobiec) October 30, 2021
Of course he showed no remorse because the media always forgives him. NBC kept him on after the pig and photographer incidents. I'll bet SNL will bring him back as Trump again because no one in the mainstream media has called Baldwin out for shooting and killing a woman.
ITEM 3: The New York Post reported, "​Transportation Secretary Pete Buttigieg warned that the ​devastating ​global supply chain troubles that continue to be a drag on the economy and threaten gift giving during the holiday season could continue as long as the coronavirus pandemic."
Papa Pete crawled out, saw his shadow, and crawled back in his paternity leave hole for six more weeks of hibernation.
ITEM 4: Terry McAuliffe told "Meet the Press" that "We have a great school system in Virginia. Dorothy and I have raised our 5 children."
Their kids attended private schools.
By the way, is Chuck Todd's wife working on the McAuliffe campaign?
ITEM 5: Lady who admits she "probably sounded insane" tried to get in the cockpit of an airliner in midair.
Also in defense of airline I was asking them to open locked cock pit and probably sounded insane!

— Colleen Long (@ctlong1) October 30, 2021
A portion of the U.S. was already angry well before the Brandon moment. …. But anger has now moved beyond die-hard Trump supporters, said Stanley Renshon, a political scientist and psychoanalyst at the City University of New York.

— Colleen Long (@ctlong1) October 30, 2021
Storming the cockpit gets you arrested. But as a reporter for Hamas-Shielding AP, she used Press Privilege to avoid prison.
By the way, her story -- "How 'Let's Go Brandon' became code for insulting Joe Biden" -- was unintentionally hilarious. Good of her to break the code. She is a regular Alan Turing.
Southwest Airlines (SWA) apologized. FSWA and FJB.
ITEM 6: Via Fox, Bill Maher said of covid, "Just resume living. I know some people seem to not want to give up on the wonderful pandemic, but you know what? It's over. There's always going to be a variant. You shouldn't have to wear masks."
Someone important should have said this a year ago.
ITEM 7: CNN reported, "American Airlines canceled another 634 flights on Sunday, more than 12% of its total operations for the day, the company said Sunday.
"The airline has now canceled more than 1,500 flights since Friday, as it deals with weather issues and staffing shortages that started last week."
Those vax mandates will do nothing but shut down the economy.
ITEM 8: Maggie Haberman is worried that Democrats won't rule for 40 years like Jim Carville said in his book in 2008.
Then there becomes the question of why the numbers are so bad. And there is not consensus on that, which will make it harder for the party facing the weak numbers to course-correct. https://t.co/8CPbA2fnqE

— Maggie Haberman (@maggieNYT) October 31, 2021
I can see why there is discombobulation. Which calamity do you pick? The Mexican border. The surrender of Afghanistan. The vax mandate. The mask mandate. CRT. Boys in skirts raping in the girls room. Inflation. Empty store shelves. Democrats display so much incompetence that it is hard to agree on which is the worst.
ITEM 9: The Hill reported, "A survey found that 34% of white students who applied to colleges falsely claimed they were a racial minority on their application.
"Most students, 48%, claimed to be Native American on their application.
"77% of white applicants who lied about their race on their application were accepted to those colleges."
Fake Indians?
Who do they think they are? Liz Warren?
So much for white privilege. It's minority privilege. White people are the new regime's scapegoats because totalitarian governments always need a scapegoat.
Oh, and 48% isn't "most."
ITEM 10: Fox reported, "A Loudoun County, Virginia, mom said at a school board meeting this month that she pulled her children from the public school system after her 6-year-old asked her if she was born evil because she's white."
The mother said, "We had specifically moved them out of LCPS due to the swift and uncompromising political agenda of Superintendents Williams, Ziegler, and the school board had forced upon us. First, it was in the early spring of 2020 when my 6-year-old somberly came to me and asked me if she was born evil because she was a white person. Something she learned in a history lesson at school."
Once we laughed at the Nation of Islam calling us blue-eyed devils.
But this is what they teach in college. Those teachers then teach our kids. How is this not racism?
ITEM 11: Reuters reported, "China's factory activity contracted more than expected in October to shrink for a second month, hurt by persistently high raw material prices and softer domestic demand, pointing to more economic disquiet in the final quarter of 2021.
"The official manufacturing Purchasing Manager's Index was at 49.2 in October, down from 49.6 in September, data from the National Bureau of Statistics showed on Sunday.
"The 50-point mark separates growth from contraction. Analysts had expected it to come in at 49.7."
Unable to unload cargo because of Biden's blundering, people have stopped ordering stuff.
The coming recession will make 2008 look good.
ITEM 12: Rasmussen announced, "A new national telephone and online survey by Rasmussen Reports and Human Events finds that 76% of American Adults are concerned that public schools may be promoting controversial beliefs and attitudes, including 58% who say they are Very Concerned. Only 21% are not concerned about schools promoting controversial beliefs."
Democrats need to gnaw off their leg and escape the CRT trap because it is that ugly.
ITEM 13: Becker News reported, "Sheriff Mike Chapman told the beleaguered Loudoun County school board to shove its extreme security request, rhetorically speaking. The sheriff's retort to the radical school board came to light in emails that were made public on Thursday.
The superintendent DEMANDED:
3 LCSO deputies inside the Admin Building
1 LCSO/LCFR K-9 explosive sweep
LCSO five-person Quick Response Force (QRF) onsite at the Admin Building
Undercover LCSO deputies in Public Assembly Area at Admin Building
LCSO CDU Team stood up and on standby at nearby location
LCSO Special Operations Team on standby at nearby location
Joint command post
Onsite commander for unified decision making
Joint briefing on security plan
The sheriff rejected the DEMAND, pointing out he is taking the heat for his deputies arresting a man for speaking at a public school board meeting.
And you know these radical chic school board members in suburban DC are Defund The Police at heart.
ITEM 14: Zero Hedge reported, "Mandate Meltdown: 26 NYC Fire Stations Shuttered, LA Sheriff Warns Of Mass Exodus, Tucson Water District Faces Staff Shortage."
The story said, "While the vast majority of employees across most industries and sectors have acquiesced to mandatory vaccine mandates, enough Americans are refusing to get the jab that states and municipalities are losing a dangerous game of chicken with employees who refuse."
The Supreme Court needs to stop this unconstitutional power play.
Unfortunately, Barrett and Kavanaugh fear retaliation on their kids from the lefty loons to stand up for America.
ITEM 15: Just the News reported, "A South Carolina congressman has introduced legislation to open a dozen new ports of entry in America, seeking to shift the burden of President Joe Biden's border crisis from Texas to wealthy enclaves favored by Democrats like Martha's Vineyard, New York's trendy suburbs and Silicon Valley.
"Rep. Ralph Norman, a Republican, said he introduced the Stop the Surge Act last week as a companion to similar Senate legislation sought by Sen. Ted Cruz (R-Texas). It would require all future illegal aliens captured at the border to be shipped to the wealthy, liberal enclaves."
Makes sense.
ITEM 16: Prank calls exist only in cartoons today.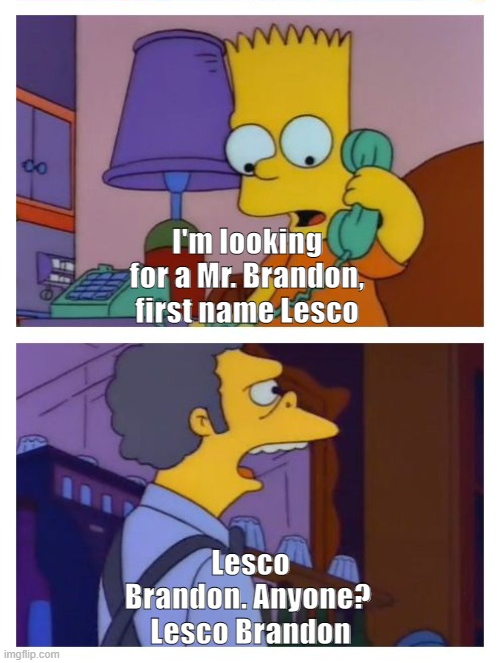 Sigh.
I want the 20th century back.
FINALLY, truck driver Ryan Johnson offered an insight into the container backlog.
He wrote, "I have a simple question for every 'expert' who thinks they understand the root causes of the shipping crisis:
"Why is there only one crane for every 50–100 trucks at every port in America?
"No 'expert' will answer this question.
"I'm a Class A truck driver with experience in nearly every aspect of freight. My experience in the trucking industry of 20 years tells me that nothing is going to change in the shipping industry.
"Let's start with understanding some things about ports. Outside of dedicated port trucking companies, most trucking companies won't touch shipping containers. There is a reason for that.
"Think of going to the port as going to Walmart on Black Friday, but imagine only ONE cashier for thousands of customers. Think about the lines. Except at a port, there are at least THREE lines to get a container in or out. The first line is the 'in' gate, where hundreds of trucks daily have to pass through 5–10 available gates. The second line is waiting to pick up your container. The third line is for waiting to get out. For each of these lines the wait time is a minimum of an hour, and I've waited up to 8 hours in the first line just to get into the port. Some ports are worse than others, but excessive wait times are not uncommon. It's a rare day when a driver gets in and out in under two hours. By 'rare day,' I mean maybe a handful of times a year. Ports don't even begin to have enough workers to keep the ports fluid, and it doesn't matter where you are, coastal or inland port, union or non-union port, it's the same everywhere."
It is a good read. There is more to it than just the lack of cranes.
Democrats and RINOs shut down the economy. They thought it was a light switch. It was more like the time Walter Peck shut down the ghost storage vault in "Ghostbusters."