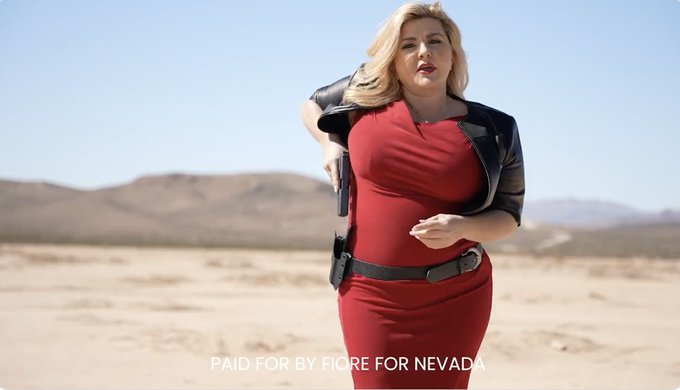 Jack Holmes of Esquire fell upon the fainting couch after seeing Republican Michele Fiore's ad for governor of Nevada. She has a -- a gun! And she is shooting bottles!
Oh the humanity.
Holmes wrote
, "If you're looking for a concise summary of the Republican Party in 2021, you've got one courtesy of newly minted Nevada gubernatorial candidate Michele Fiore. The Las Vegas councilwoman released a campaign ad on Wednesday that truly has it all: a Ford Super Duty truck, a frontier setting, a gun carried prominently on the hip, and the use of that gun to destroy the great evils of our time. These are represented on the labels of beer bottles—which look a bit like Bud Heavies but are apparently products manufactured by "Socialism"—and they are as follows: VACCINE MANDATES, CRT, and VOTER FRAUD."
He is alarmed that she is bringing up issues that he does not want to discuss.
He wrote, "the Republican Party at the present moment, there is no discussion of any actual issue facing the United States of America right now. Inequality? The plight of American low-wage workers? Infrastructure? Climate? Healthcare? The 728,000 people dead from covid 19 in the United States? None merit a mention."
In 1860, Democrats criticized Republicans for bringing up slavery. Why not discuss tariffs instead?
But it is the gun that really bothered him.
Check out the ad, and see for yourself.
Oh wait. That was Joe Manchin's ad from 2010 when he was elected to the Senate. My bad.
Democrats can dump on him all they want, but without him in the Senate, Democrats would not have a technical majority. (There are 48 Democrats, 50 Republicans, and 2 independents in the Senate. A Democrat vice president breaks tie votes.)
Her ad, which Holmes dismissed as ineffective, is similar.
My name is Michele Fiore. I'm running for Governor of Nevada. We don't need more weak, compromise, blue blazer Republican politicians. That isn't me and never will be. I will never stop fighting. Join the fight: https://t.co/k9QWQjPn6v pic.twitter.com/JuKbwZeXCg

— Councilwoman Michele Fiore (@VoteFiore) October 19, 2021
That explains the fear.
Holmes didn't mention her dress or her chest, but people on Twitter did.
Allow me to quote the late, great Tom T. Hall.
Well, the note said, "Mrs. Johnson
You're wearin' your dresses way too high
It's reported you've been drinking
And a-running 'round with men and goin' wild
And we don't believe you oughta be a-bringin' up
Your little girl this way"
And it was signed by the Secretary
Harper Valley PTA