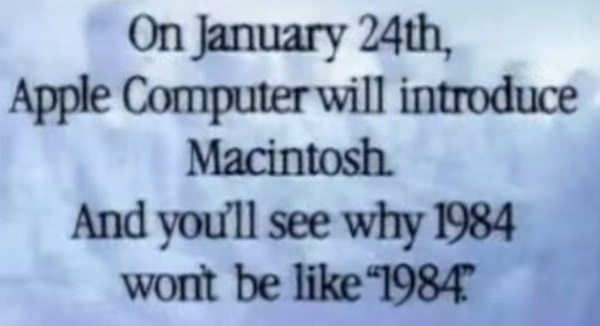 Super Bowl XVIII is remembered not for the game (Raiders 38, Redskins 9) but for an ad: Apple's 1984 ad. In one minute, Apple said personal computers would set us free.
As Maury Povich would say, that was a lie.
In 1984, Ronald Reagan was president. America was a shining city on the hill which inspired others.
The Soviet Union was a giant beside us about to fall. The number of nations with Western-style democracies was growing. Red China was still called Red China. It was a pariah except in American universities.
Last week, Biden said, "We have fewer democracies in the world today than we did 15 years ago. Fewer. Not more — fewer. Cannot be sustained."
He was right except for the last three words. History shows that tyranny can be sustained, and that tyrannical regimes are the default setting for government in this world.
The ad itself was very compelling as it contrasted a black-and-white dystopian world with a color photo of a voluptuous woman running with a sledgehammer but no bra. Sex sells. A man could have done it. Director Ridley Scott ("Blade Runner," "Gladiator," and "Alien") made a minute-long masterpiece.
Let's take a look.
Buy an Apple and free your mind, and the rest will follow.
37 years later, computers and tech companies do Big Brother's work as they surveil the public. Everything in your computer is in the hands of Big Brother. The firing of coach Jon Gruden over emails sent a decade ago show that. He thought they were deleted. Nothing is.
I am not sure whether or not Steve Jobs actually believed Apple and its MacIntosh personal computer would put power in the hands of people. His motto at the time was, "It's better to be a pirate than join the Navy."
Pirates are cold-blooded thieves, rapists, and murderers.
The U.S. Navy is a defender of freedom.
In 2001, Apple began manufacturing in Red China. It is lost now. For all intents and purposes, it is now a Chinese company.
The same with Google. The same with Facebook. The same with Twitter, which banned the man we elected president because he dared challenge Big Brother -- the Deep State.
Imagine Donald Trump throwing that sledgehammer in that commercial.
When people encounter the word Conestoga, they think of those covered wagons that headed west in the 19th century, but once they were Indians.
Were.
Uncharted Lancaster reported, "When the English first entered Pennsylvania, messengers from the Conestoga Indians met them, bidding them welcome, and bringing gifts of corn and venison and skins. The whole tribe entered into a treaty of friendship with William Penn, which was to last 'as long as the sun should shine or the waters run into the rivers.'"
By 1700, only 300 Conestoga were left.
The blog said, "Over the next 60 years, the Conestoga adopted the customs of many of their Mennonite and Quaker neighbors. They abandoned native clothing. They built cabins of wood planks. They hunted with imported guns and cooked in iron pots. With much of their hunting lands converted to farmland, the Indians now tended vegetable gardens and fished in a nearby stream. They wove brooms and baskets to sell to neighbors and at market. Many even converted to Christianity."
They turned in their guns. They were given a town. The colony of Pennsylvania promised to protect them.
The blog said, "At daybreak on December 14, 1763, more than 50 Paxton Boys attacked Conestoga Indian Town. They dismounted their horses and fired their flintlocks at the Indian huts. They rushed inside and began tomahawking survivors. They scalped everyone! The Paxton Boys proceeded to loot the village and then set all the buildings ablaze. The entire raid likely only took a few minutes."
Ben Franklin later said, "Those who would give up essential Liberty, to purchase a little temporary safety, deserve neither liberty nor safety."
We have given up liberty to purchase convenience.
But Americans are made of sterner stock than the rest of the world because our ancestors braved the sea in wooden boats to get here. We will overthrow these pirates.
First we must take back our Navy.
COMING UP AT 7 PM EASTERN: "Did we learn nothing from World War II?"